10 TV Shows That Fans Of The Resort Might Like To See Next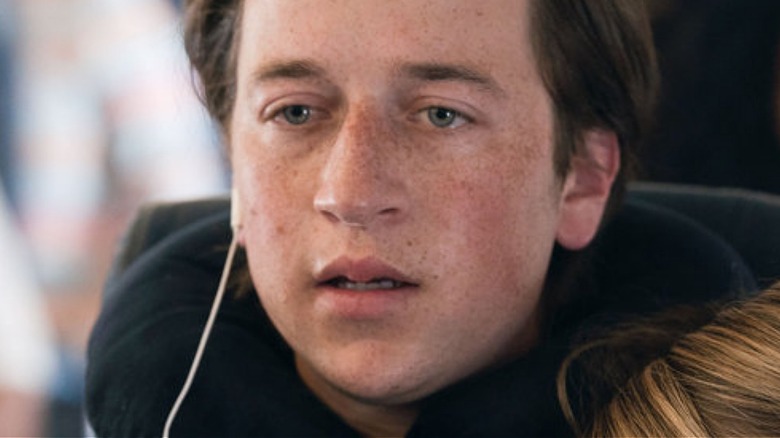 Marisol Pesquera/Peacock
Peacock's comedy series, "The Resort," has been slowly growing a fan base. It's easy to see its appeal. Andy Siara's — the writer behind 2020's hit movie "Palm Springs" — new show provides much-needed escapism with a light-hearted approach that smoothly combines refreshing humor and a fascinating mystery spanning 15 years. The story is set in an exotic, gorgeous holiday motel in Cancun, Mexico, which adds an irresistible vibe to all of those viewers stuck at home.
The premise of "The Resort" is simple enough to lure you in, but the plot gets more complex in each episode. In the pilot, we are introduced to a lovely couple, Emma (Cristin Milioti) and Noah (William Jackson Harper), celebrating their 10th wedding anniversary at the Mexican hideaway. It's far from a happy celebration, though, since their relationship is in a slump — especially on Emma's side. She lost the spark and has been considering leaving Noah for a while.
However, when an ATV trip in the jungle goes sideways, she finds a phone that belonged to a college student called Sam (Skyler Gisondo), who went missing along with another guest, Violet (Nina Bloomgarden), 15 years ago. The pair disappeared right before a hurricane destroyed the Oceana Vista hotel where they were staying at the time. Now, Emma is determined to investigate what happened to them. Left with not much of a choice, her husband tags along, too. That's when the mystery begins to unfold as we follow Emma and Noah playing detectives in the present. However, we also see flashbacks of Sam, Violet, and the staff of Oceana Vista in the past.
Here, we have gathered 10 other shows that resemble the plot, vibe, or tone of "The Resort" in one way or another.
Mad Dogs (US)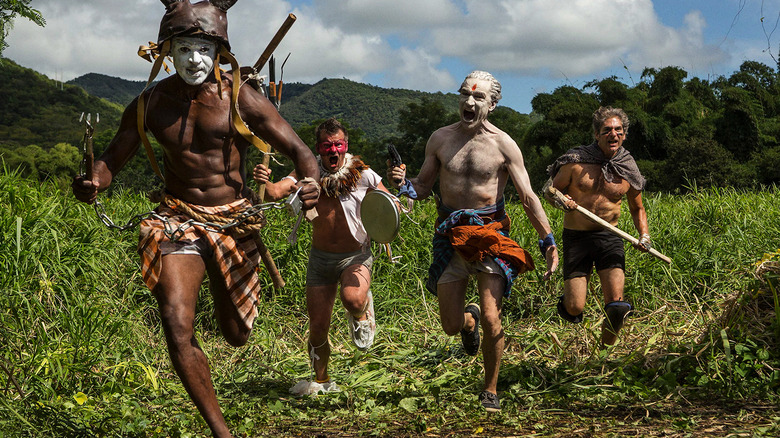 Amazon Prime Video
Amazon Prime's "Mad Dogs" — based on a British show of the same name — is a hidden gem in the genre. It's a farce noir with a clicking cast and a plot that rapidly unravels after a carefully executed exposition. The story takes place in the magnificent Belize, where four middle-aged friends reunite for a weekend to visit their old pal they haven't seen in decades.
Milo (aptly played by the always villainous Billy Zane) seems to have his own personal kingdom on a huge villa, where he keeps expensive cars and lavish clothes, all of which is financed by a secretive occupation. It doesn't take long for Joel (Ben Chaplin), Lex (Michael Imperioli), Gus (Romany Malco), and Cobi (Steve Zahn) to put the pieces together. However, they're guests at a place they could only dream of, so they refrain from questioning their generous host. At least until a dead goat shows up in the pool and an assassin wearing a cat mask kills Milo in cold blood. As the dream vacation turns into a nightmare, they must ask questions to find a way out of this bloody mess.
"Mad Dogs" is a dark ride but not one without humor. The absurdity of the situation begets jokes that often come from desperation and fear since the protagonists are left with no other option than to laugh at their own adversity. There's dynamic chemistry between these men who might think they know each other well but have their own secrets. The trouble they get into together brings some crucial honesty and vulnerability, which rebuilds the bond and trust they lost a long time ago.
Lost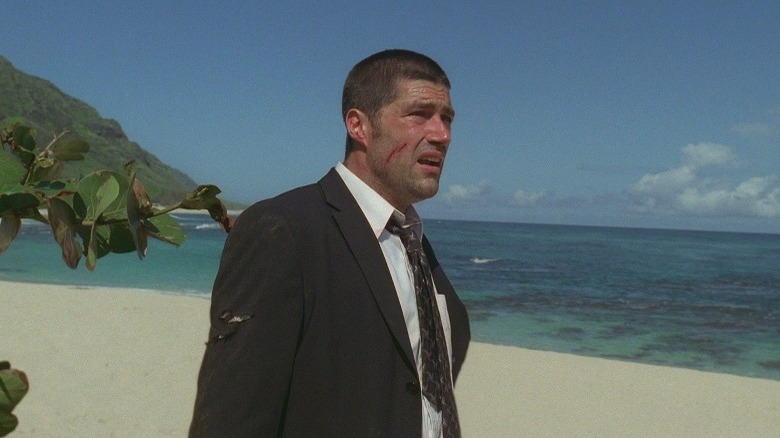 ABC
When it comes to mystery at an exotic location, we must mention J.J. Abrams and Damon Lindelof's drama that reinvented the genre nearly 20 years ago. There hasn't been another adventure on TV that gained as much attention and wild speculations as "Lost" has during its run. Its premise, which revolves around the survivors of Oceanic Flight 815, which crashes on a desert island, became a significant part of pop culture. However, if you've never heard about it, here's how the story goes.
"Lost" follows a group of survivors trying to prevail on a dangerous island after a horrific plane crash. In every episode, we find out more about each character as we see glimpses from their past in the form of flashbacks. That's the central idea that made the show deeply relatable for viewers, besides seeing how these individuals faced and dealt with the numerous mysteries that regularly appeared around them. Mysteries and inexplicable events make it clear that there are some supernatural forces at work on this strange island. If you have an interest in strong, well-written characters and mystical stories filled with open-ended questions, "Lost" is a mandatory watch, for sure.
The White Lotus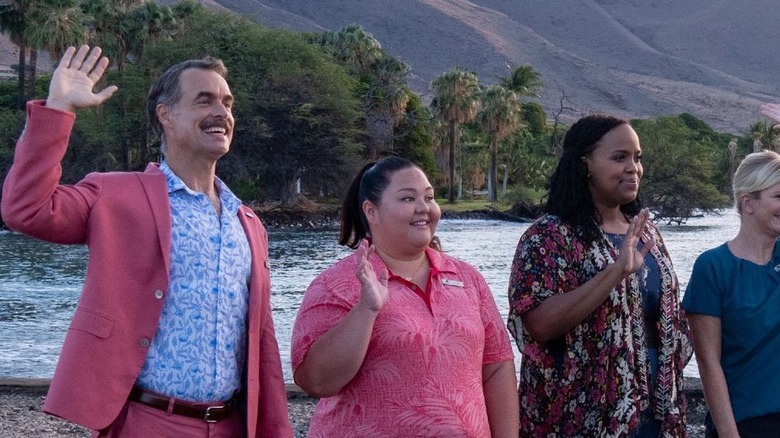 HBO Max
There were several aspects as to why Mike White's HBO Max miniseries "The White Lotus" was so captivating and appealing in 2021. The six-episode show came when most of the world's population was confined to their homes due to a global pandemic. It offered escapism in the form of an alluring holiday, where we got to watch a bunch of rich, self-indulgent, and amusingly arrogant white people being hated (and served) by the relatable hotel staff. Last but not least, in the center of all this, there is a murder mystery waiting to be solved, which gives an extra layer of suspense to an atmosphere already heavy with tension and frustration.
White's comedy-drama follows three separate groups of obscenely well-off vacationers as they spend a week at the luxurious Hawaiian hotel called White Lotus. The show's strength is its carefully developed characters and the ensemble cast (Steve Zahn, Connie Britton, Jennifer Coolidge, Sydney Sweeney, and more) that plays them. Struck by their own privilege, they're all oblivious to their lack of self-awareness, believing strongly that they're good folks. However, the cheerful (and often hilarious) hotel employees who serve them through their stay quickly highlight the difference between the two classes they represent. The strong writing, the humor, and the spot-on performances are powered up by a psychedelic soundtrack, which makes "The White Lotus" high entertainment with a message that will hardly surprise anybody — the rich always prevail.
The Mosquito Coast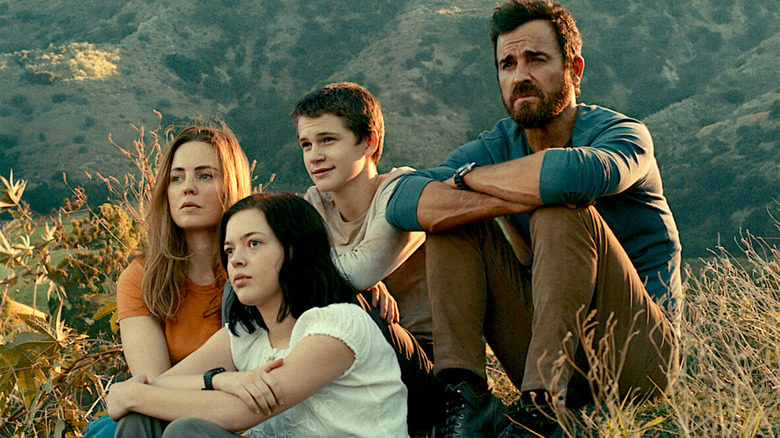 Apple TV+
Neil Cross and Tom Bissell's thriller on Apple TV+, "The Mosquito Coast," takes us on an adventurous and violent journey through South America for eight episodes. Led by inventor, idealist, and patriarch Allie Fox — who is played by Justin Theroux, the nephew of Paul Theroux whose novel of the same name the series is based on — and his wife Margot (Melissa George), the plot follows their run as they hide from the US government with their two children. They have to flee to Mexico to seek help from a mysterious group, hoping it can protect them from those who are after them, including a Mexican drug kingpin and American officials.
"The Mosquito Coast" is a classic example of the "journey is more important than the destination" type of entertainment. Riddled with violence and secrets that won't unfold until the very end (and some not even then), the fear and thrill of getting caught are what fuel the series. The extremely dangerous situations the family gets themselves into provide excitement and adrenaline for the viewers to keep wanting to see more. If you prefer action-driven plots filled with nail-biting suspense over twists and big revelations, you'll find plenty to love here.
Dead to Me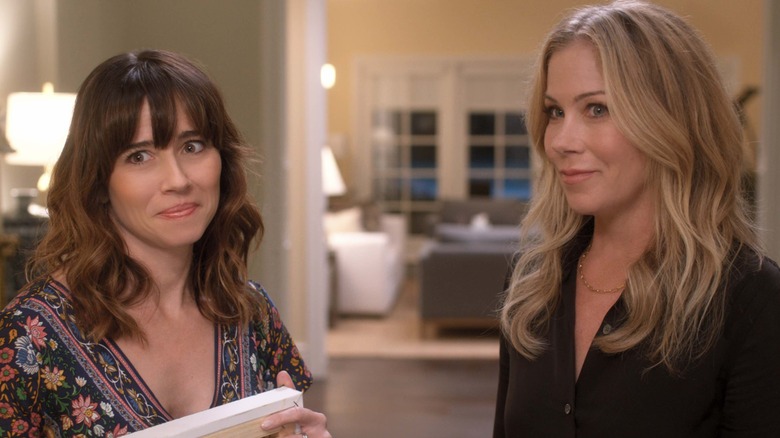 Netflix
Liz Feldman's black comedy, "Dead to Me," may not take place at an exotic location (unless you consider Laguna Beach, California to be exotic), but it still has many qualities to share with "The Resort." First and foremost, it takes a sensitive yet not soul-heavy approach to loss, and secondly, it arrives with plenty of dark secrets that are bound to come to the surface eventually.
The plot follows Jen (Christina Applegate), a widow who lost her husband in a hit-and-run car accident only a few months ago. Unable to deal with her loss, she tries different things to process and accept the tragic death, including visiting a grief support group. That's where she meets Judy (Linda Cardellini) whose fiancé died of a heart attack eight weeks ago. The two quickly form an unlikely friendship, and before Jen knows it, Judy moves into her guesthouse and becomes a new unofficial member of the family. Of course, it's blatantly obvious that Judy knows more than she lets on — particularly about the circumstances of Jen's husband's death. Without giving much away, let's just say that she has her own selfish reasons for befriending Jen and getting close to her.
Netflix's "Dead to Me" is among those dramedies that make a perfectly balanced, mindless entertainment. And before you know it, you become more attached to its lovable and charming characters than you might have expected in the beginning.
Killing It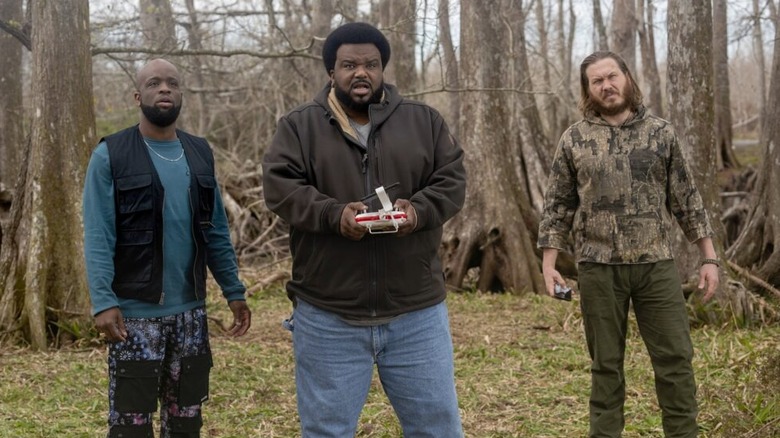 Skip Bolen/Peacock
Peacock's other dramedy that aired in 2022 is a critique of capitalism, class, and economic disparity wrapped in a bonkers and comical premise. Creators Luke Del Tredici and Dan Goor's "Killing It" follows a little man, Craig (Craig Robinson), with big dreams. After suffering a series of misfortunes (losing his job and home respectively), Craig enters the Florida Python Challenge in hope of winning the $20,000 grand prize to start his own business. Despite how that sounds, the show isn't about a man's road to success — it's quite the opposite. Dreams and aspirations get shattered repeatedly in a series of events that keep proving that when you think things couldn't get worse, well, they certainly can.
Although it's a shame that the show doesn't capitalize more on its original idea of snake hunting (there isn't much of it throughout the 10 episodes), it does deliver an apt criticism of modern society through sarcastic and potent humor. The writing deftly mocks social media, the self-help industry, and how success is pursued these days, providing a spot-on observation alongside plenty of absurd situations to laugh at. Although "Killing It" might not always hit the right tone and occasionally seems a little less than coherent, it never fails to deliver a fresh perspective that might include over-the-top elements but always falls back on the painful reality.
On Becoming a God in Central Florida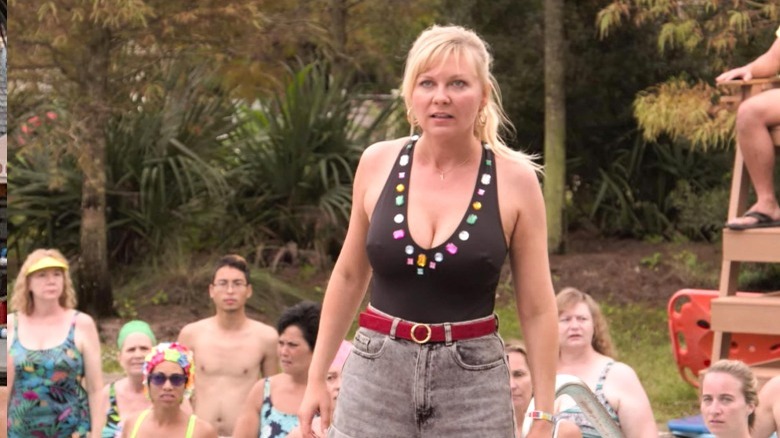 Showtime
Similar to "Killing It," "On Becoming a God in Central Florida" takes a swing at the American Dream too, but in a different era — 1992. Krystal Stubbs (a phenomenally bonkers Kirsten Dunst) sets out to dismantle and destroy the pyramid scheme run by Founders American Merchandise, aka FAM, a company that ruined her family financially and contributed to her husband's death. By becoming a member of the cultish scam, Krystal uses her charm (she is a former beauty pageant) and her firm determination (she is a single mom working at a water park) to work her way up to FAM's conniving owner Obie Garbeau II (Ted Levine) and bring him down.
First-time showrunners Robert Funke and Matt Lutsky's show is definitely a comedy with plenty of silly gags and jokes to laugh at, but not one without a specific goal in mind. Deconstructing capitalism and pointing out how vulnerable people are to focused persuasion and pseudo-charisma on them is very much what drives the series from beginning to end. Beyond that, Kirsten Dunst's lead performance (which was nominated for a Golden Globe and Critics Choice Award) is what truly elevates "On Becoming a God in Central Florida" and puts it on another level. Sadly, Deadline reported that its renewal was eventually reversed because of the pandemic.
Bloodline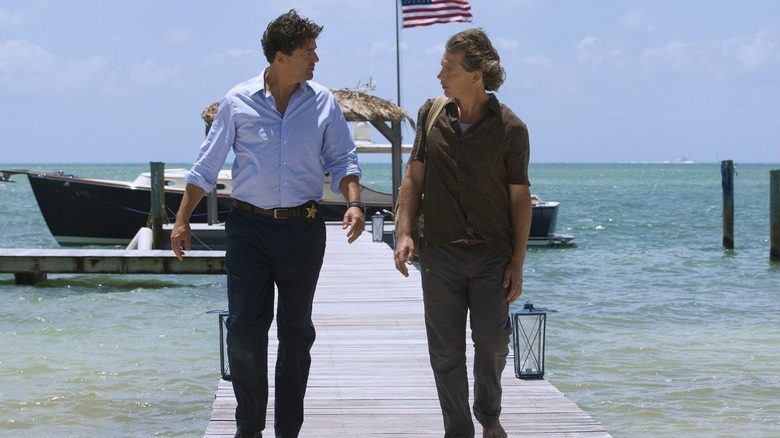 Netflix
One of the biggest appeals of Netflix's "Bloodline" is its subtropical setting in the Florida Keys. That's where the Rayburn family — known for running a seaside hotel many of their guests consider paradise — has been living for many decades. The show smartly takes advantage of this location and approaches it from an angle that focuses on the ominous secrets that lie underneath its beauty.
The plot follows the Rayburns and their four grownup children, who all found successful career paths outside the hospitality business except for Danny (Ben Mendelsohn). So when he, the prodigal son, returns home unexpectedly, the rest of the family becomes uneasy and tense because they're aware the family secrets that Danny knows could ruin their lives. Despite not being welcomed, Danny has no intention to leave this time — he wants to stay and help out his folks around the hotel. Soon, he starts digging into the past, and as the ugly, violent, and traumatic memories slowly unravel, things begin to go sideways for everyone around him.
"Bloodline" is definitely not a breezy summer watch like "The Resort," but the setting, the mysteries, and the powerful performances by the ensemble cast (including Kyle Chandler, Sissy Spacek, Sam Shepard, and more) are worth every second.
Yellowjackets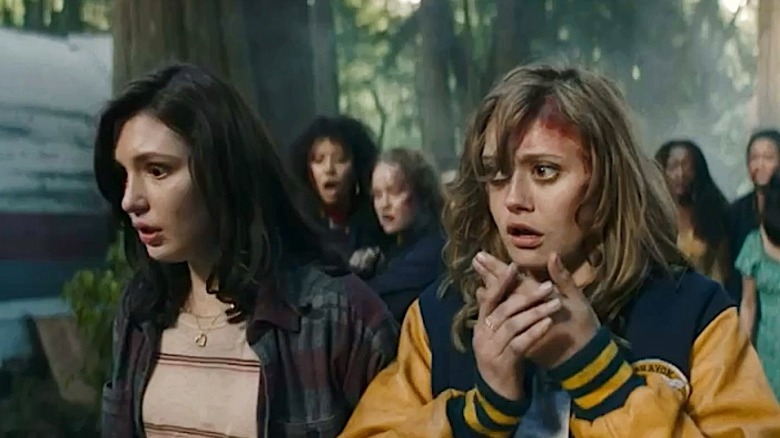 Showtime
Ashley Lyle and Bart Nickerson's drama "Yellowjackets" on Showtime was one of the most mysterious and exciting shows of 2021. In the form of flashbacks, it tells the story of a high school girl soccer team and how its members survived a plane crash and lived in the Canadian wilderness for years in the mid-1990s before they were rescued. Alongside that past timeline, we also get to know their adult counterparts in the present. Combining these two periods allows the show to keep us in the dark regarding certain things that went down in the past, while we also see the long-term consequences that these events had on the characters in the present.
Although "Yellowjackets" flirts with horror to a great degree, at its center, the focus never shifts from the characters and their internal struggles. They keep trying to forget their traumatic experiences but slowly realize they will have to face them head-on sooner or later. As the plot moves forward, the secrets seem to be never-ending about what these girls had to do to survive and the horrors they saw at such a young age. After watching 10 episodes in the first season, you still have plenty of questions about "Yellowjackets" left without answers — which will hopefully be addressed in the future since Deadline reports that Showtime has already renewed the series for Season 2.
Our Flag Means Death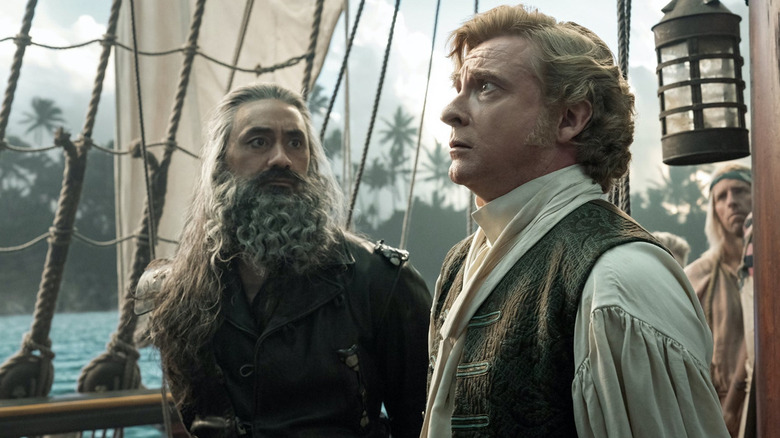 Aaron Epstein/HBO Max
David Jenkins' comedy series "Our Flag Means Death" on HBO Max is absolute lunacy in the best way possible. Based very loosely on the life of Stede Bonnet (Rhys Darby), a wealthy and sophisticated gentry-turned-pirate, the show entails his silly (but occasionally pretty brutal) adventures on the sea. What gives the premise a comical spin is that he tries to rule with elegance and kindness. Of course, things don't really work out for him the way he expects since pirates are madmen and not ones to appreciate culture and wit. Nevertheless, Bonnet finds himself in an odd crew that gradually begins to adore him for who he is. Later, he even falls in love with one of the most feared pirates out there — Blackbeard (Taika Waititi).
"Our Flag Means Death" was clearly made for embracing being different and representing queerness in a time when it was looked down upon and deemed totally unacceptable. With its lovely, foolish, and charming approach, the series successfully conveys all that and has become an LGBTQ favorite by providing apt humor and an unusual love story throughout its first season. It's the kind of dramedy that's rare on TV and isn't for everyone, but if you fall for it, you will definitely find something special.