Red Sonja Has Cast The Perfect She-Devil With A Sword
The news of a "Red Sonja" reboot came in 2017, primarily attributed to the massive success of "Wonder Woman," as audiences proved they'd show up for female superheroes. Millennium Media producer Avi Lerner told Deadline the studio had been waiting for the right time to move forward with a "Red Sonja" film, and they were confident it was time to begin. Unfortunately, the movie has had significant speed bumps on its way to filming after being greenlit five years ago.
From a lawsuit against U.S. Citizenship and Immigration Services to Hannah John-Kamen ("Ready Player One") dropping out as Red Sonja due to scheduling conflicts, the superheroine film has seen all kinds of reasons for delays. It's also been dubbed a cursed movie, but things finally seem to be on the up and up. A new Red Sonja has been cast, and it looks like the studio landed on the perfect She-Devil with a Sword.
Matilda Lutz is the new Red Sonja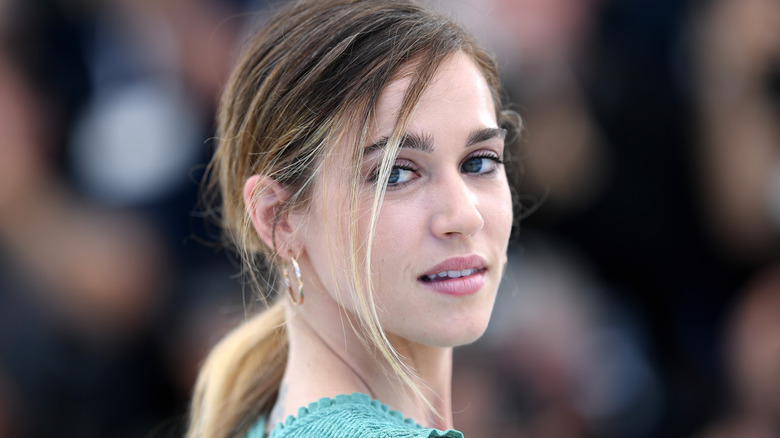 Pascal Le Segretain/Getty Images
According to Deadline, Matilda Lutz will play Red Sonja in the upcoming film of the same name. Lutz is known for her work in "Rings," "Medici," and "Revenge," where critics applauded the actress's performance. Lutz is joined by Wallis Day and Robert Sheehan, who will play Annisia and Draygan, respectively.
"Red Sonja" director M.J. Bassett has nothing but great things to say about the film's lead, commenting, "I've wanted to make a 'Red Sonja' movie since I was a teenager – she has been a powerful presence for me and a character that I have always wanted to bring to the screen with my own voice and vision. When I met Matilda Lutz, I knew she had all the magic I was looking for and could see the complexity and depth she would bring to Sonja."
Millennium Media President Jeffrey Greenstein also backed up Lutz's casting, saying, "M.J. is an amazing filmmaker with fantastic vision and Matilda was absolutely brilliant in 'Revenge' that we knew she was right for this role the moment we saw her — making them the perfect duo for R'ed Sonja.'"