Cristina Vee Reveals Which Of Her Miraculous Ladybug Characters She Relates To More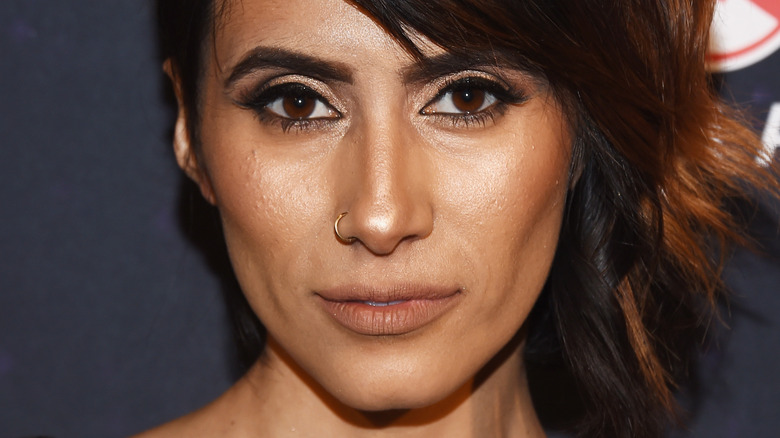 Amanda Edwards/Getty Images
From sinister villains to courageous superheroes, Cristina Vee has voiced all kinds of intriguing roles during her illustrious career. The voice actress has become a powerhouse, adding many exciting titles to her resume and bringing many unforgettable characters to life for fans to enjoy. While each one most assuredly holds a special place in her heart, some personas have a closer connection to the vocal superstar than others.
Her efforts in the world of anime are pervasive, and she has provided the English dub work for several excellent characters that come to mind, such as Hawk from "Seven Deadly Sins" and Sailor Mars, a character considered to be very powerful on "Sailor Moon." And it doesn't stop there, as her skills have been utilized in video games where, amongst her many credits, she portrays Riven the Exile in "League of Legends" and the titular character in the "Shantae" franchise, as well as her arch nemesis Risky Boots.
Out of all of the projects in her impressive work history, the title that stands out as one of her most prominent claims to fame is, without a doubt, "Miraculous: Tales of Ladybug & Cat Noir." In the hit animated series for adults and kids, Cristina Vee voices the superheroine Ladybug and her real-life alter ego, Marinette Dupain-Cheng. The voice actress has accomplished a lot during her tenure on the kids' show, including being very excited about being immortalized as a Burger King kids meal toy. But fans may be surprised at which character she relates to more.
Christina Vee is totally like Marinette in real-life
In October 2016, the prolific voice actress revealed which character she relates to more. "I'm a lot like Marinette in real life. I can be pretty shy and clumsy. I trip over my words and feet, both things," Christina Vee said in an interview with Lindalee Rose (via Miraculous Ladybug on YouTube). "Yeah, when I first read the sides for the audition script, I was like, 'Oh my gosh, she's me, this is me on paper!'" Her relationship with the fan-favorite personality makes Marinette very relatable to fans as well. Michele Kirichanskaya from ComicVerse said, "Marinette embodies the most of her 'average girl' life and 'superhero' life in a beautiful force of a character." 
Over the years, Christina Vee has managed to make an impact on several projects, but she has been consistently successful at inspiring fans as the titular hero of the popular animated series. In September 2021, she showcased her appreciation on Instagram for the opportunity to play both Marinette and Ladybug, saying, "6 years... which means I've been voicing her for around 7... which means I began auditioning for her around 8 years ago!! I'm so happy to be part of something you guys love!" Her connection with the character has transcended into a beloved persona that fans everywhere look up to, and it further proves that some heroes don't wear capes; some wear headphones and speak into the mic.