The Pivotal Lucifer Scene That Holds A Special Place In Tom Ellis' Heart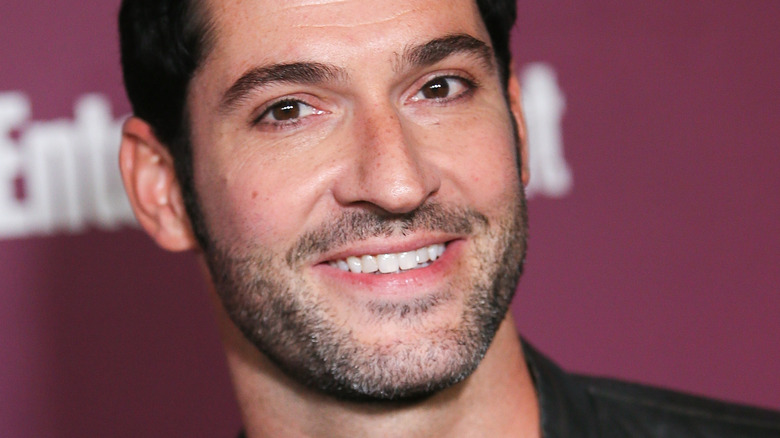 David Livingston/Getty Images
What happens when the Devil himself walks the Earth freely? According to the Netflix series "Lucifer," there is a lot of scandalous partying, crime-fighting, and personal growth. The hit series made its debut in 2016 and lasted six seasons before wrapping up in 2021. "Lucifer's" witty and morally conflicted main character, Lucifer Morningstar (Tom Ellis), has a lengthy backstory. However, his character in the series is based on a DC comic book character of the same name created by "Sandman" author Neil Gaiman.
As Lucifer's time on Earth lengthens, he becomes attached to people he would have previously condemned without a second thought. Episodes frequently feature characters that seem quite the opposite of the Devil though they almost always seem to win him over one way or another. The show's use of demons, angels, and other religious figures in situations they typically wouldn't be in, a crime-fighting version of Satan, for example, makes for a unique storyline. However, there's one episode in particular that Tom Ellis has said he holds near and dear to his heart.
A Priest Walks into a Bar has an uplifting piano scene that Tom Ellis loves
In an interview with Entertainment Weekly, Tom Ellis recalls the episode of "Lucifer" he had the best time filming. In "A Priest Walks into a Bar," the fallen angel comes face to face with a priest named Frank (Colman Domingo), and the two form an unlikely bond when they discover they're both pretty skilled piano players and perform a marvelous on-screen duet. "That, to me, was a real, huge moment in the show, and it really showed how different this show could be to what you expect it to be, and it was just a genuine moment. No words. And Colman and I were just given a track of music to do something with, and it was an absolute blessing that Colman Domingo came and guested on our show. That's a moment I will always go back to and think, 'I don't think I've ever been more euphoric on a set of anything, doing that.'" 
The musical moment is one of the more uplifting scenes in the episode, and the bond between Lucifer and Frank is charming to viewers and cast members alike. In an interview with Den of Geek, Colman Domingo was asked about a different role in which his character played the piano and clarified that while he didn't play piano on "Lucifer," he may take it up at some point. So while some "Lucifer" fans are upset with the show's ending, they can always revisit the first season on Netflix and witness the iconic moment between the two.