Easter Eggs You Missed In Coco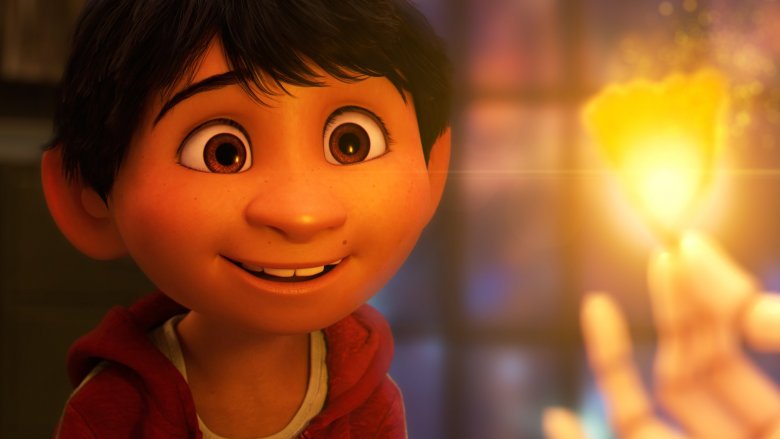 The phrases "Pixar movie" and "Easter eggs" go together like peanut butter and jelly. Fans always anticipate the studio's freshest release to be full to bursting with fun references and winks to pop culture, and director Lee Unkrich's journey into the Land of the Dead with Coco is by no means an exception. From tricky-to-spot nods to other animated films to heartfelt homages to late entertainment icons, here are the Easter eggs in Coco you may have missed.
Famous food delivery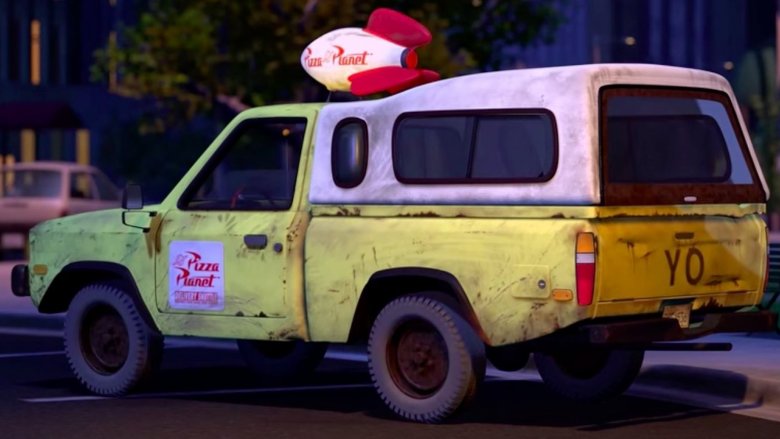 A Pixar movie must, the Pizza Planet delivery truck first appeared in 1995's Toy Story—in which Buzz Lightyear, along with the help of Mr. Potato Head and Slinky, uses it to rescue Woody from the airport—and has popped up in almost every single film the animation studio has rolled out since. The truck sits outside a trailer in A Bug's Life, flashes across the screen outside the dentist's office in Finding Nemo, gets scanned by Eve in WALL-E—and it can be spotted in Coco right outside Miguel's (Anthony Gonzalez) house. As the young boy stares wistfully outside, the Pizza Planet zooms past his window. And this time around, the animators added a special touch, renaming it "Pizza Planeta" to better fit Miguel's small Mexican village.
Heroes aplenty
Sticking with the nods to Pixar projects past, Coco also features a tucked-away reference to two hyper-successful movies: Toy Story and Monsters, Inc. As Miguel dashes through his village's market toward the central plaza in the beginning of the movie, viewers will notice that he runs past a bundle of piñatas in the shape of cowboy Woody and astronaut Buzz from Toy Story and the one-eyed, green-skinned monster Mike Wazowski from Monsters, Inc. Near the back of the piñata pack is a turquoise one, likely designed to look like Mike's partner Sully. Given that Coco director Lee Unkrich also worked in varying capacities on three Toy Story movies and as a co-director on Monsters, Inc., it makes total sense that he'd tip his hat to his previous creative endeavors.
Familiar figurines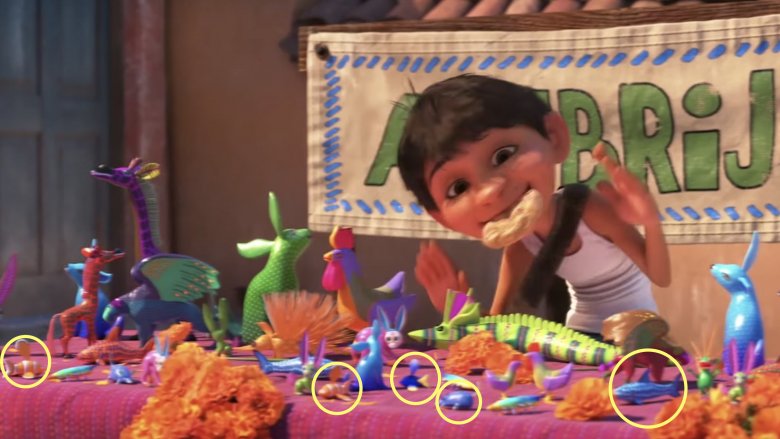 After snagging a bite to eat, Miguel happens upon a table lined with alebrijes, Mexican folk art sculptures that depict fantastical creatures painted in bright colors and bold patterns, often with physical characteristics of other animals attached to their bodies (such as a panther with giant wings on its back). Up for grabs are alebrijes of a green rabbit with tall and pointy ears, a purple winged giraffe, and a lime-scaled lizard. Hidden amongst these striking sculptures are small figurines of the clownfish Marlin and Nemo and the regal blue tang fish Dory from Finding Nemo. Look carefully and you'll also see trinkets of the rat chef Remy from Ratatouille and the adorable whale shark Destiny from Finding Dory.
Never-forgotten Nemo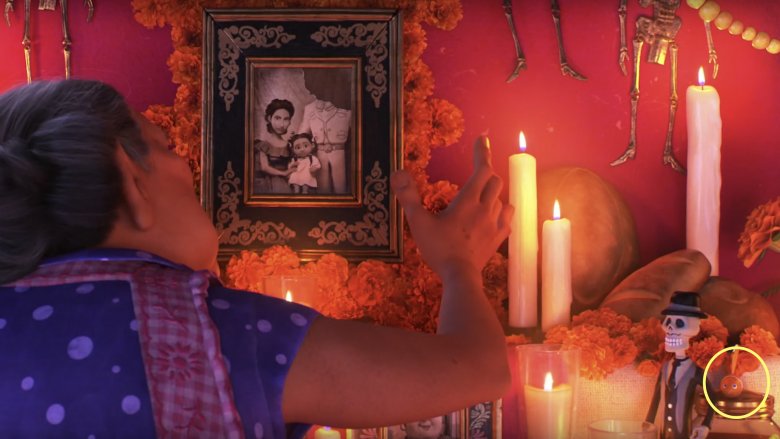 Nemo definitely isn't lost in Coco, but we guarantee this next Easter egg slipped under your radar. There's another Nemo figure hidden on the Rivera family's ofrenda, though he's considerably difficult to see upon first glance, as his orange scales blend right in with the fresh-baked bread and lush marigolds that decorate the altar. You'll spot the little guy during the scene in which Abuelita Elena (Renée Victor) places the photo of Mamá Coco (Ana Ofelia Murguía), Mamá Imelda (Alanna Ubach), and Miguel's great-great-grandfather; he sits atop a jar on the righthand side of the screen, just behind a mustachioed skeleton in a suit and top hat. 
The anticipated A113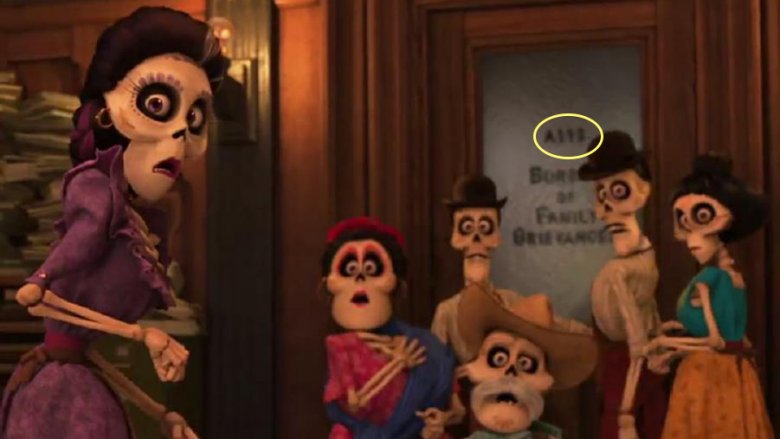 Like the Pizza Planet truck, "A113" has deep roots in the Pixar film pantheon, though it extends its reach into plenty of non-Pixar animated films and television shows. For those not in the know, the four-figure code is actually a reference to Room A113, the classroom that industry A-listers like The Iron Giant, The Incredibles, and Ratatouille director Brad Bird and Pixar head John Lasseter attended during their time at California Institute of the Arts in Valencia. And while it's taken many forms across media since its initial appearance in a 1987 episode of Amazing Stories, "A113" appears as an office number in Coco, just like it was in Brian Fee's Cars 3. The classic reference can be spotted in the Land of the Dead, written on the door of the Bureau of Family Grievances, where the deceased members of the Rivera family go to coordinate a way to send Miguel back where he belongs. 
Incredible artwork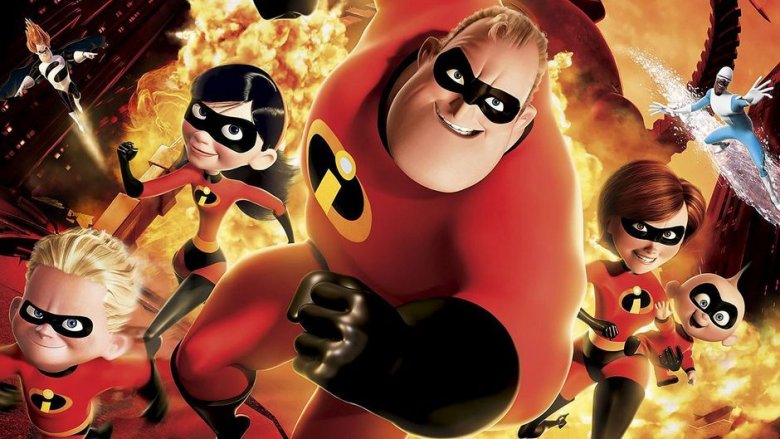 Pixar tends to continue certain traditions year after year, and one such cinematic custom is teasing the next Pixar movie in the current one, like Cars 3 did in June 2017 by sprinkling subtle winks to Coco in a few racing sequences. At the time of Coco's production, Toy Story 4 was set to follow it; however, it's the much-anticipated Incredibles 2 that's currently up next in Pixar's docket. In a blink-and-you'll-miss-it moment, Miguel and Héctor (Gael García Bernal) dart past an Incredibles poster on their way to the talent show. Either the citizens in the Land of the Dead really love the incredible Parr family and want to celebrate them year-round, or they get their films way later than the Land of the Living.
Cultural cameos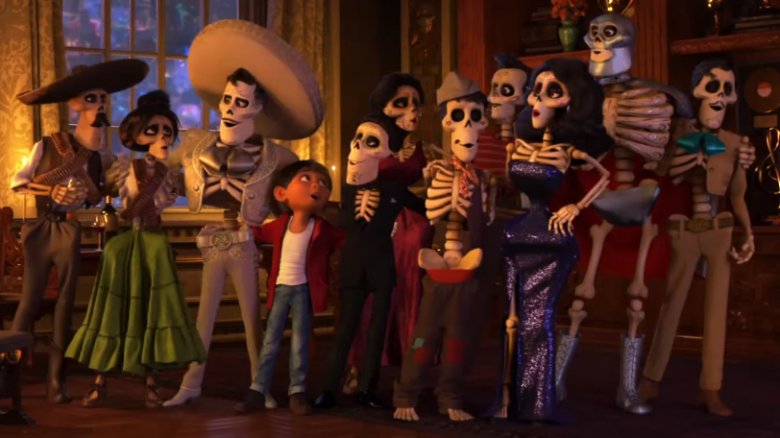 Coco may be littered with nods to other Pixar movies, but it also contains a bountiful offering of references to Mexican culture that may not be as obvious to a non-Mexican audience. A standout cameo comes when a horde of skeletons are waiting in line to attend Ernesto de la Cruz's (Benjamin Bratt) pre-sunrise performance party. Viewers see the bouncer giddily ask a party guest for a photo, popping off his skull to snap the photo with the silver-masked skeleton. This is a clear nod to the famous Mexican luchador, or professional wrestler, Rodolfo Guzmán Huerta, best known by his stage name El Santo. He was never seen in public without his signature mask, and was often called "el Enmascarado de Plata," or "The Silver-Masked One." It's only fitting that El Santo would sport the same look in the afterlife. Mexican singers and actors Jorge Negrete and Pedro Infante, considered luminaries of the Golden Age of Mexican cinema, also appear at de la Cruz's shindig.
In another scene, de la Cruz, Negrete, and Infante are seen singing with Mexican comic film actor Cantinflas, Mexican Revolution leader Emiliano Zapata, and Mexican film actress and singer María Félix. How's that for a star-studded performance?
The Luxo Ball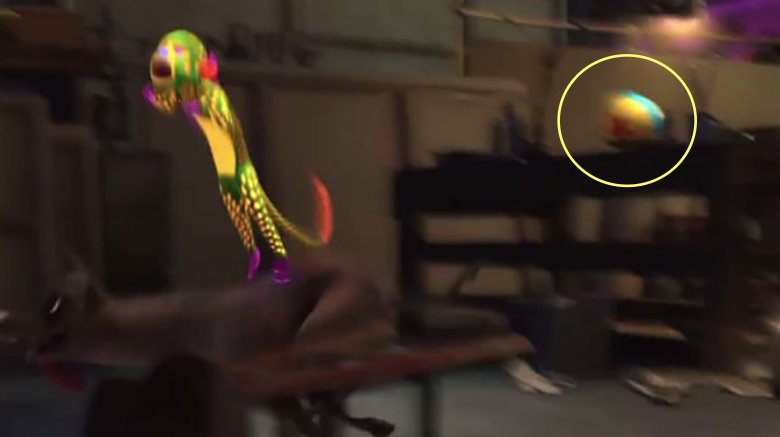 Pixar's famous ball, officially called the Luxo Ball in reference to the studio's first-ever animated short Luxo Jr., is yet another staple of the studio's efforts. The yellow bouncy ball, adorned with a thick blue stripe and red star, appears in Coco during the rehearsal sequence featuring Frida Kahlo (voiced by Natalia Cordova-Buckley). Watch the background carefully as Dante, the waggly-tongued Xoloitzcuintle stray dog, and Frida's monkey alebrije run after each other in the workshop. The ball can be seen on a table in a quick moment when the speckled primate leaps from the floor to a higher surface.
The inspired performer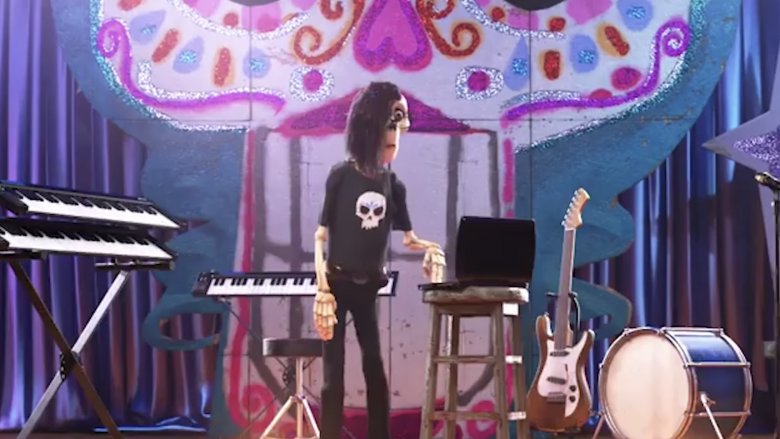 Beyond betting that you cried at least once during Coco (come on, the "Remember Me" lullaby sequence was a total tearjerker), we're willing to bet you let out a chuckle as you watched the talent show, particularly when one performer took the stage: the skeleton with the half-shaved skull and long black hair who unenthusiastically taps his phalanges on the keys of his electronic piano. While it's evident the unnamed emo DJ looks a lot like electro-dance music creator Skrillex, he also rocks a look first sported by Sid Phillips, the sociopathic toy torturer of the Toy Story franchise. The talent show participant wears a black shirt with a skull on it, the same one Sid wears in the first and third Toy Story movies.
Musical homage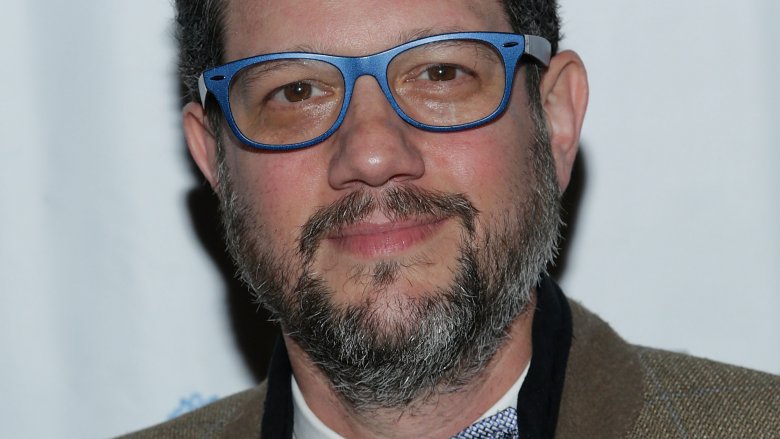 Getty Images
Warning: This entry contains spoilers for Coco.
Speaking of music, de la Cruz's sunrise performance (which actually turns into Mama Imelda's chance to call out the crook of a musician for murdering her husband and stealing his songs) would be nothing without a classically trained conductor keeping the orchestra members playing perfectly. Though he doesn't have a name, the bowtie and top hat-wearing concert conductor is a clear nod by Coco's animators to Michael Giacchino, the Grammy Award-winning composer who wrote the score for the film.
A legendary voice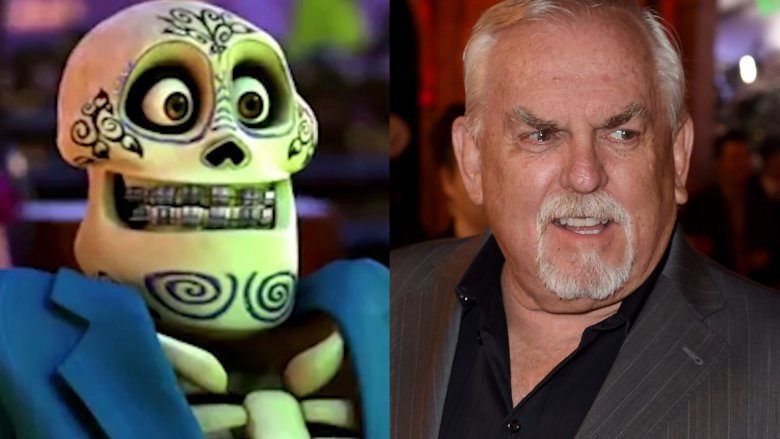 Getty Images
If the name "John Ratzenberger" doesn't ring any bells or set off any "this guy is important" alarms, it ought to. Ratzenberger, an actor best known for his voiceover work, has become a Pixar legend, lending his pipes to a character in every one of the studio's films–from Hamm the Piggy Bank in the Toy Story movies to Mack the 18-Wheeler Truck in the Cars franchise and Yeti/The Abominable Snowman in Monsters, Inc. and its follow-up Monsters University. And, as expected, Ratzenberger has a part in Coco, but it's so brief that it likely breezed right by you.
Ratzenberger voices a goofy skeleton named Juan Ortodoncia, who barely speaks in the film, seen in a small cameo when he gets his face scanned before crossing over the bridge on the Day of the Dead. Juan's dentist is the one who remembers him in the Land of the Living, thanks to his massive mouth of metal.
Pixar's personal ofrenda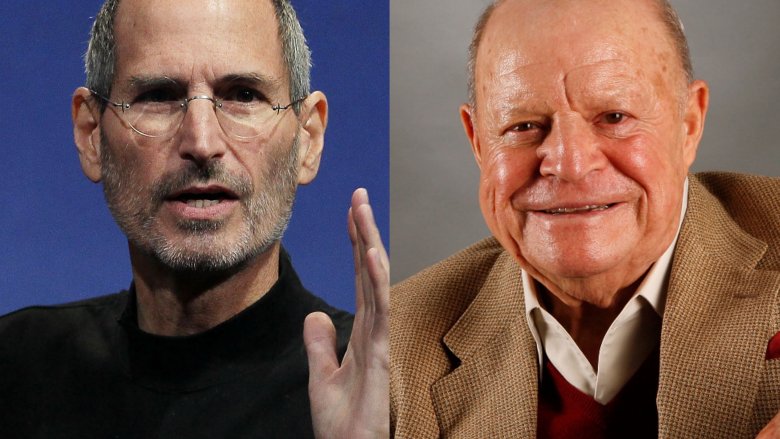 Getty Images
Last but in no way least is a touching homage to a few influential creators who have sadly passed away. The Coco team included its very own ofrenda of sorts in the film's credits, with a series of photographs honoring those who've had an impact on Pixar as a whole. Three individuals whose influence continues to touch the studio beyond the grave are Steve Jobs, the co-founder of Apple Inc. who was also a CEO and shareholder of Pixar; Don Rickles, famed insult comic and the voice of Mr. Potato Head in the Toy Story movies; and Joe Ranft, the voice actor behind Heimlich in A Bug's Life and Jacques in Finding Nemo.
Director Lee Unkrich confirmed Jobs and Rickles' inclusion to Metro earlier this year. "At the very end of the movie we kind of do a digital ofrenda, where we gave everyone in the company the opportunity to submit a photograph of someone in their life who is no longer with them but had been supportive of them," said Unkrich. "And we just filled the screen with hundreds and hundreds of these beautiful images. We included people in that group that we had lost from the Pixar family, people like Steve Jobs and Don Rickles."