Kim Is In A Worse Prison Than Jimmy At The End Of Better Call Saul
Greg Lewis/AMC/Sony Pictures Television
Contains spoilers for "Better Call Saul" Season 6, Episode 13 — "Saul Gone"
"Better Call Saul" was born from the ashes of "Breaking Bad." It chronicles the saga of Jimmy McGill (Bob Odenkirk) as he descends through the identities of Saul Goodman and Gene Takovic, but Rhea Seehorn's performance as Kim Wexler made her as important to the series as Odenkirk by the time "Better Call Saul" came to an end. Kim and Jimmy's inability to exist as a couple without leaving a trail of dead bodies and ruined lives behind them provided most of the major plot points in "Better Call Saul," which ultimately ended up as both a prequel and a sequel to "Breaking Bad."
The list of murder victims from the two shows is long, but the one that was most devastating to Kim's mental state and her relationship with Jimmy was undoubtedly that of Howard Hamlin (Patrick Fabian) in Season 6, Episode 7, "Plan and Execution." Unable to reconcile staying with her husband, Kim leaves Albuquerque and her law license behind for a dreary life in Florida producing online catalogs and brochures for a sprinkler supply company. 
After years in hiding in Omaha as Cinnabon manager Gene Takovic, Jimmy finally reaches out to Kim, setting in motion a chain of bad decisions that ultimately gets him arrested and locked up for 86 years. While he is destined to spend the rest of his days behind literal prison bars, Kim escapes the long arm of the law but is left trapped in a far more restrictive jail of her own making. 
Kim's life is as boring as the color palette used to show it
AMC
Kim's existence in Florida — shot in black and white like Gene's Omaha scenes — isn't quite lifeless, but it is certainly dull, and it must be torture for someone with her intelligence, drive, and depth. She can't even make a decision about mayonnaise, deferring instead to her socks-and-sandals clad boyfriend, Glenn, who is played with perfect forgettability by Alvin Cowan. The light in her eyes that glowed when planning a small-time bar hustle with Jimmy or speaking with one of her public defense clients is gone, replaced by the blank stare she needs to fend off the memories of Howard's murder and her lost life in New Mexico.
While Gene is stuck in a mall security office talking Nebraska football in an effort to stay incognito a little longer, Kim is trapped oohing and aahing over Florida State University-colored deviled eggs at a weekend barbecue with the same three people she lunches with at work during the week. At her best, Kim was the brightest light in most rooms, intellectually, ethically, and psychosocially. In Florida, she has locked her emotional and academic smarts into an impenetrable box, buried it, and eaten the key along with her Miracle Whip tuna salad. 
The ghost of his brother Chuck likely whispered in Jimmy's ear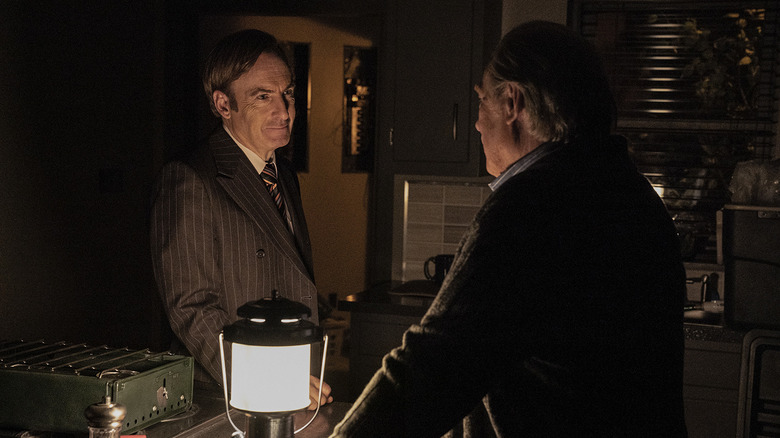 Greg Lewis/AMC/Sony Pictures Television
Bob Odenkirk's tri-faced character was the mouth of the series, but Kim Wexler was its heart and soul. The light in her eyes sparked the light in Jimmy's own gaze, and it's evident that he would have followed her in any direction she saw best for them. It's her reaction to his call that sets him down the path to reckoning, and everything he does from the moment he steps into that phone booth until his come-to-Jesus courtroom speech in "Saul Gone" is aimed squarely at recapturing her attention and atoning for his sins. 
It's the first time in either series that he steps down from the flimsy pedestal he built to lift himself out of the shadow of his older and objectively more successful brother, Chuck (Michael McKean). As the paranoia of Gene Takovic and the arrogance of Saul Goodman melt away, Jimmy McGill slides back in and shows that he is the only one of the three personas capable of self-reflection. He gets redemption in a way few of the inhabitants of the Gilligan-Gould Albuquerque universe ever did by honestly admitting to his wrongdoings, shielding Kim from any further legal worries and paying the piper.
Even behind bars, Jimmy seems to have things set up his way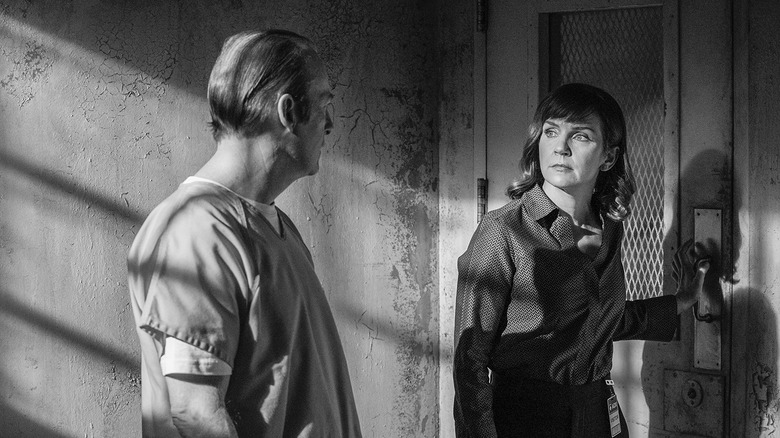 Greg Lewis/AMC/Sony Pictures Television
In prison, Jimmy gets to be his genuine self again while keeping the spoils of being Saul. He is a celebrity based on his reputation for helping the downtrodden, and likely will end up using his legal savvy to help some of his fellow inmates. Kim isn't walled in by fences and barbed wire, but is trapped in her brain's own "Freaky Friday" as a child — in her case purely in emotional terms — living an adult's life. Somewhere underneath that blank stare lives the real Kim Wexler, but it's going to be hard to dig her out. 
In an AMC.com interview, Rhea Seehorn said, "[Kim] is a shell of a person who just doesn't want to be looked at anymore. She wants to just be gray and blend in and disappear ... She created this other persona and decided, 'This is all I get in life. This is all I get. I can't be trusted to make any decisions. I can't be trusted to be a leader. I can't be trusted to pass judgment on things. I just need to drive my car exactly the speed limit and keep my head down, make a decent living, have nice enough friends, a nice enough boyfriend and a jigsaw puzzle, and that's what I deserve.'"
It will take more for Kim to find herself than a confession and prison sentence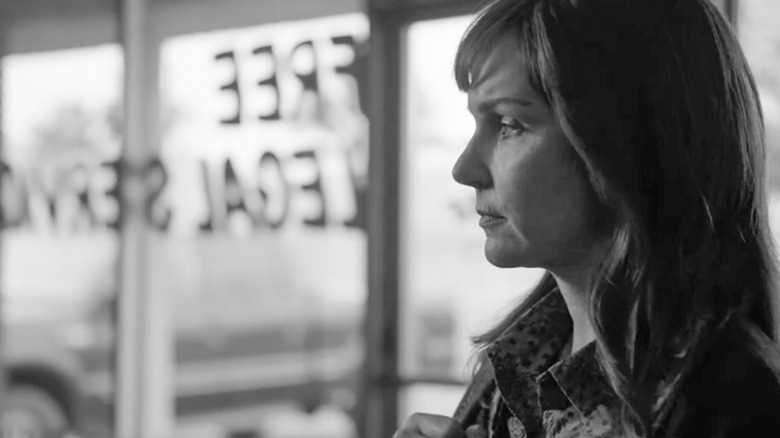 AMC
Now that she has avoided punishment from the legal system and presumably a civil suit from Cheryl Hamlin (Sandrine Holt), Kim still has her own path to redemption. Volunteering at the free legal clinic is the first step, and somewhere further down the road there is the possibility of her even becoming a full-fledged attorney again, whether she returns to Albuquerque or stays in Florida. But even if she can find her way back into the wide open frontier that practicing law could be for the new Kim Wexler, she will still be emotionally confined by her feelings for Jimmy.
Seehorn told AMC.com, "In my opinion that is definitely not the last time she's going to see him ... I think she's absolutely going to try to figure out how to reduce his sentence! I don't know if they're ever going to live happily ever after, but I think she loves him and I think she intends to help him, but on the up and up." Kim's wisest moment in the entire series came when she told Saul, "We are bad for everyone around us. Other people suffer because of us." No matter what we imagine for Kim beyond "Saul Gone," she'll never be free of that conflict between her love for Jimmy and her awareness of how destructive their partnership can be.
Kim's best hope is to pull herself out of a monochrome existence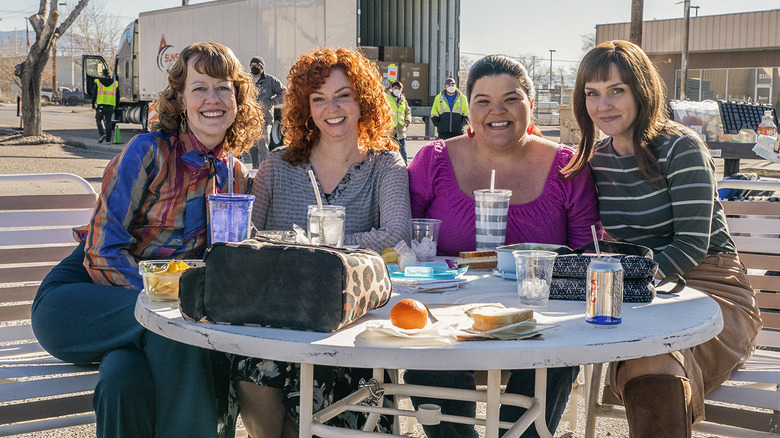 Greg Lewis/AMC/Sony Pictures Television
Kim was forever changed the instant she saw that bullet go through Howard's skull, and whether she abandons every last scrap of her old life or slowly reclaims bits of it, she will never be the same again. Gone are the Añejo tequila, takeout Thai food, and ice cream binges with the love of her life, replaced by chain restaurant dates and a wash-rinse-repeat lifestyle with Mr. Whatever. Jimmy gets his just desserts — although maybe not the mint chocolate chip ice cream he requested — and can sleep easy at night knowing he is where he belongs. He'll find the real Jimmy McGill in that prison someday soon, if he hasn't already.
Kim's path back to herself will be long and twisted and she won't be free to move along it as quickly as Jimmy will on his. She'll first have to flush that flat look from her eyes, and perhaps her volunteer work will help with that. But that alone won't get her past her Jimmy problem. It's not likely she'll ever be able to cut him from her life completely, but it would be foolish for her to dedicate her days to freeing him after the hole he dug with his self-incriminating courtroom speech. Regardless of whether she sees him again, probably the most she can hope for is to restore enough vigor in her existence to justify shooting it in color.