Where You've Seen The Cast Of Locke & Key Before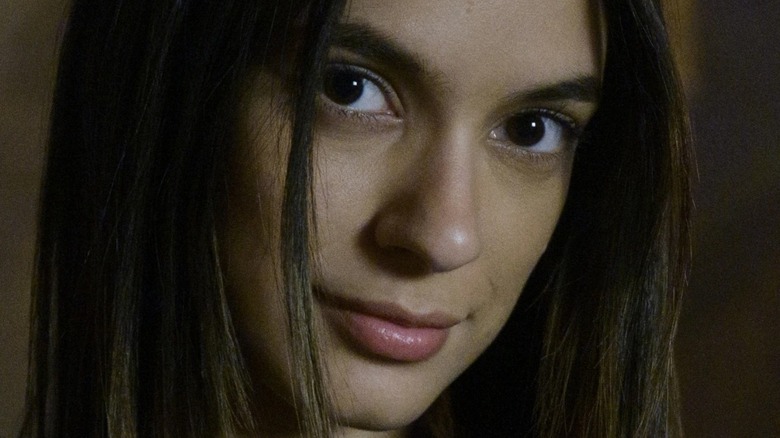 Netflix
With the mystery show genre seeing a huge boost in recent times thanks to the likes of "Stranger Things" and "Yellowjackets," it shouldn't come as a surprise that Netflix has made multiple attempts to repeat its massive "Stranger" success. One of the more effective results of those efforts has been "Locke & Key," a series that blends supernatural drama with horror to create a captivating and thrilling dark world.
Based on the comics by Joe Hill and Gabriel Rodriguez, the story sees three siblings explore their new home following the death of their father, only to discover it is filled with magical keys. As they set out to find out more about the magic within Keyhouse Manor, they encounter the demon known as Dodge and must fight for their survival.
Now that the ending of "Locke & Key" has arrived after three seasons on the streaming service, you might be wondering where you have seen the cast before. Considering how young so many of the actors are, it might surprise you to see how many shows and films they've previously worked on.
Warning: Contains multiple spoilers for "Locke & Key."
Connor Jessup (Tyler Locke)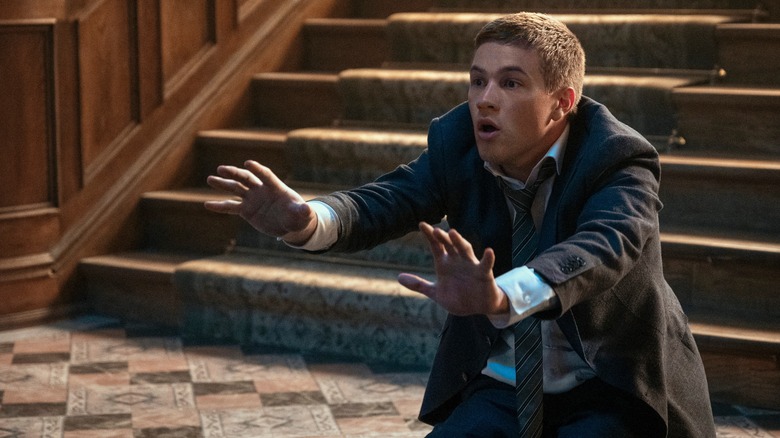 Netflix
Out of the three children who operate as the series' protagonists, Tyler Locke (Connor Jessup) is the oldest. This means he takes on something of a leadership role within the trio, especially considering that their mother and other adults usually can't remember magic and are unaware of many of the mysterious things happening in Keyhouse. Tyler generally has a more considered and cautious approach to events and takes his time to make decisions, unlike his comparatively brash younger sister.
Jessup might look familiar to many viewers, as the 28-year-old has been acting since he was a young child. His breakout role came in the children's show "The Saddle Club" where he's credited on 26 episodes that aired during 2008 and 2009. He also received his first writing credit for a "Saddle Club" episode and has written and directed a handful of shorts in subsequent years, including "Boy," "Lira's Forest," and "I Don't Hurt Anymore!" 
After several other television appearances, Jessup was brought into the main cast of the sci-fi show "Falling Skies," executive produced by Steven Spielberg. He also won glowing praise from TVLine for his role in "American Crime." 
Emilia Jones (Kinsey Locke)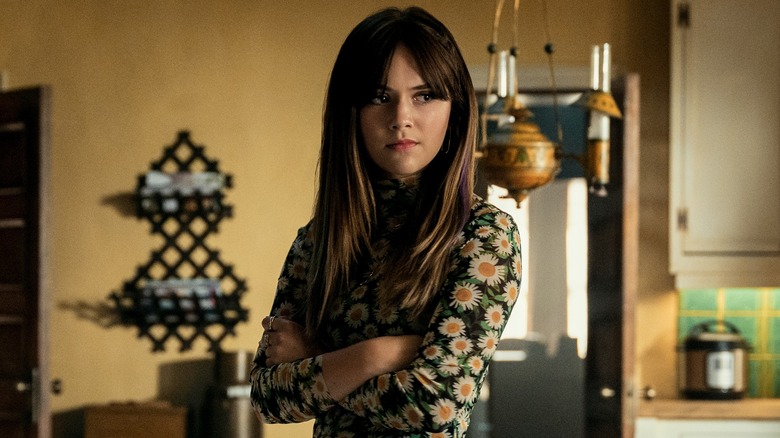 Netflix
The middle child of the Locke clan, Kinsey is portrayed by British actor Emilia Jones. Out of the three kids, she is arguably the one who struggles the most with the death of her father and moving to Keyhouse. Incredibly shy and introverted, Kinsey starts the show as someone who is indecisive and almost paralyzed by fear. However, as the series progresses, Kinsey starts to believe in herself more and allows her impulsive nature to come out — although this is often a problem, as her recklessness lands Kinsey and her siblings in trouble on a routine basis.
Jones has been a regular on television for several years. Broadway World reports that she had her first proper acting job at the age of 8 when she played a supporting role in 2011's "One Day" starring Anne Hathaway. Not long after, she made a small appearance in "Pirates of the Caribbean: On Stranger Tides." Jones started making waves on sci-fi television with a recurring role in "Utopia," as well as a one-off part in a 2013 episode of "Doctor Who." However, she is perhaps most famous for portraying teenage fisherman and singing prodigy Ruby Rossi in the uplifting Oscar-winning film "CODA."
Jackson Robert Scott (Bode Locke)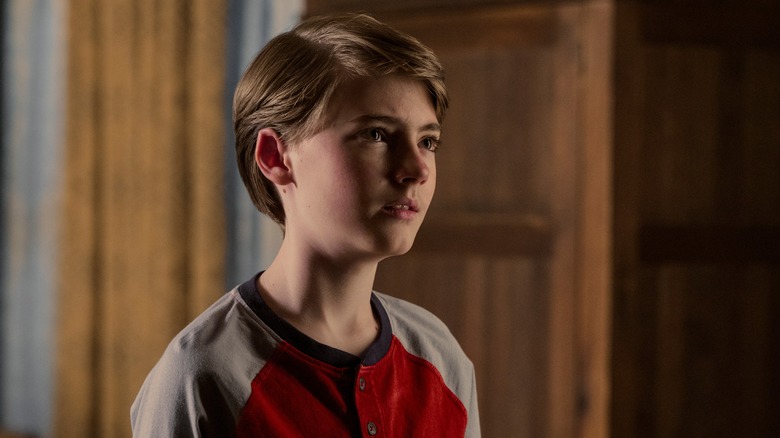 Netflix
Bode Locke, played by Arizona-born actor Jackson Robert Scott, is the youngest of Nina and Rendell Locke's children. One of the three main characters, much of the story is told through him as his curious nature. His inquisitive mind makes him the one most likely to explore Keyhouse and discover the mysterious magic within its walls. Possibly the bravest of the three children, he is also able to put his intelligence and intuitive personality to work in steering his brother and sister in the right direction in spite of the fact that they are both older than he is.
Scott's first ever acting role came in an episode of the CBS crime drama "Criminal Minds." After that, he went on to appear in "Fear the Walking Dead" in 2017, and then landed the iconic role of Georgie in 2017's horror blockbuster "It," a role he reprised for the sequel. He also worked on four episodes of "WandaVision."
Darby Stanchfield (Nina Locke)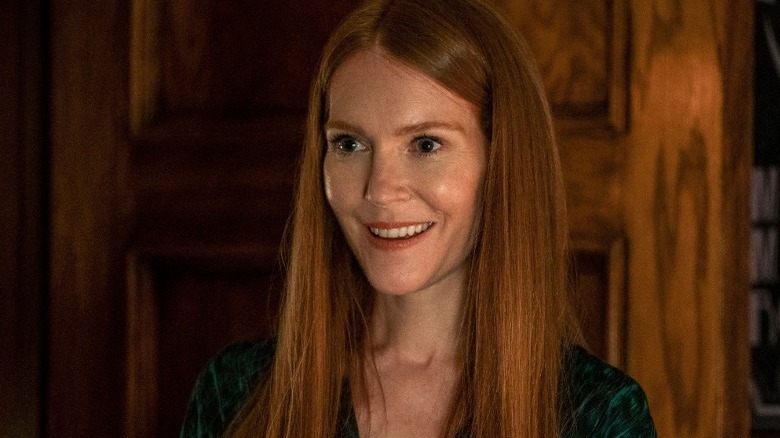 Netflix
Darby Stanchfield has portrayed Nina Locke in "Locke & Key" since the show's inception in 2020. Nina is one of the main secondary characters, acting as the leader of the Locke family following the death of her husband. Understandably, this event causes her a great deal of stress and she turns to alcohol to cope with the trauma. Nina makes the choice to relocate to Keyhouse with her children but shows her distaste for the state of the building following years of neglect.
An experienced actor, Stanchfield has appeared in dozens of television series and movies since starting her career in 2000 when she made her TV debut in "Diagnosis: Murder." After that, she had an impressive string of roles on well-known TV shows including "Bones," "Castle," "Monk," "Cold Case," and "The Mentalist." Stanchfield is probably best known for her work alongside Kerry Washington in "Scandal" along with roles in the post-apocalyptic drama "Jericho" and Matthew Weiner's critically acclaimed "Mad Men" where she portrayed Helen Bishop.
Petrice Jones (Scot Cavendish)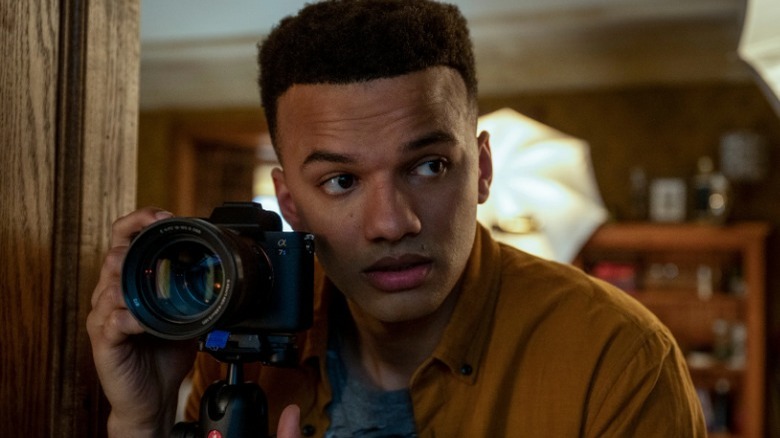 Netflix
Although not part of the Locke family, Scot Cavendish still plays a major role in "Locke & Key." Portrayed by actor Petrice Jones, Scot meets the family almost immediately after they arrive in Matheson via his part-time employment at the local ice cream shop. The character goes on to befriend Kinsey and the two become close, allowing her to participate in the filmmaking club known as the Savini Squad. However, he leaves to pursue an education at a prestigious university in England before returning to see the club's final movie.
Jones began his career in 2013 with minor roles in projects such as the medical drama "Casualty" and the D.I.Y. endeavors "Stunted Trees and Broken Bridges" and "Exploited." The U.K. actor then made a number of appearances in British television series, including the likes of "Holby City," "Doctors," and "Spotless" before being cast in the Netflix original movie "iBoy." He followed this up with a regular role in "Step Up: High Water" in 2018 and a part in the 2017 show "Lucky Man." Pebble Mag reports that the actor has also been involved in environmental activism and has even started a company that sells reusable water bottles.
Laysla De Oliveira (Dodge)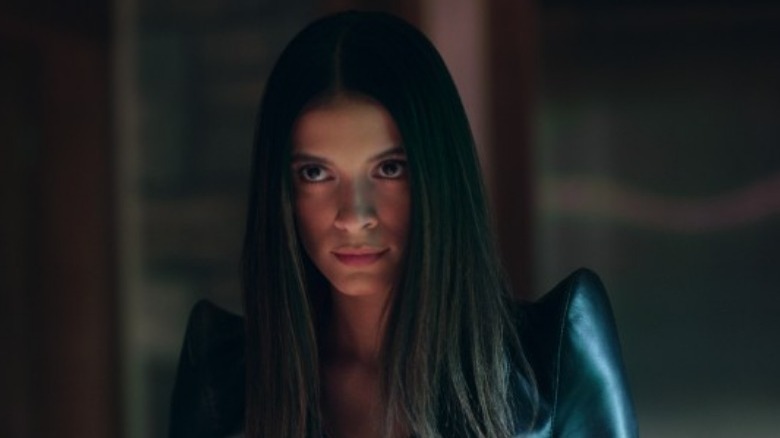 Netflix
In "Locke & Key," Laysla De Oliveira played the part of Dodge. Throughout the first two seasons, the character is one of the main antagonists and serves as a major villain who searches for the various keys for her own nefarious ends. Known by a number of different names, including Echo and Well Lady, she is accidentally released from her prison in the Wellhouse by Bode. Her ultimate aim is to forge her own key using the power of the others in order to conquer the entire world.
Canadian actor De Oliveira is undoubtedly best known for her role in "Locke & Key," but she has had some appearances in other projects. According to IMDb, she started modeling while still a teenager but wanted to pursue a career in acting. She played several minor roles in television series such as "Nikita" and "Covert Affairs" throughout 2012 and 2013 before appearing in a handful of films. In 2018, she was cast in "The Gifted" and then landed a part in "In the Tall Grass," a Netflix adaptation of a story by Stephen King.
Griffin Gluck (Gabe)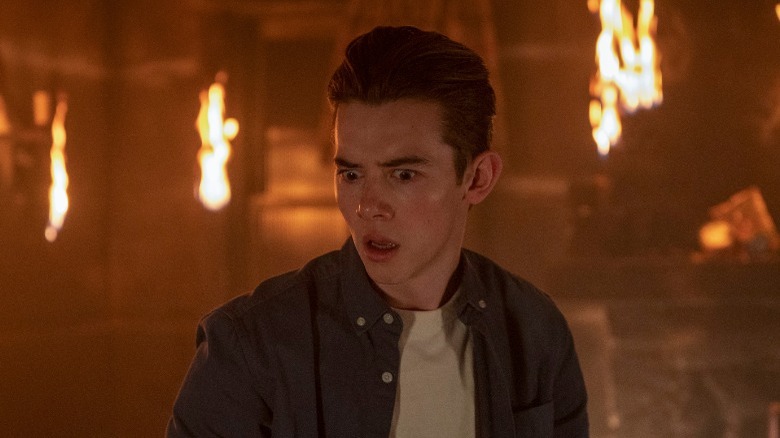 Netflix
Gabe, played by Griffin Gluck throughout the three seasons of the show, is something of an unusual character. He's actually a persona of Dodge who she uses to keep closer tabs on Kinsey while she attends high school. Posing as a male student, Gabe forms a friendship with Kinsey that evolves into a romance; meanwhile, Dodge is simply manipulating Kinsey to try to uncover more keys. Eventually, his true identity is revealed thanks to the help of Scot, which puts an immediate end to the relationship. 
Like many cast members of "Locke & Key," Gluck is a relatively young actor who doesn't have quite as many credits to his name as his more established peers. However, he still had some notable roles before joining the Netflix series, including an appearance in a 2010 episode of "The Office" and parts in the movies "Just Go with It" and "Trust Me."
He was cast in the "Grey's Anatomy" spinoff "Private Practice" in 2011 and then went on to play Charlie in the medical drama "Red Band Society" and have a role in "Back in the Game." The actor is probably best known, though, for his performance in another Netflix series — he's one of the main characters in the mockumentary "American Vandal."
Aaron Ashmore (Duncan Locke)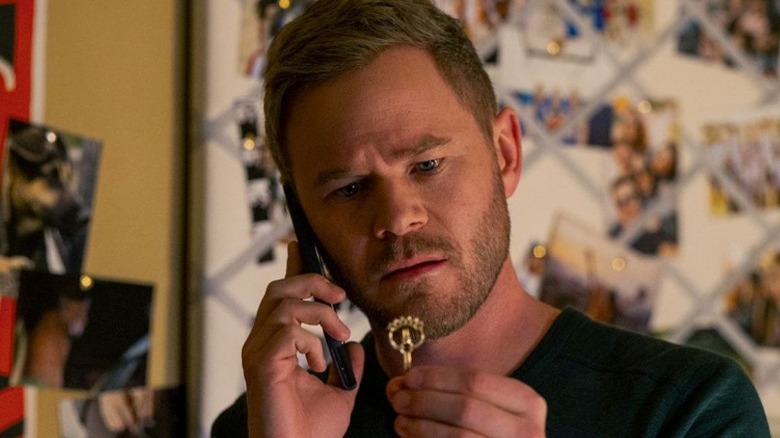 Netflix
Portrayed by Aaron Ashmore, Duncan Locke is the brother to the deceased Rendell Locke, brother-in-law to Nina, and uncle to the Locke siblings. He abandoned Keyhouse to live in Boston with his partner Bryan but played an important role in the history of the building, having forged two keys of his own in the form of the Memory Key and the Demon Key. Eventually he returns to Keyhouse with the rest of his family to help defend them and their home against the villainous Dodge.
Outside of "Locke & Key," the 42-year-old actor is probably most famous for his roles in several other television shows. He has had major parts in the sci-fi series "Killjoys" and "Warehouse 13," and played journalist and photographer Jimmy Olsen in the "Superman" prequel "Smallville" on The WB for three seasons. More recently, he has appeared in films such as "Sugar Daddy" and "The Retreat" along with a recurring part in "Designated Survivor." The Tribute reports that Ashmore also has a twin, Shawn, who is also an actor — often recognized for playing Iceman in multiple "X-Men" films — and is one minute younger than Aaron.
Brendan Hines (Josh Bennett)
Netflix
John Bennett, played by Brendan Hines, is a history teacher at Matheson Academy and joins the show during its second season. He remains a regular character throughout Seasons 2 and 3 where he interacts with the Locke children and forms a close bond with Nina. This eventually leads to him becoming a love interest for the widow. Unbeknownst to most of the other characters, Josh is also a descendant of the sinister time-traveling baddie Frederick Gideon.
Before "Locke & Key," Hines was one of the main characters in the crime drama "Lie to Me" alongside Tim Roth and Kelli Williams as one of the employees of the Lightman Group. He also played recurring roles in both "Scandal" and "Suits," as well as Amazon's "The Tick" where he appeared as Superian in 17 episodes. The actor has also released two albums and according to The Wrap has been a prominent support of Senator Bernie Sanders during his campaigns for the U.S. presidency.
Sherri Saum (Ellie Whedon)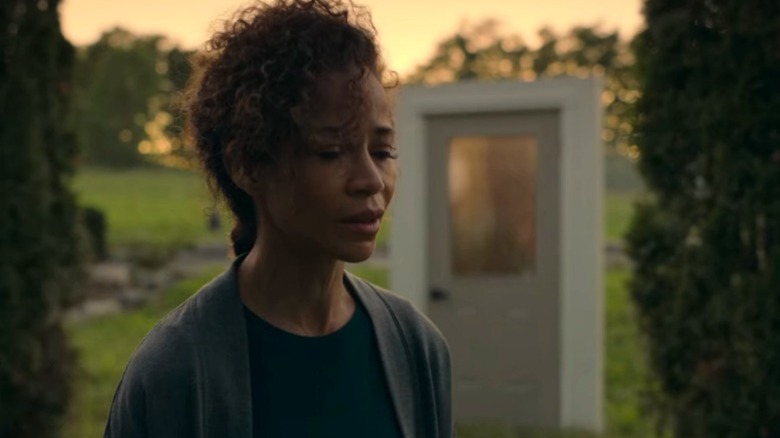 Netflix
Although she is not a part of the Locke family, Ellie Whedon (Sherri Saum) has a close connection with them. She was a childhood friend of Rendell and knew of the keys and the magic within Keyhouse when she was younger. She acted as a guardian of the Echo Key and stole the Crown of Shadows from Nina in order to stop Dodge from gaining access to it. Later, Ellie is captured by the villain who assumes Ellie's identity to further her own evil plans.
Sherri Saum is a regular presence on television screens, with dozens of credits to her name. She has also made a few notable film appearances. She was a series regular in "Sunset Beach" and was nominated for a daytime Emmy for her performance. She went on to portray main characters in "Beggars and Choosers" and "One Life to Live," and was cast in the movies "Anne B. Real" and "Finding Home." However, Saum is almost certainly best known for her leading role in "The Fosters" and the spinoff series "Good Trouble."
Hallea Jones (Eden Hawkins)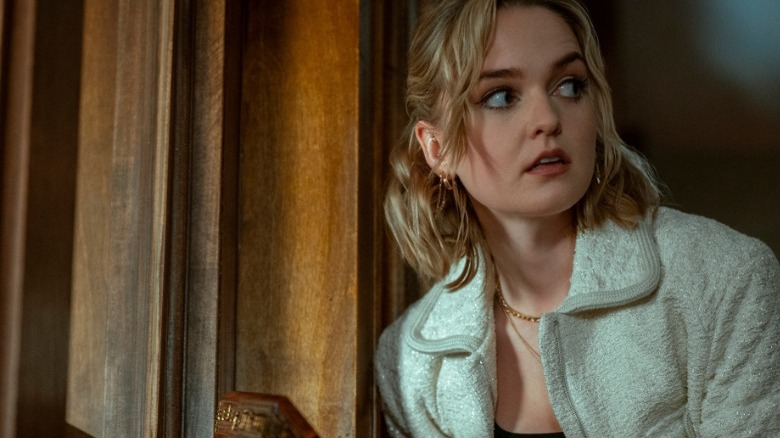 Netflix
Hallea Jones plays Eden Hawkins, a fellow student at Matheson Academy who forms a rivalry with Kinsey. Throughout the first season, she acts as an antagonist to the middle sibling, bullying Kinsey and trying to turn the other classmates against her. During an encounter with Dodge at the Drowning Cave, Eden is possessed by a demon and plays host to the monster for months until she is killed when the demon resurrects Frederick Gideon and has no more need for her.
In an interview with British Thoughts Magazine, Jones revealed that she signed up with an artist management company promptly after high school. The young actor had a passion for performing from a young age partially due to the fact that she comes from a family of artists and musicians. Her first major role came in "Workin' Moms" in 2018 and she subsequently made appearances in "The Hot Zone" and "The Boys." By 2019, she had credits in movies including the Christmas film "Let It Snow" and the adventure movie "58."
Genevieve Kang (Jackie Veda)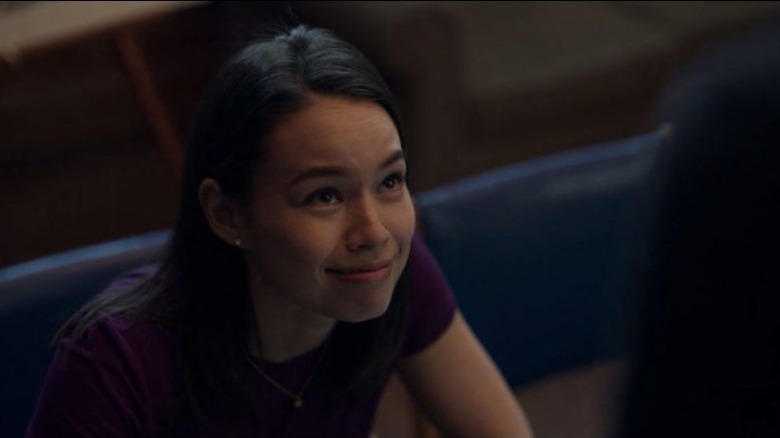 Netflix
Jackie Veda, another student at Matheson Academy, is a romantic interest for Tyler. The character, who is portrayed by Genevieve Kang, is also Eden's best friend. However, she doesn't share Eden's antagonistic disposition towards Kinsey. Jackie eventually dates Tyler, but Dodge possesses her with a demon in order to further manipulate the Locke family, which ultimately leads to Jackie's death.
Kang appeared on the television series "Romeo!" in 2004 and "Beautiful People" in 2005 before seemingly taking a break from acting. She returned to the screen in 2010 with a role in "What Up Warthogs" and had parts in "Life with Boys," "If I Were You," and the television movie "The Good Witch's Charm." The actor later appeared in two episodes of "Shadowhunters: The Mortal Instruments" and played Miss Kennedy in "Jett" before finding a regular role in the sci-fi drama "Impulse" on YouTube Premium. In 2019, she portrayed the character Josephine in "The Crossword Mysteries"
Kevin Durand (Frederick Gideon)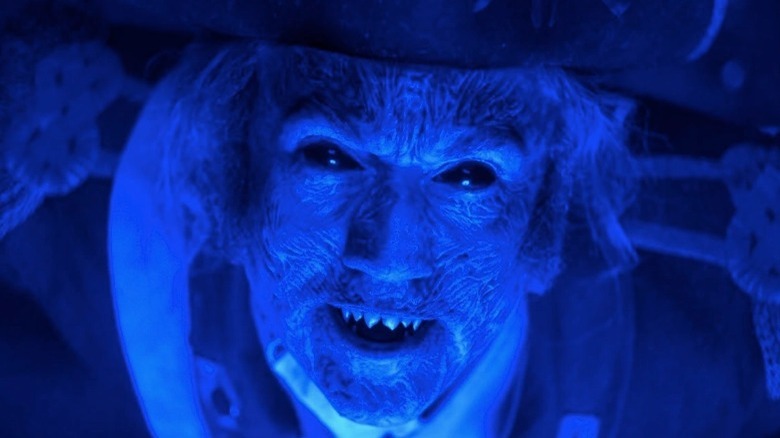 Netflix
A captain in the British army during the American Colonial Era, Frederick Gideon died after being possessed by a demon who had escaped through the Black Door. Played by Kevin Durand, Gideon was brought back by the demon who possesses Eden Hawkins in an attempt to open the Black Door permanently and unleash those trapped in the other world.
Durand got his big break in acting when he was cast in 1999's "Mystery, Alaska" alongside the likes of Russell Crowe, Hank Azaria, and Burt Reynolds. Before that, he appeared in "Austin Powers: The Spy Who Shagged Me" as an assassin and went on to portray Cliff in "Beggars and Choosers" for six episodes of the series between 2000 and 2001. He worked with Crowe twice more in Ridley Scott's "Robin Hood," where he portrayed Little John, and later in the 2014 film "Noah." The actor also had a string of major roles in sci-fi TV dramas, including "Lost," "The Strain," and "Dark Angel."
Coby Bird (Rufus Whedon)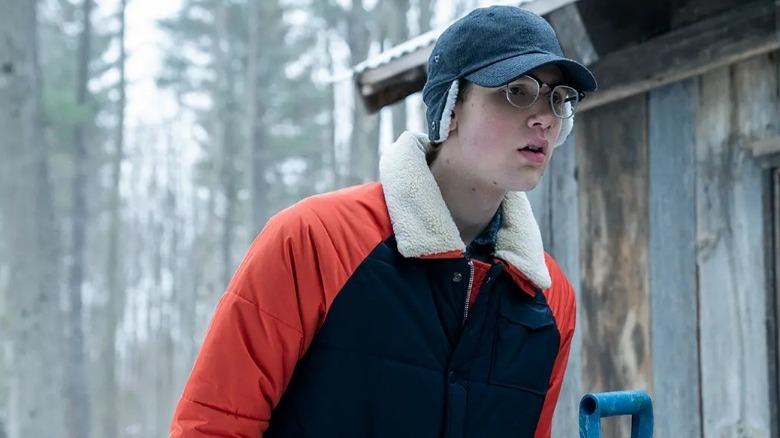 Netflix
Within the world of "Locke & Key," Rufus Whedon is the adopted son of Ellie Whedon. Coby Bird portrays the character throughout his various appearances in all three seasons of the series. When the Locke family arrives at Keyhouse, it becomes clear that Rufus has been acting as its groundskeeper for several years, doing his best to keep the building in good shape. Around the same age as Bode, he quickly strikes up a friendship with the youngest Locke sibling and becomes involved in their adventures with the magical keys.
"Locke & Key" is Bird's first major role, but he has a small number of credits to his name from before the show. He played a protestor in "Mega Python vs. Gatoroid" in 2011 and it was not until six years later that he was cast in an episode of the ABC sitcom "Speechless." The youngster went on to have minor parts in the medical drama "The Good Doctor" and "Love Daily" before landing his job on the Netflix series.
Bill Heck (Rendell Locke)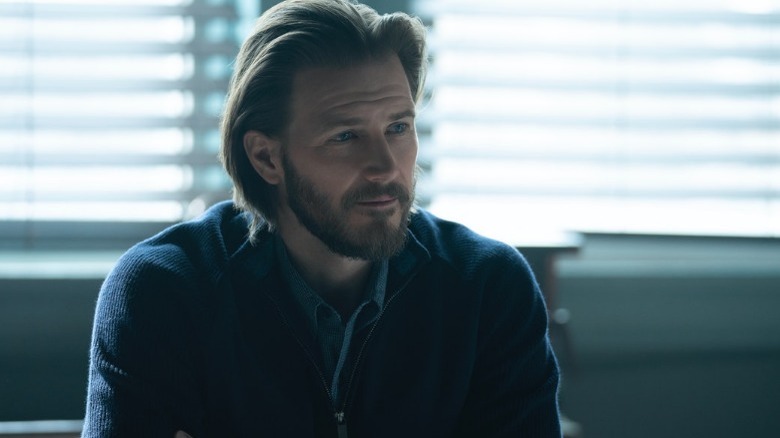 Netflix
Although Rendell Locke is dead when "Locke & Key" begins, Bill Heck played the character through a series of flashbacks that help explain the Locke family history and the events that led up to them moving to Keyhouse. Rendell is ultimately responsible for a lot of what happens during the show and even inadvertently allows Dodge to escape through the Black Door. Using the Head Key, Nina and Bode are able to see him one last time during one of his guest appearances during the third season of "Locke & Key."
A veteran of the stage as well as the screen, Heck made his first television appearance in 2007 on the show "Numb3rs." He went on to have roles in "The Closer," "CSI: NY," and "NCIS" in the same year. According to Broadway World, he has appeared in theater productions such as "Cabaret" and "The Orphans." By 2014, he was a recurring character in "Taxi Brooklyn" and appeared in three episodes of "The Leftovers" from former "Lost" showrunner Damon Lindelof. Heck was also part of the cast of the Coen Brothers' Western film "The Ballad of Buster Scruggs."
Thomas Mitchell Barnet (Sam Lesser)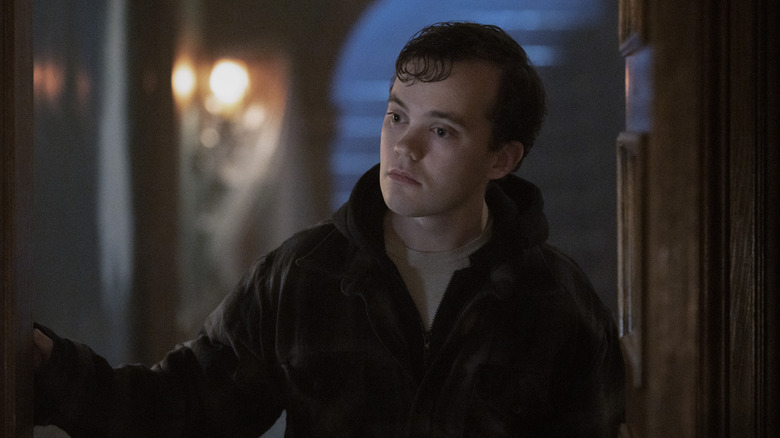 Netflix
Thomas Mitchell Barnet played Sam Lesser, a man who shot and killed Rendell Locke, in "Locke & Key." Yet, it was actually Dodge controlling Sam that led him to commit the murder and then terrorize the Locke family in order to uncover the locations of the various magical keys. Lesser ends up being one of the villains of the first season but is redeemed when he sacrifices himself to save the Locke family and Ellie Whedon.
Another relative newcomer to the world of TV and film acting, Barnet has a limited number of credits to his name. His first role came in the supernatural medical drama "Saving Hope," where he appeared in a 2016 episode. Two years later he was cast in both "Murdoch Mysteries" and "Wayne" before landing a role in the film "Run This Town." His most recent major role outside of "Locke & Key" came in crime drama series "In the Dark."
Kevin Alves (Javi)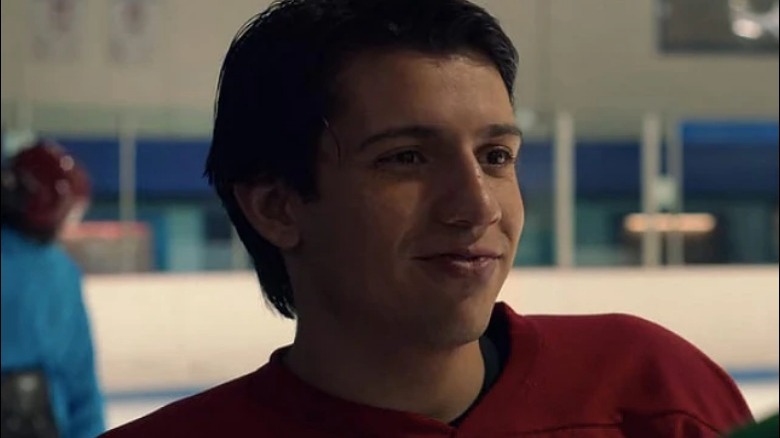 Netflix
Javi, played by Kevin Alves, is yet another student who goes to Matheson Academy. He makes his first appearance in the opening episode of the series and seems like a nice enough guy who plays on the hockey team and invites Tyler to a party after meeting him in school. Javi is later possessed by Dodge and is forced to do her bidding when she uses the Demon Key on him to see its effects. As demonic possession tends to put a considerable strain on social relationships, Javi ends up in conflict with Tyler and the other Locke children throughout the second season.
As reported by Vulture, Alves was a professional figure skater before he became an actor, representing Brazil in several international championships between 2007 and 2012. After finding some success, he turned to acting and has since had major roles in "Degrassi: The Next Generation," "Star Stable: Mistfall," and "Chicago Fire." Since 2021, he has played the young version of Travis in the psychological drama "Yellowjackets."
Jesse Camacho (Doug Brazelle)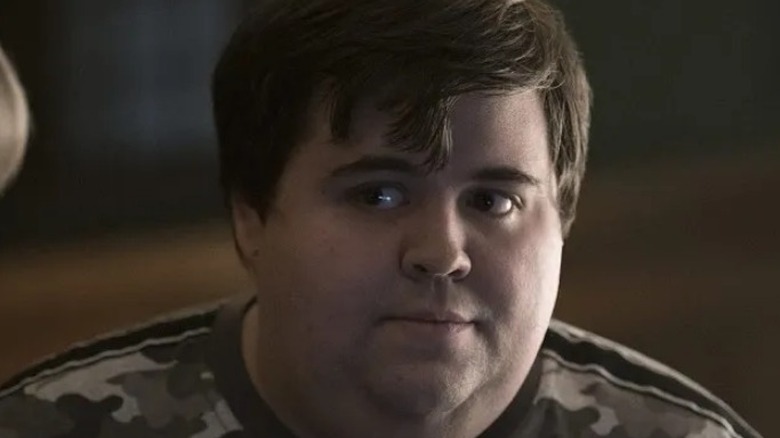 Netflix
A member of the filmmaking group the Savini Squad, Jesse Camacho's character Doug Brazelle plays an important role in helping Kinsey and Scot on their adventures. He is the cameraman for the team and appears throughout all three seasons in a supporting role. Camacho has since spoken about how he finds that he and the character of Doug are very similar. In an interview with Harlton Empire, he said, "We're both big horror movie nerds [and] have a passion for filmmaking and the tendency to greet uncomfortable moments with sarcasm."
Camacho's first acting role came in 1994's "NeverEnding Story III: Return to Fantasia" when he was roughly 2 or 3 years old. He later had a part in the television series "Tales from the NeverEnding Story." He provided various voices for animated shows such as "Arthur," "Creepschool," and "My Life Me" before being cast in "Mother Up!" Following on from that success, Camacho took the lead in the comedy drama series "Less Than Kind," starring alongside Maury Chaykin and Benjamin Arthur.
Joy Tanner (Erin Voss)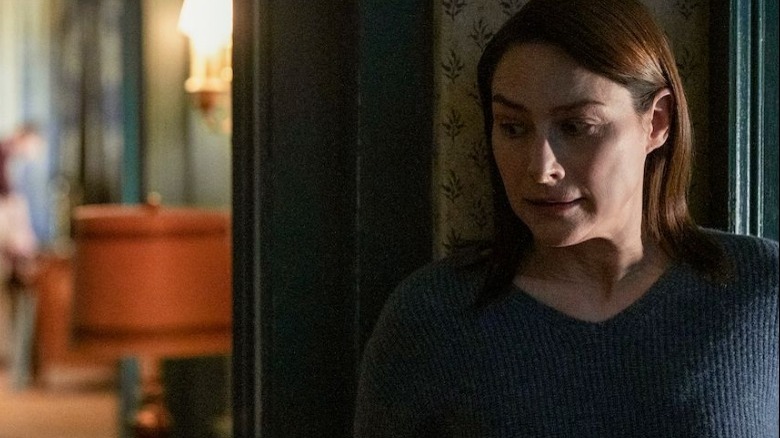 Netflix
When she was a teenager, Erin Voss was a friend of Rendell Locke and one of the Keepers of the Keys who knew of the magic in Keyhouse. Unfortunately, some years after she and the other keepers released Dodge, she becomes trapped in her own mind and her body becomes frozen when she is interrupted while using the Head Key to explore her memories. She remains in this state for some 23 years before being freed by the Locke children and helps them battle Dodge.
One of the more experienced actors in "Locke & Key," Joy Tanner has a large number of previous roles under her belt. She is perhaps most famous for portraying Nora McDonald Venturi in the Canadian sitcom "Life with Derek" and later reprised the part for the made-for-TV movie "Vacation with Derek." However, she has also appeared in everything from "Boogies Diner" and "Nancy Drew" to "Cold Squad" and "Degrassi: The Next Generation." Tanner's voice may be familiar to anyone who watched the "Donkey Kong Country" animated series from 1997, as she provided the voice of Candy Kong in the show.