12 Best Cameos In Popstar: Never Stop Never Stopping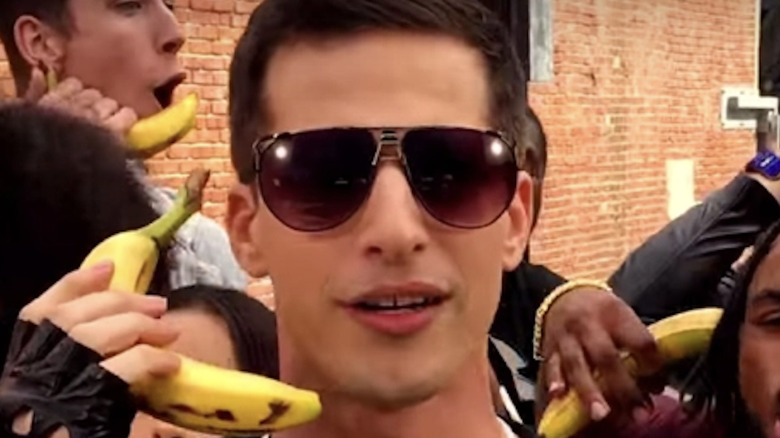 Universal
The absurdist music stylings of The Lonely Island, combined with the homegrown flair of mockumentary filmmaking, made "Popstar: Never Stop Never Stopping" a cult hit upon its 2016 debut in theaters. 
Featuring the trio at what might have been the zenith of their creative height and professional pull, Andy Samberg, Jorma Taccone, and Akiva Schaffer not only star in "Popstar," but also took on directing, writing, and producing duties. The resulting film unapologetically bears the identity of the lifelong-friends-turned-creative-collaborators, translating the "Digital Short" format that broke them out on "Saturday Night Live" onto the movie screen.
Compare "Popstar" to the trio's previous theatrical outing together, 2007's "Hot Rod," which feels decidedly more indie and low-key compared to the spectacle of the former. By 2016, Samberg, Taccone, and Schaffer were no longer the new kids on the block. They were established innovators in their field, and as such could attract a hugely impressive array of celebrity cameos to help "Popstar" feel like an authentic documentary, even if it wasn't.
"Popstar" is overflowing with over 40 showbiz cameos, some celebrities playing versions of themselves and others portraying fictional characters. Here are a dozen of the best.
12. Simon Cowell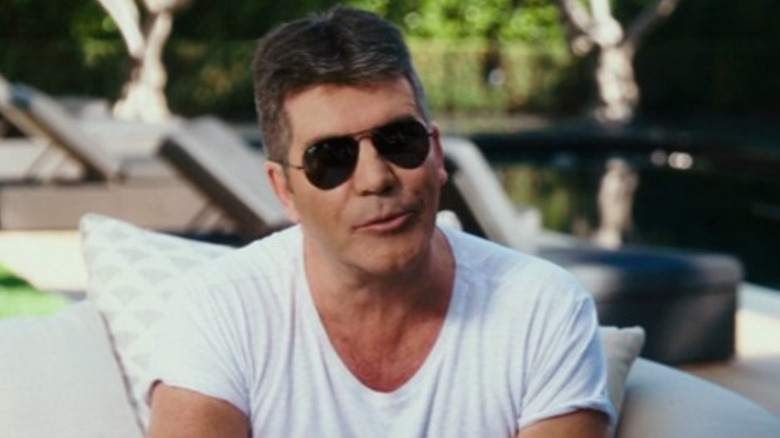 Universal Pictures
Cowell, a music producer known for launching the careers of famous artists on competition shows like "American Idol" and "The X Factor," is wired into the meteoric rise of Conner4Real, the fictional "Popstar" singer portrayed by Andy Samberg. Within the mockumentary format of the film, Cowell is an anchor of its many cutaway "interviews."
"I think he's incredible," Cowell initially says of the talent. "He really is the real deal." 
Later, for Conner's concert tour, Cowell suggests his DJ (Owen, played by Jorma Taccone) wear an electronic helmet onstage. "Putting that helmet on Owen's head? That was a brilliant gimmick," Simon postulates. "I wish I'd done that with Zayn. We could've kept him in One Direction for years."
It's fun to imagine how real people who are connected to the music industry would react to someone like Conner4Real, and "Popstar" indulges the audience with some lighthearted insight into a hypothetical Hollywood.
11. Ringo Starr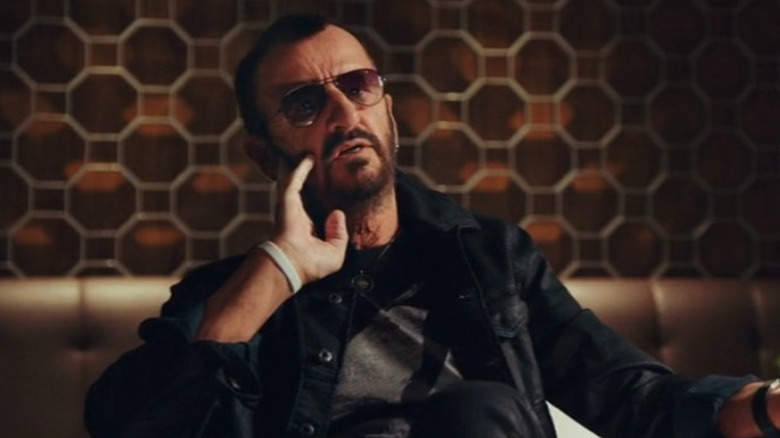 Universal Pictures
It's no secret that "SNL" mastermind Lorne Michaels has a friendship with the Beatles that dates all the way back to him offering them money to reunite in the '70s; it's no surprise, then, that this musical doc has a talking head from the most famous rock band of all time. 
The star power in "Popstar" soars when Ringo Starr, former Beatle, appears onscreen. As one of the interviewees, Starr shares his admiring thoughts and candid criticisms about Conner4Real (all scripted, of course).
Securing such a legend to appear in comedies like "Popstar" can sometimes yield ridiculous results ; thankfully, Starr has his own extensive history of both acting and having a sense of humor. So, it works with Starr, who enthusiastically approves of, and then says out loud with excitement, Conner4Real's catchphrase: "Doink de doink!"
Elsewhere, Starr comments on the odd decision that has Conner releasing a civil rights song. "He's writing this song about gay marriage like it's not allowed," Starr states in the film. "It's allowed now."
Although Paul McCartney also appears in the film, it is via stock footage from an award show; Starr's Beatles mate didn't film anything new for "Popstar."
10. DJ Khaled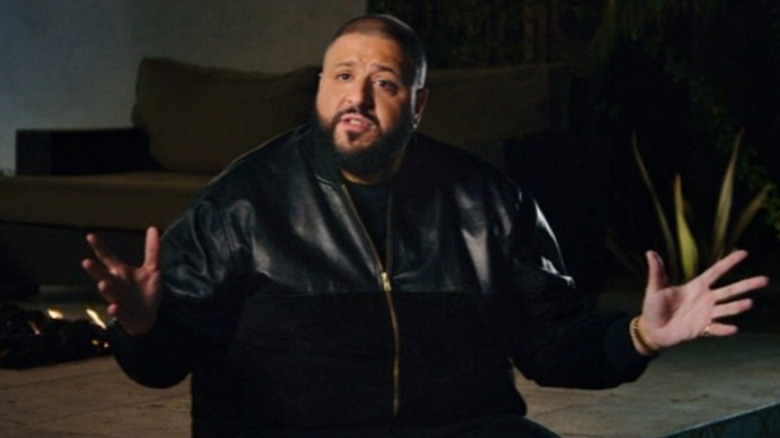 Universal Pictures
Conner4Real writes what comes to be known as "the catchphrase verse," which he performs as part of a guest appearance on another artist's track. The truth behind this verse becomes a point of contention among the Style Boyz, Conner's former boy band, with the lyrics actually being written by Lawrence, aka Kid Brain (Akiva Schaffer). 
"I had been working on a catchphrase," Conner lies, "but what had happened was, I just thought of so many dope ones, that I was like, what if I put them all into the verse?" 
The result is a string of phrases as annoying as they are catchy: "Say word! Dilbert! Doink de doink! Sorry, Dad! Dinky nuts! Squirrel jam! Hats! Zerbert in the sherbet! Squark! One hundred gift baskets! DJ Tanner! Swanky pumps! Moped music!"
A cutaway interview in the mockumentary shares thoughts on this infamous moment in music history, via DJ Khaled. Khaled knows a thing or two about catchphrases, making his respect for Conner4Real noteworthy. "Immediately I said, 'Man, this guy right here, he's gonna make it big,'" Khaled says in the film, "because when you have a catchphrase, the world is catched by your phrase."
9. Maya Rudolph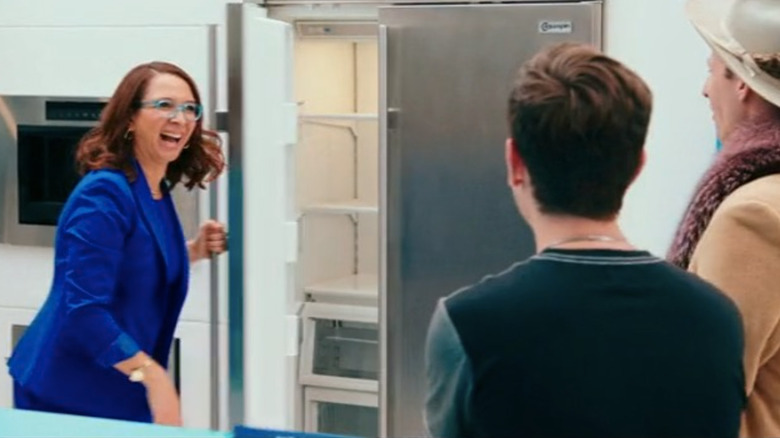 Universal Pictures
A cast member on "Saturday Night Live" at the same time as Lonely Island, it 's good to see Rudolph's familiar face in "Popstar." She plays Deborah (pronounced "Deb-OR-uh"), a representative from a company called Aquaspin, which Conner4Real selects as a corporate sponsor for his new album, "Connquest."
Deborah has an ingenious idea: Equip Aquaspin home appliances so they play songs from "Connquest." Grabbing a snack from your refrigerator? You'll hear Conner sing about how he's "so humble" when you open the fridge door. Doing laundry? You'll hear Conner belt out his disdain for the Mona Lisa. 
What Deborah and Conner don't anticipate is backlash from Aquaspin customers who don't care to hear Conner's voice blaring across their homes without opting in. The moment is likely inspired by Apple's 2014 U2 debacle, which had the company "gifting" 500 million subscribers the band's new "Songs of Innocence" album; many had their devices automatically download the songs, and there was a substantial backlash from users who found it obtrusive and had difficulty removing the unwanted tracks from their iTunes. The public relations nightmare was estimated to have cost the company as much as $100 million.
8. Emma Stone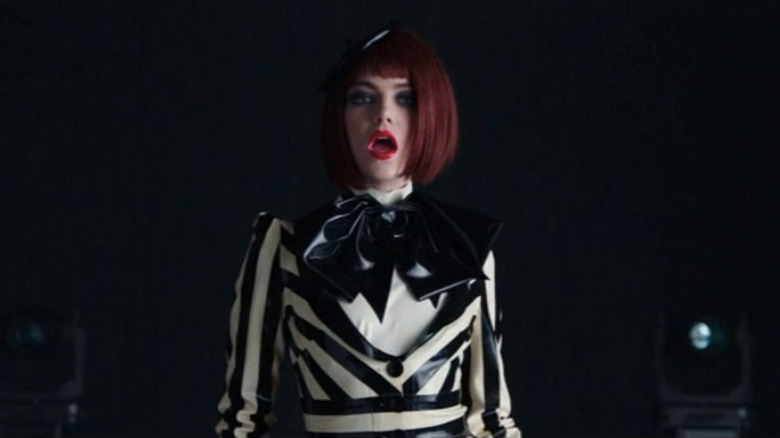 Universal Pictures
"La La Land" star Stone plays Claudia Cantrell, a fictional musician who invites Conner to appear on her song "Turn Up the Beef." The song stirs up some beef indeed, as Conner steals credit for Lawrence's writing, leading to the breakup of the Style Boyz. 
"Popstar" includes a fun clip from the "Beef" video, which momentarily shows Stone before diving into Conner's verse. While Stone may only briefly be glimpsed in the film, the soundtrack features the song in its entirety, giving a fuller look into her character, who opens by repeatedly whispering "un poco picante/a little bit spicy."
In a twist of fate, Stone's wardrobe and hairstyle in "Popstar" would closely resemble her take on Cruella DeVil in "Cruella," a live-action 2021 prequel to "101 Dalmations."
7. A$AP Rocky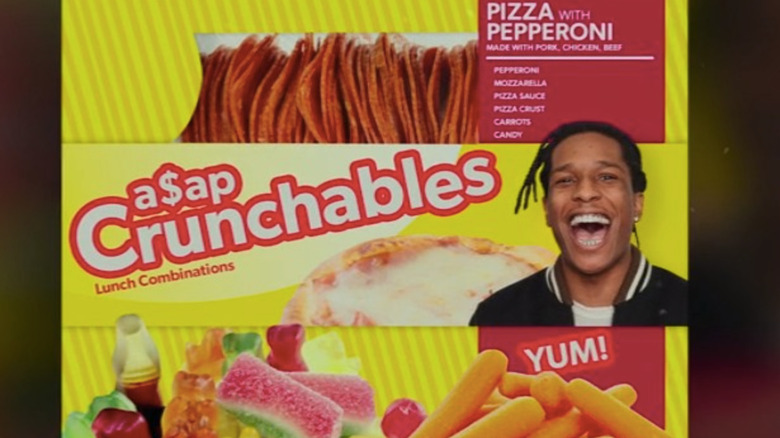 Universal Pictures
When Conner's partnership with Aquaspin doesn't go well, A$AP Rocky is one of the few talking heads willing to stick up for the idea. "I understand why he did the whole Aquaspin thing. Touring is expensive today," the rapper explains. "Why do you think I did the A$AP Crunchables?"
The camera then cuts to a product photo of a fake item parodying Lunchables. In this version of the classic kids' all-in-one lunch kit, A$AP Rocky adorns the labeling to entice consumers to try out the crazy lunch combinations inside. The mobile meal contains pizza with pepperoni ("made with pork, chicken, beef"), mozzarella, pizza crust, pizza sauce, carrots, and candy. Can A$AP Rocky Crunchables be on shelves in real life, please?
6. Mariah Carey
Universal Pictures
Conner4Real debuts a new song called "I'm So Humble," which unknowingly pulls a veil back on the hyperbolic delusion in which Conner lives. 
The song, a profession of how humble he is, features lyrics like "Bar none, I am the most humble-est, number one at the top of the humble list/The thing about me that's so impressive is how infrequently I mention all of my successes." 
In a cutaway interview, musician Mariah Carey expresses her approval of the song — the joke being that she, too, has been known to display diva-like tendencies. 
"I instantly connected with that," Carey says, "because I'm probably the most humble person that I know." 
Later in the film, Carey returns to present a category at the Pop Awards, aka the Poppies, with Hunter the Hungry (Chris Redd). When Hunter turns the moment into promotion for his Aquaspin sponsorship, Carey leaves the stage. Hunter subsequently cusses her out, after which she turns right back around to show him who's boss before the camera cuts away.
5. Jimmy Fallon and the Roots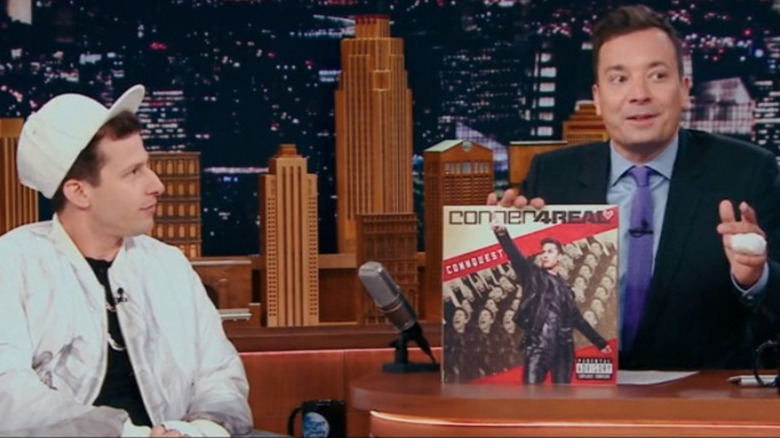 Universal Pictures
If Conner4Real was actually a famous singer in the real world, he'd do a press tour to promote his new album, which might include a guest appearance on "The Tonight Show." Thanks to NBC synergy — "Popstar" was produced by Universal Pictures — the film includes that scenario in a fun scene. Jimmy Fallon and his house band, The Roots, appear in "Popstar" as themselves, interacting with Andy Samberg in character as Conner4Real just as they would any real guest on their show.
Fallon, whose period of wearing a cast to heal a finger injury is forever immortalized in the movie, interviews Conner about the new music before revealing a surprise. Just as "The Tonight Show" sometimes has unexpected guests or epic throwback moments, Fallon welcomes to the stage Kid Contact, clad in a Style Boyz sweatshirt from the duo's old band. 
The audience goes crazy — remember, in this fake world, they're witnessing an unannounced reunion of a broken-up boy band — while Fallon dons a Style Boyz shirt himself and hands one to Conner. The three of them then perform the Style Boyz' signature dance move, the donkey roll.
While the moment undoubtedly racked up millions of YouTube views in (this version of) reality, Conner is upset at being blindsided, saying it made him look like a has-been. Regardless, the entire scene feels authentic to what a real Jimmy Fallon interview might be like with say, Justin Timberlake or Harry Styles or someone else who had similarly transcended their boy-band roots.
4. P!nk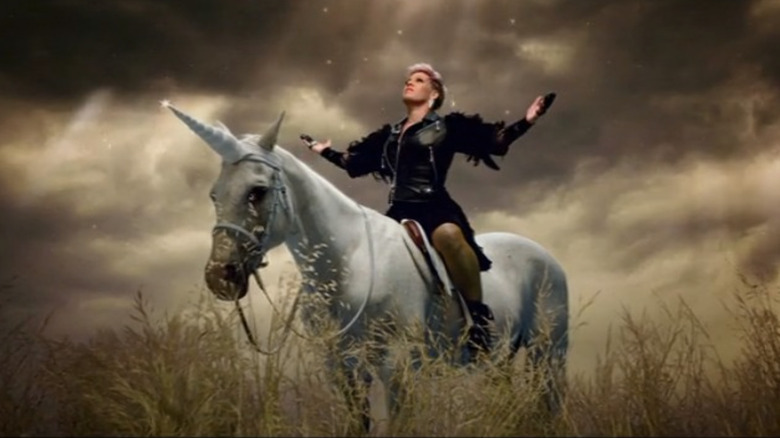 Universal Pictures
Pop sensation P!nk would be a natural fit to collaborate on a song if Conner4Real was real. It makes sense, then, that the duo would perform together on an "important" song called "Equal Rights."
Advocating for equality for the LGBTQ+ community, "Popstar" brings viewers the absurd video, which has P!nk treats the subject matter seriously, singing "I was born this way, you were born your way. Gay or straight, straight or gay, it's all ok. It's time to make a change. It's time to stop the hate 'cause who you are is beautiful."
Conner, by contrast, makes the song about himself. Repeatedly attempting to prove he isn't gay by rapping a long list of activities stereotypically associated with being straight, Conner is essentially doing the opposite of what the song is supposed to do. Later in the film, he realizes this approach was offensive; P!nk, in her small cameo, gives her all to the performance while nonverbally "acting" her discomfort with the direction Conner takes the song.
3. Seal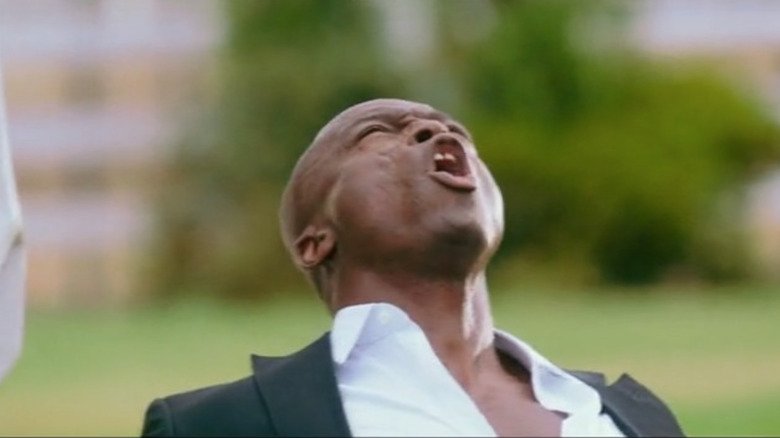 Universal Pictures
Seeking to divert the attention of the press onto something other than an embarrassing moment onstage, Conner decides to propose to his girlfriend, Ashley Wednesday. After planning an elaborate proposal with enough fanfare to seemingly make it a viral certainty, things backfire.
In the middle of a beautiful field, Conner gets down on one knee, while in the distance wait a pack of wolves Conner has hired for ambience. Also present is Seal, belting out his take on Conner's "Mona Lisa," placing Ashley's name into the lyrics and describing the very moment transpiring before him. "Please freakin' say yes, girl," Seal belts.
Then things unravel, fast. The wolves get loose and attack everyone in sight, leaving Conner and Ashley no choice but to abandon their special moment and run for their limo. Seal seeks refuge with them, but is mercilessly pulled back by the wolves before he can reach the vehicle. Following a shot of Conner and Ashley screaming in terror, the camera cuts to the cover of a tabloid, revealing that Seal is suing Conner. It's an absurd scene through and through, and Seal does a commendable job selling getting chomped on by wolves.
2. Justin Timberlake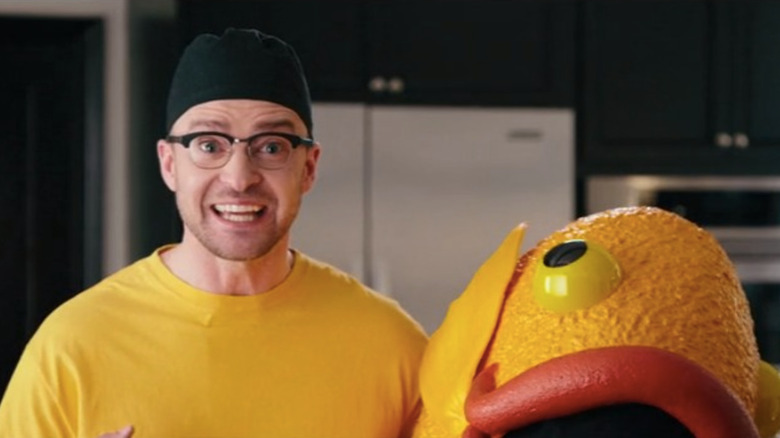 Universal Pictures
Though the line often blurs between reality and fantasy when discussing a film like "Popstar," Timberlake has a real-life history with Lonely Island stretching back some time, having appeared in such now-classic Digital Shorts as "D**k In A Box" and "Motherlover."
So, you might expect Timberlake to appear in some sort of self-referencing role like P!nk and Mariah Carey, perhaps accompanying Conner4Real on a track. Instead he plays Tyrus Quash, Conner's enthusiastic personal chef. 
Tyrus has dreams of becoming a famous singer, but whenever he sings while preparing Conner's food, the popstar's entourage dismissively tells Tyrus to "leave the singing to the professionals."
While it's funny to see Timberlake be told he can't carry a tune, the audience eventually sees some redemption for Tyrus. At the end of the film, he accompanies the Style Boyz on stage while inside a fish costume; could he finally be getting his big break?
1. Michael Bolton and Usher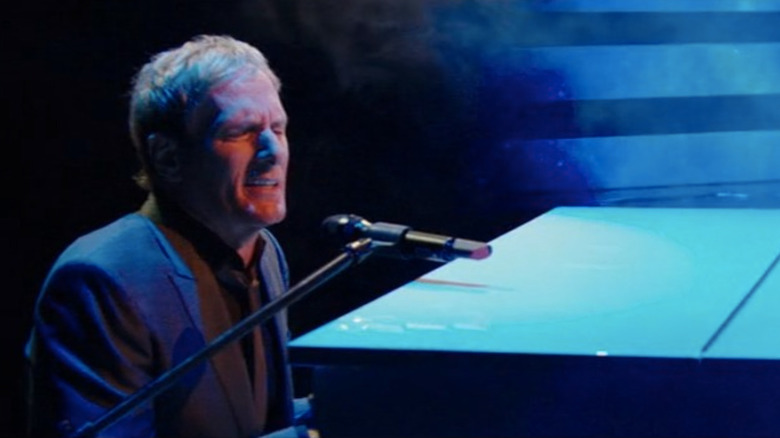 Universal Pictures
During the big Pop Awards comeback of the Style Boyz, they sing a medley of songs old and new. To kick things off, Michael Bolton joins them for "Incredible Thoughts," a song Conner, Owen, and Lawrence hurriedly wrote that same day. "Incredible thoughts, incredible minds," Bolton sings without a hint of irony. "I'm so overwhelmed. How did my brain conceive them?" 
Bolton plays just as committed to the performance as he was when in real life he joined The Lonely Island for their 2011 song "Jack Sparrow," in which he appears to have an obsession with the "Pirates of the Caribbean" movies. Bolton's appearance in "Popstar" isn't just a fun callback for fans of The Lonely Island, it's another example of the group's ability to convince well-known superstars to perform of-the-wall concepts sold by the guest's commitment to play it straight.
At the Pop Awards, "Incredible Thoughts" transitions into "Donkey Roll," which Usher joins the guys onstage to perform. The entertainer also appears sporadically throughout "Popstar" during cutaway interviews, explaining that "Donkey Roll" song and dance inspired him to never stop never stopping his career.