The12 Best Shows To Watch For Fans Of The Handmaid's Tale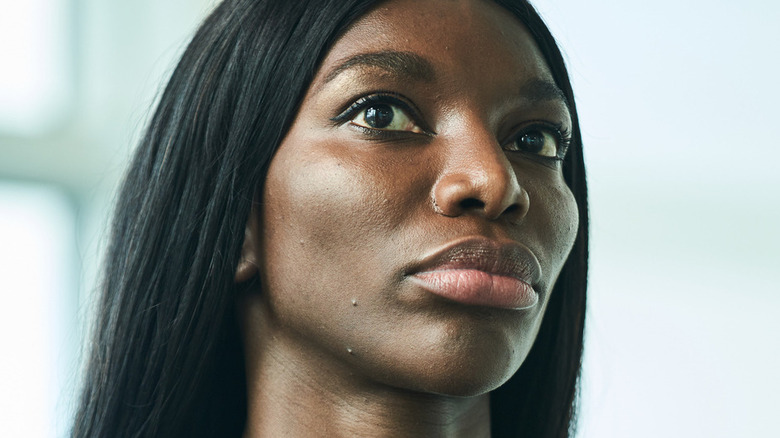 Natalie Seery/HBO
"The Handmaid's Tale" is the kind of TV show that never completely leaves its fans. Its sublime cinematography, deft writing, and world-class performances have made it into one of the modern era's defining streaming series. Few will soon forget its vision of nightmarish theocracy, or the vivid protagonist it forges in June Osborne (Elisabeth Moss). Watching her claw her way to freedom, rally the resistance against Gilead's tyranny, and fight to protect the ones she loves never fails to be a thrilling experience.
That "The Handmaid's Tale" is a unique show, both in terms of quality and subject matter, is beyond doubt. But in this modern age of widespread TV excellence, it's not actually the only series tackling feminist themes, speculative history, or dystopian visions — nor is it the only one doing so with tremendous skill. Echoes of June's journey can be found in outstanding dramas about the 1970s feminist movement, insightful explorations of real-world crimes, and uncompromisingly honest depictions of what it means to recover from trauma. Eager to immerse yourself in these skillful stories? Then read on to discover the 12 best shows like "The Handmaid's Tale" fans should check out next.
Mrs. America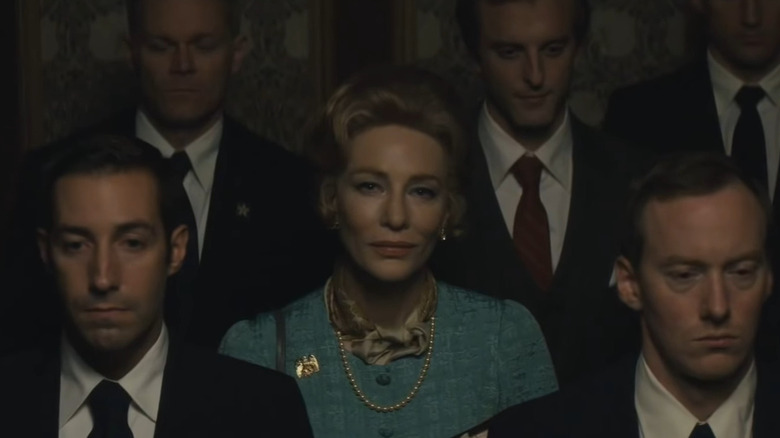 FX on Hulu/YouTube
"The Handmaid's Tale" spends much of its runtime exploring the ways in which Gilead robs women of freedom, dignity, and meaningful control over their lives. Flashbacks to the pre-Gilead era reveal the political battles that preceded this autocracy: June's mother Holly (Cherry Jones) attended many feminist protests, for example, while Serena Joy (Yvonne Strahovski) published books like "A Woman's Place," which extol the domesticity she comes to despise.
"Mrs. America" examines a similar clash — but this one actually happened. Largely set in the 1970s, this incisive series chronicles the feminist movement's attempt to pass the Equal Rights Amendment, and the opposition that sprung up against it. That opposition is lead by Phyllis Schlafly (Cate Blanchett), a conservative firebrand who realizes becoming an outspoken anti-feminist might be the only way she'll ever get anyone to take her seriously. She is, in many ways, Serena Joy's foremother, loudly touting the joys of homemaking while privately finding them unfulfilling and tedious.
While Schlafly looms large, "Mrs. America" is as much about June's real-world inspirations as Serena Joy's. Feminist luminaries like Gloria Steinem (Rose Byrne), Shirley Chisholm (Uzo Aduba), and Bella Abzug (Margo Martindale) each get an episode to themselves, which explore the grinding work, personal sacrifice, and searing disappointment that go into changing the world. Like "The Handmaid's Tale," "Mrs. America" understands that progress for women is a fragile, hard-won, and potentially fleeting thing. But it also knows that fighting for it is eternally worthwhile.
Physical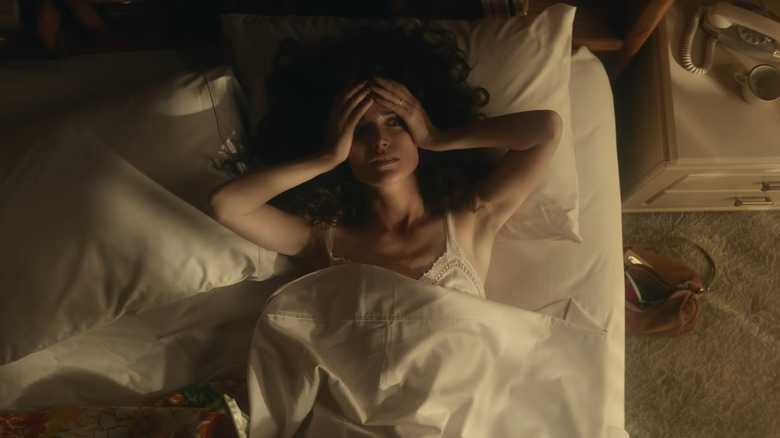 Apple TV+/YouTube
Sheila Rubin (Rose Byrne) might not be a red-cloaked Handmaid, but she knows what it is to feel trapped within her body. Not that anyone knows about this struggle, of course — by all appearances, this 1980s wife and mother is a happy, functional citizen of sunny San Diego. But her internal monologue — delivered in ruthless voice-over by Byrne at the absolute apex of her game — is a relentless litany of self-loathing, reflexive nastiness, and bulimic impulses. When it all becomes too much, she retreats to a motel room, where she lets her eating disorder drive her decisions. But this private struggle is on the verge of becoming public, thanks to her depleted bank account.
Then Sheila discovers aerobics. Exercise grants her a new connection to her body, and the potential to build a business of her own — but becoming a leg warmer-sporting icon of the VHS fitness market isn't exactly a walk in the park. Though June and Sheila's journeys are undoubtedly different, they each offer a vivid perspective on women's relationships to their bodies. This bond can be a fraught one, but as they discover, it's never too late to claim it for one's own.
If you are struggling with an eating disorder, or know someone who is, help is available. Visit the National Eating Disorders Association website or contact NEDA's Live Helpline at 1-800-931-2237. You can also receive 24/7 Crisis Support via text (send NEDA to 741-741).
I May Destroy You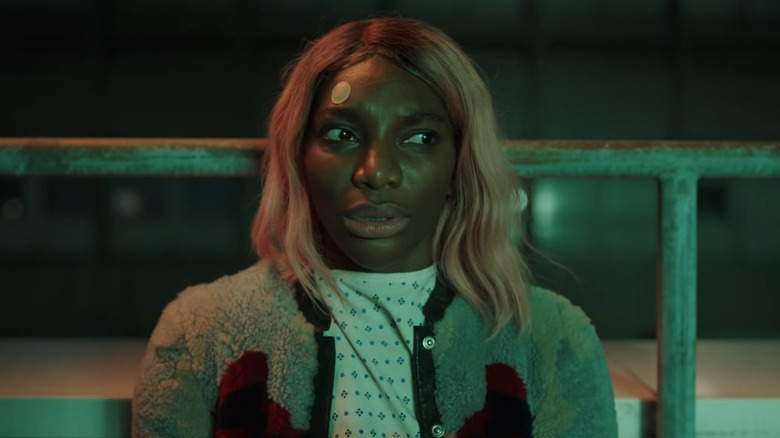 HBO/YouTube
With the deadline for her second book coming up fast, London wordsmith Arabella (Michaela Coel) blows off steam with a night on the town. But the next day, her head is crowded with disjointed memory fragments that slowly coalesce into something troubling. As she probes her own mind and consults her friends, Arabella begins to realize that she was assaulted. So begins "I May Destroy You," an extraordinary exploration of sexual violence, lingering trauma, and what it means to move on.
"I May Destroy You" and "The Handmaid's Tale" have these topics in common. Indeed, June's eventual emergence from the abuse she suffers at Commander Waterford's (Joseph Fiennes) hands is one of the most impactful aspects of the series. But what truly sets these stories apart is their indefatigable commitment to capturing trauma's complexity. Like June, Arabella must confront just how difficult it truly is for victims of sexual assault to get justice, and how much it changes their perception of the world they inhabit. Michaela Coel's exquisite work is key to this journey, and not just in front of the camera: The multi-talented phenom also serves as creator, writer, executive producer, and co-director. In her hands, Arabella is wry, tormented, optimistic, ingenious, angry, and pensive. In other words, she's a human being.
If you or anyone you know has been a victim of sexual assault, help is available. Visit the Rape, Abuse & Incest National Network website or contact RAINN's National Helpline at 1-800-656-HOPE (4673).
Made for Love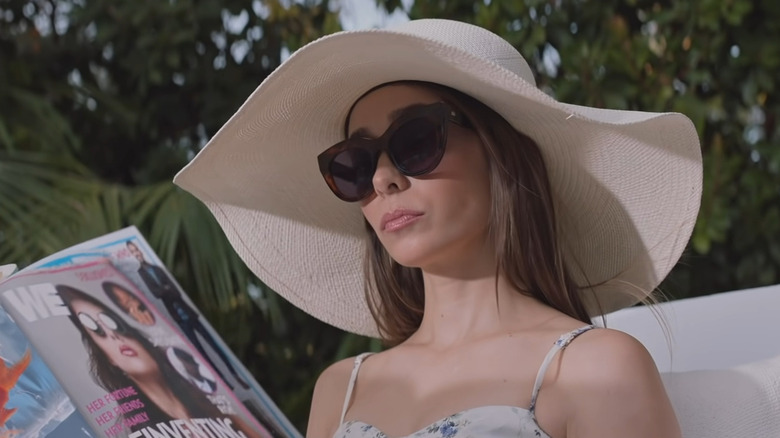 HBO Max/YouTube
Initially, Hazel Green (Cristin Milioti) appears to be a Silicon Valley Serena Joy. Her husband, Byron Gogol (Billy Magnussen), is the billionaire head of a tech empire and the lord and master of the Hub, the dizzyingly complex virtual reality compound they call home. But life in this curated fantasyland of pristine pools and expensive linens isn't everything it appears to be. This becomes hideously clear when Hazel escapes the Hub, outruns Byron's employees, and discovers he's implanted a chip in her head that allows him to see through her eyes, assess her emotions, scan her vital signs, and determine her precise location. 
"Made for Love" is easily one of the best shows on HBO Max, and worth anyone's time. But it's also a comedy (albeit an intensely dark one), which might make it seem like a far cry from "The Handmaid's Tale." In fact, its central themes are incredibly similar. Byron's lust for control is identical to that which drives Gilead's Commanders, while Hazel's quest for bodily autonomy puts her in line with June. Furthermore, "Made for Love" takes an unflinching look at the way power sustains itself: Hazel and Byron's Season 2 trip to Washington D.C. features just as many backroom machinations as the one June and the Waterfords take in Season 3. The world of "Made for Love" is a lot more high-tech than Gilead, but it's just as deeply rooted in powerful invasions of privacy, freedom, and dignity.
The Plot Against America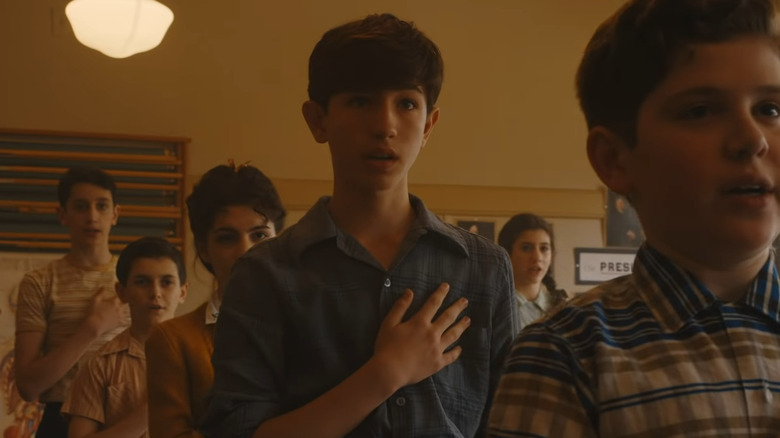 HBO/YouTube
"The Handmaid's Tale" imagines a dark future in which the United States plummets into dystopian theocracy. "The Plot Against America," an alternate history saga set in the 1940s, takes a similar approach to examining the nation's most xenophobic impulses. In this world, celebrated aviator Charles Lindbergh is running for president on a platform that tips dangerously close to fascist populism. The Levins, a Jewish family trying to secure their own piece of the American dream, are impacted by Lindbergh's success in a variety of ways. Some, like Evelyn (Winona Ryder), believe they can comfortably cooperate with Lindbergh's acolytes. Others, like Bess (Zoe Kazan), are frightened by the rising tide of bigotry the aviator's success has unleashed. But no matter what rules they follow or candidates they endorse, the Levins face a grim predicament: At what point of intolerance, violence, and disenfranchisement does one's home become an alien place?
Like "The Handmaid's Tale," "The Plot Against America" answers this question from multiple perspectives and points in time. Often — and most impressively — these shifts happen over the course of a single character's arc. Just as June is initially skeptical of her mother's feminist ardor, young Sandy (Caleb Malis) starts out as a devoted Lindbergh fan. Watching him confront the world his hero brings into being is an incredibly affecting experience. This America, like Gilead, isn't the one that exists, but as "The Plot Against America" warns us, its shadow is never far from the door.
Maid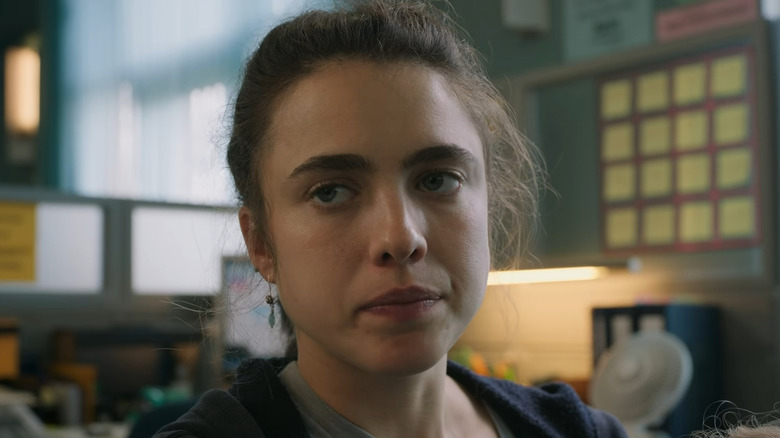 Netflix/YouTube
Alex (Margaret Qualley), the titular protagonist of "Maid," has a lot in common with June Osborne. She's a careful thinker, a fiercely protective mother, and an effective leader of marginalized women. Beyond anything else, however, these two heroines are united by their absolutely unbreakable determination. After fleeing her abusive boyfriend, Alex finds herself tangled in Seattle's patchy network of shelters, government assistance, and legal loopholes. Some steps forward are clear — getting a job as a maid, for example, and enrolling her daughter in day care — but actually making them happen turns out to be punishingly complicated. The shelter has black mold. The ferry to work has a frustrating schedule. The law doesn't seem to recognize verbal abuse as an existing thing, let alone an active danger.
It often seems like the powers that rule Alex's life would prefer she return to her dangerous ex, rather than put together an independent life for herself and her little girl. This feeling is a familiar one to any fan of "The Handmaid's Tale." Gilead is all about preserving its vision of "stability" at women's expense. But no matter how heavy Alex's burden grows, how convoluted her path becomes, or how many ridiculous ways her boss finds to shrink her paycheck, she remains unbroken. She knows she deserves a better life, a safer home, and a brighter future. Watching her seize it for herself is an exhilarating joy.
The Underground Railroad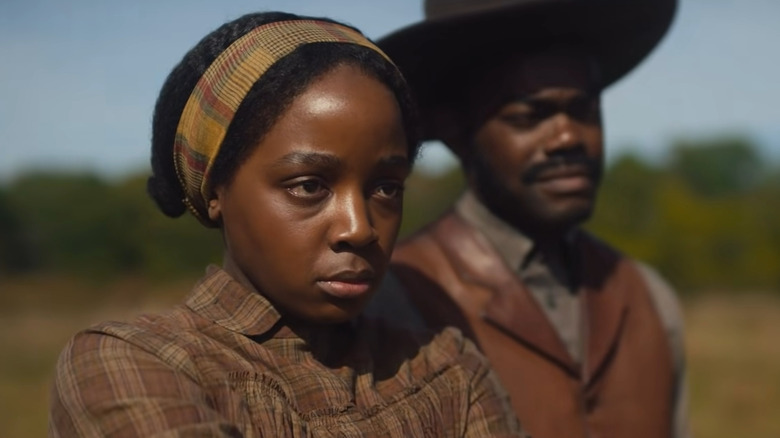 Amazon Prime Video/YouTube
Both "The Handmaid's Tale" and "The Underground Railroad" depart from strict reality in their portrayals of oppression. Where "The Handmaid's Tale" takes a speculatively dystopian approach, however, "The Underground Railroad" employs magical realism. Cora Randall (Thuso Mbedu), a Black woman living in 19th century America, is fleeing slavery via the Underground Railroad. But in this rapturously filmed and magnificently written series, "Underground Railroad" isn't a euphemistic term — it refers to a literal train that chugs along a vast, state-spanning system of subterranean tracks. Cora's travels take her to many strange places, ranging from blighted fields that once belonged to the Cherokee to strange villages that conceal sinister secrets behind apparent altruism. But her true journey is into the dark heart of history — that of the nation, and herself.
Like "The Handmaid's Tale," "The Underground Railroad" is based on a landmark novel. This rich source material shines through every scene, but Barry Jenkins' extraordinary direction takes the series to even loftier heights. In his hands, the fantastical edge of "The Underground Railroad" is a potent means of portraying the sort of truth a dry recitation of historical events simply can't sum up. Cora's story, like June's, is a multifaceted wonder, encompassing sorrow, joy, resilience, and misery in a way that lingers long after the final credits roll.
The Wilds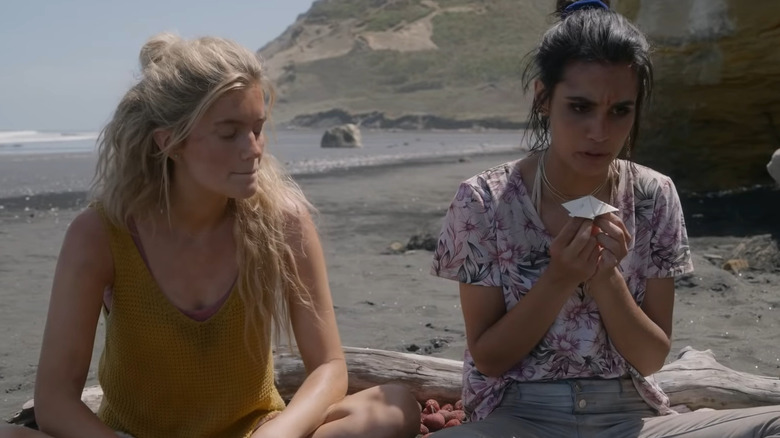 Amazon Studios/YouTube
After a plane crash strands them on a remote island, a group of teenage girls must find a way to survive. They come from a wide variety of backgrounds: Fatin (Sophia Ali), for example, is a glamorous cellist from an affluent California family, while sweet-natured Martha (Jenna Clause) calls a Minnesota Ojibwe reservation home. But as the days grind on and the food supplies grow scarce, the stark reality of their situation comes into sharper focus and the girls realize that what they have in common outweighs everything that keeps them apart.
"Lord of the Flies" might seem like the obvious comparison to this clear-eyed series. But thematically, "The Wilds" has much more in common with "The Handmaid's Tale" than William Golding's story of schoolboys run amok. Just as June finds solace and power in her fellow Handmaids, so too do the girls of "The Wilds" overcome their obstacles by working together, revealing their secrets, and forging new bonds of sisterhood. Both fictional groups also face obscure forces that shape their lives in major ways. The girls of "The Wilds" aren't stranded by random chance, as it turns out — someone put them on that island for their own well-concealed reasons. Though this puppet master isn't a Gilead-style theocrat, the girls' struggle against them vividly resembles the one June leads against the Commanders and everything they represent.
Harlots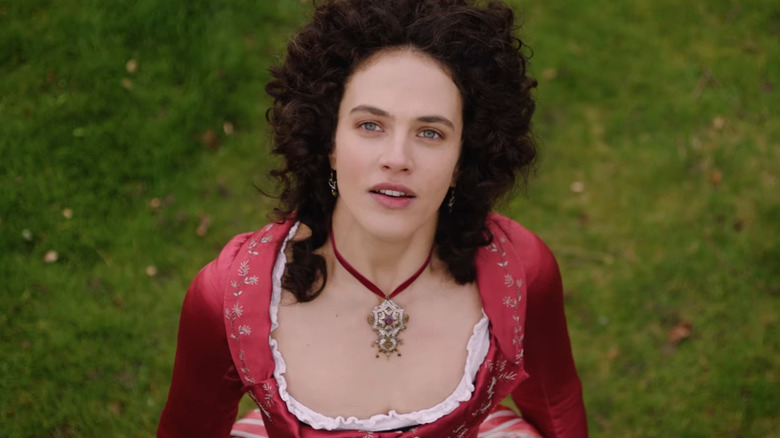 Hulu/YouTube
While Gilead likes to promote itself as a font of pious purity, "The Handmaid's Tale" makes it clear that the men at the top of the food chain are allowed to indulge whatever appetites they might have. This is made especially clear by the presence of Jezebel's, Commander Waterford's favorite brothel. Here, we meet women like Moira (Samira Wiley), June's best friend, who has been forced into sex work. Her life is bleak — but she's not out of the fight just yet. In fact, the women of Jezebel's become key to the resistance.
The heroines of "Harlots" lead similar lives, and seek similar emancipation. Set in London circa 1760, this whip-smart series revolves around Margaret Wells (Samantha Morton), an ambitious madam looking to set up shop in swanky Soho. Though her business skills are sharp, Lydia Quigley (Lesley Manville), proprietor of the most elite brothel in town, stands in her way. Like "The Handmaid's Tale," "Harlots" doesn't shy away from portraying the miseries of life as a sex worker. Violence, cruelty, and injustice are the norm, whether they're on the street or behind closed doors. But like the women of Jezebel's, they're also complex individuals living a wide and fascinating variety of lives. Some, like Harriet (Pippa Bennett-Warner), are attempting to leave the chains of American slavery in their past. Others, like Charlotte (Jessica Brown Findlay), parlay cleverness into proximity to power. All of them are trying to navigate a life on the margins.
Alias Grace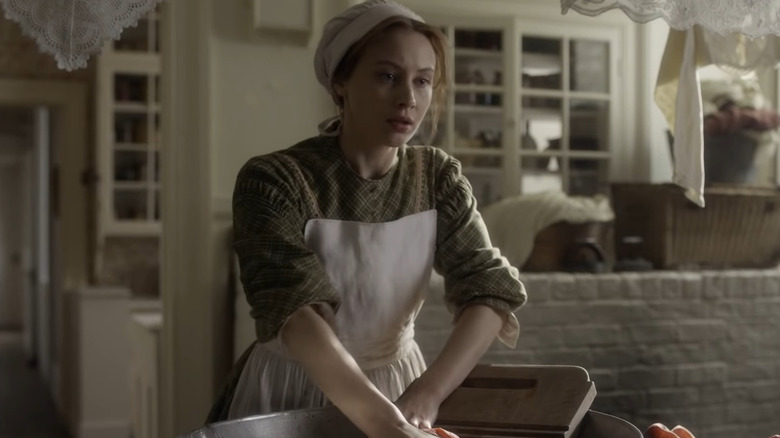 Netflix
"The Handmaid's Tale" might get the lion's share of press, but it's not the only TV show based on a novel by Margaret Atwood. "Alias Grace," a six-part miniseries based on Atwood's 1996 novel of the same name, is, in many ways, a major departure from "The Handmaid's Tale." Based on the life of Grace Marks, an Irish-Canadian immigrant and alleged murderer from the 19th century, "Alias Grace" finds Grace (Sarah Gadon) in prison, where she has languished for 15 years. Though she was convicted of murdering the man who employed her and his housekeeper, she claims to have no memory of the crime. In the hopes of setting her free, her supporters hire psychiatrist Dr. Simon Jordan (Edward Holcroft) to assess her state of mind.
Like June, Grace is a woman coping with straitened circumstances. As we explore her complex past and present, we come to understand the limits of her freedom, and that of the women around her, be they prisoners, mothers, maids, or landladies. In light of these complications, can Grace truly be called a murderer? Is she an accomplice? Is Dr. Jordan truly interested in helping her? The answers to these questions aren't as simple as they might seem, and that's exactly what makes "Alias Grace" such a thought-provoking journey into an infamous crime.
Kevin Can F*** Himself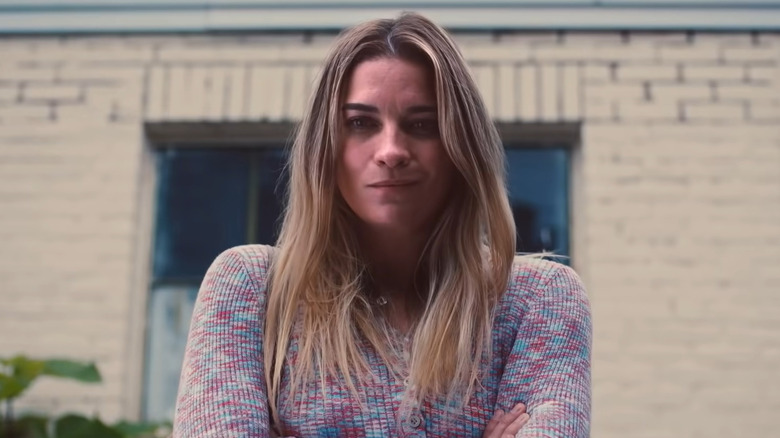 AMC/YouTube
There is a gaping chasm at the heart of "The Handmaid's Tale" separating June's internal life from her external circumstances. Her actions — especially in Season 1 — are viciously circumscribed by Gilead's misogynist laws, which keep her from reading, voting, or having her own money. But within the privacy of her thoughts, she blazes with righteous fury. As the series marches on and her resistance grows ever more emboldened, these two worlds collapse into one.
"Kevin Can F*** Himself" explores a similarly bifurcated life. Allison McRoberts (Annie Murphy) is married to an infuriatingly infantile man and working at a dismal liquor store in Worcester, Massachusetts. Scenes from her perspective are shot like a modern prestige drama, full of lingering silence and moody shadows. But when she returns home, "Kevin Can F*** Himself" transforms into a schlocky sitcom, complete with a laugh track, brighter lighting, and a multi-camera set-up. This innovative approach does an incredible job of capturing the grinding tension of Allison's life: Just as June suffocates beneath the image of the obedient Handmaid, the real Allison is obscured behind the stereotype of the shrewish sitcom wife. Eventually, this erasure proves to be too much. Allison is forced to take a step towards real emancipation — but the journey will change her, and her dualistic life, forever.
Little Fires Everywhere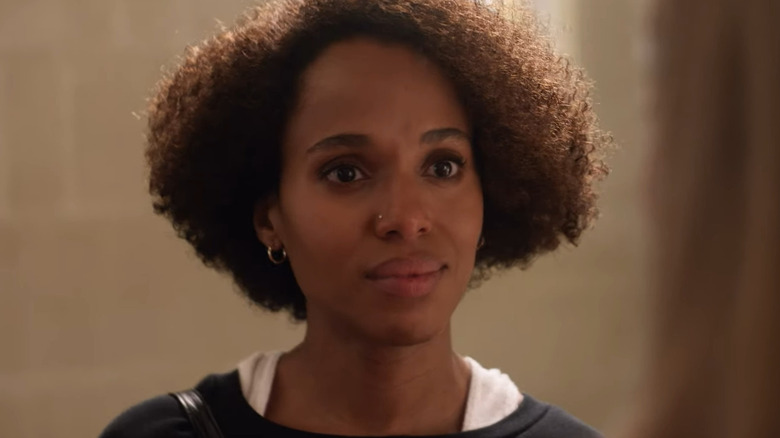 Hulu/YouTube
It's the late 1990s, and Ohio mother Elena Richardson (Reese Witherspoon) appears to have it all. Her home is beautiful, her husband is handsome, and her children are healthy and happy. Well, not entirely happy — but at least they look good in pictures. Mia Warren (Kerry Washington), a nomadic artist and single mom who's new to the community, seems to have nothing in common with Elena. But as "Little Fires Everywhere" builds to its explosive ending, their lives become intricately intertwined.
Like Serena Joy and June, Elena and Mia have been impacted by dramatically different life circumstances. Flashbacks reveal vast gaps separating their educational opportunities, familial obligations, and economic limits. But in exposing these differences, "Little Fires Everywhere" also clarifies their similarities, just as "The Handmaid's Tale" finds fascinating commonality between women of very different stations. Most prominently, Elena and Mia are both mothers facing the fact that they don't entirely understand who their daughters are, or what they want out of life. Fans of "The Handmaid's Tale" are also sure to appreciate Witherspoon and Washington's powerhouse performances, which echo the passion, rage, and tenderness that Yvonne Strahovski and Elisabeth Moss bring to their characters.