The Game Show Legend You Likely Didn't Know Competed On The Price Is Right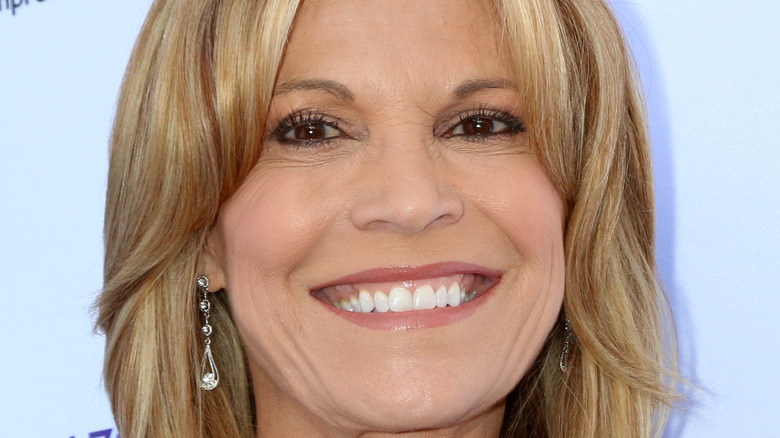 Kathy Hutchins/Shutterstock
Long-running game show "The Price is Right" has featured many celebrities over the years. We've seen actress Jenny McCarthy and musician Chris Daughtry spin the famous Big Wheel. Supermodel Heidi Klum played along with contestants in 2012. And in 2017, the three main players from the "Bad Moms" — franchise Kristen Bell, Mila Kunis, and Kathryn Hahn — came on to cause a stir. But while all of these celebrities are noteworthy in their own rights, none later rose through the ranks to become a legend specifically in the game show genre. And their appearances on "The Price is Right" were hardly kept secret. On the contrary, they helped promote the show even more.
Yet somehow, an actual game show superstar slipped under the radar to compete as a contestant on "The Price is Right" and scarcely anyone knows about it — even the show's biggest fans. Well, the secret's out now.
Back then, Vanna White was a compete unknown
It was decades ago and two years before the legend-in-question rose to the attention of the nation's viewers. Back then, she was virtually unknown, hadn't even yet appeared in the TV movie "Midnight Offerings" (that would happen in 1981) or on the Nell Carter-led sitcom "Gimme a Break!" (which would happen even later, in 1984). In fact, the 1980 "Price is Right" appearance was a breakthrough moment in a burgeoning career.
There's a certain shock that comes with seeing someone famous on TV before they were famous. You're watching the screen and suddenly realize, "I know that person!" They look so different, so normal somehow, before taking on the sheen of celebrity.
In that old "Price is Right" episode, however, announcer Johnny Olson left no doubt as to the identity of the contestant who would later go on to game show glory as a host. "Vanna White!" he called out, "Come on down!"
White squeezed her way past the unchosen in her aisle to dash toward the stage, long dark-blond hair held by sunglasses atop her head streaming behind her. A huge smile on her face, she jogged over to join the other players, taking the last seat on Contestant's Row as Olson continued his signature show opener, "You are the first four contestants on 'The Price is Right!'"
Now, Vanna White is a game show celebrity
Vanna White may not have been known back then, but she instantly caught the attention of host Bob Barker, who singled her out with a story about what just happened backstage. "When Vanna was invited to 'Come on down,' [a crew member] read her T-shirt where it says, 'Get serious,' and he said, 'I am, I am!'" Barker told White. "I thought you'd like to know that."
Barker quickly moved on to introduce the exercise equipment the players are about to bid on. White went first and turned to listen to the rowdy audience's suggestions before we heard her now-familiar voice for the first time, offering, "$600."
Unfortunately, White didn't do so well in the game. Round after round, she gave her best guesses, but couldn't catch a break. In fact, she never moved on from Contestant's Row for a chance to win big on "The Price is Right." "I didn't win a doggone thing," she later recalled (via Yahoo! Entertainment). Of course, she scored a superior victory when she landed her lasting gig as co-host on another game show —"Wheel of Fortune" — in 1982.