The Time Sal Messed With The Wrong Person While Filming Impractical Jokers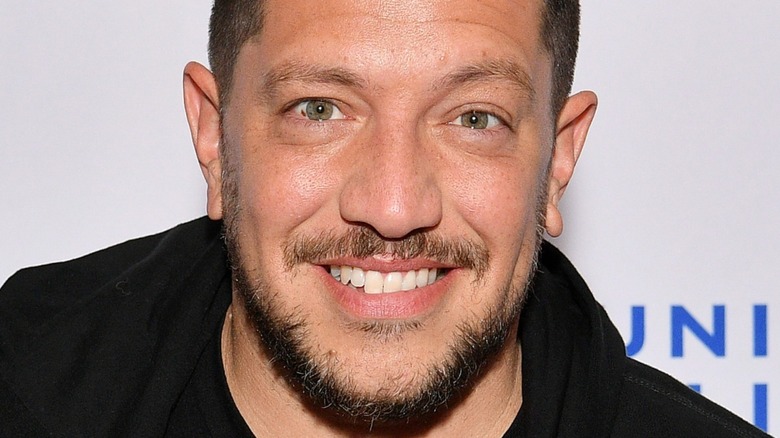 Dia Dipasupil/Getty Images
"Impractical Jokers" is a reality series that carries on the hilarious traditions of past prank shows like "Candid Camera" and "Punk'd." Along with truTV's other breakout hidden camera show, "The Carbonaro Effect," it updated the practical joke show formula in a way that was more reminiscent of "Jackass" than the safer situations seen in the "Candid Camera" days.
Across 9 seasons, a 2020 movie, and numerous specials, all the hilarious moments offered over the years have not been without some difficult encounters with those being pranked in public. "Impractical Jokes" has taken things a bit too far on occasion, including, for instance, Joe Gatto stealing baseballs from children as one of his prank assignments, Sal Vulcano throwing a chicken at a man's head, and Brian Quinn being nearly stripped naked in the middle of a shopping mall.
And there have even been some incidents during shooting that were so volatile that the regularly unflappable jokers were taken out of character. Sal Vulcano remembers one such experience that was particularly uncomfortable.
Things got intense when Sal cut in line for discount Broadway tickets
Brian Quinn, James Murray, and Sal Vulcano appeared on a recent episode of the "Hot Ones" spin-off "Truth or Dab" and during the interview, host Sean Evans asked Vulcano, "What's the closest you've ever been to getting punched in the face messing with the wrong one during a shoot?" Vulcano answered by recounting a time that he cut to the front of a long line at a discount Broadway ticket booth in Times Square and ended up being confronted by a disgruntled war veteran. According to Vulcano, the situation then escalated: "The guy just lost it, he just grabbed me ... he grabbed me and strangled me ..."
Although the scenario was fully part of an "Impractical Jokers" bit, complete with Sal lying and telling security he was with the man, the veteran apparently simply refused to take part in the humor and maintained his anger ... and his attempted strangling of Vulcano.
Despite it all, Vulcano recounted the confrontation with laughter and a general sense of humor about the incident. It's proof positive that the trio maintains self-reflective humor even if the situation is not the slightest bit funny during the moment of filming.