The Deadliest Catch Crew Member Who Was Hit With 80,000 Gallons Of Water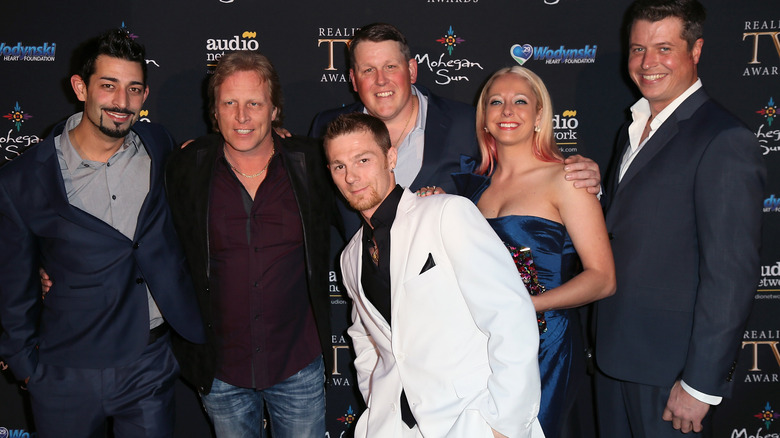 David Livingston/Getty Images
The "Deadliest Catch" crew have been showing audiences what it looks like to risk your life on the treacherous Bering Sea since 2005. The Discovery series gives a glimpse into the life of crab fishing and proves that not everyone has what it takes to spend weeks away from land on a boat that's constantly at the mercy of the sea and being pelted with waves almost every moment.
The pursuit of king crab that the fishermen are after is a challenge most will gladly watch only from the warmth and safety of their couches. The show has been on for almost 20 years, and while "Deadliest Catch" fans think the show has changed drastically, its popularity helps it press on, as it's now in Season 18 on Discovery Plus. Part of the popularity, no doubt, comes from the job's risk factor. The crew on board can get hurt at any moment and by almost anything on or off the boat. In one Season 17 episode of the show, an engineer aboard the Cornelia Marie learned the hard way that the ocean has no regard for boats or who is on them.
Taylor Jensen caught the full force of the ocean's wrath
Taylor Jensen experienced a fast and powerful blow when a massive wave from a wild sea hit him full force and pushed him to the other side of the vessel. Around 80 thousand gallons of ocean water with enough force that it caused him to roll his ankle, and he had to limp back to the ship's cabin to get medical assistance. See the full clip on Discovery's YouTube here. To put it in perspective, the average residential pool size holds around 17 thousand gallons of water, according to Swimming Pool Steve. While this isn't a "Deadliest Catch" moment that had fans in tears, it did have Jensen in tears as he dealt with the excruciating pain in his ankle.
This incident definitely gave Jensen some grief, but it's not the first time he's been hurt while crab fishing. In a prior episode, Jensen took a blow to the head when he was accidentally hit with a crane hook. See the full clip on Discovery's YouTube here. 
Nevertheless, Jensen sticks it out and continues working as a fisherman, which seems to be something that many think they can do, but don't actually have it in them to last an entire season. Captain "Wild" Bill Wichrowski said in an interview with Fox News that he has advice for anyone who thinks they can handle a season of crab fishing. "My advice would be if a guy wanted to learn how to crab fish, I'd say, 'Go to a meatpacking plant, sit in a freezer for a couple of days, and have your friends come by about every 20 minutes and throw a bucket of cold water in your face.' And after a couple of days of that, if you still want to go, then give me a call." Clearly, Jensen knows what it's like to have far more than a bucket of cold water thrown in his face.