The Superbad Co-Star Jonah Hill Initially Couldn't Stand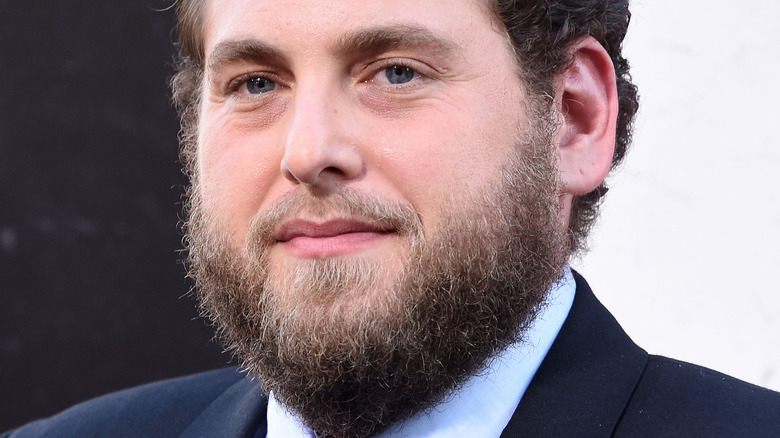 DFree/Shutterstock
It's hard to believe that it's been 15 years since the 2007 raunchy teen comedy "Superbad," directed by Greg Mottola and produced by Judd Apatow, was released to the masses. Despite some fear that audiences would find it too dirty (via Insider), it was — and continues to be — a hit.
The film chronicles the hilarious adventure of best friends Evan (Michael Cera) and Seth (Jonah Hill) as they attempt to purchase alcohol and lose their virginities at a party, all with the help of Fogell aka McLovin (Christopher Mintz-Plasse). At the time, all three actors were relatively new to the industry. In fact, "Superbad" was Mintz-Plasse's first role ever. The success of the film was exciting for this trio, but also for its creators Seth Rogen and Evan Goldberg, who, according to Insider, began penning the plotline when they were only 13. It was a concept that evolved over the next decade as they incorporated their own teen and young adult antics.
However, if one of the faces of "Superbad" had his way, the comedy would have looked much different and may not have enjoyed such longevity in pop culture.
Jonah Hill didn't want Christopher Mintz-Plasse in the movie
In celebration of the 15th anniversary of "Superbad," the cast and crew participated in an oral history interview with Vanity Fair, during which an interesting fact was learned about Jonah Hill — namely, that he was not initially a fan of co-star Christopher Mintz-Plasse.
"Jonah immediately hated him. He was like, 'That was ******* with my rhythm. I couldn't perform with that guy,'" said Seth Rogan. Judd Apatow added, "Jonah said, 'I don't like that guy. I don't want him doing it.' And I said, 'That's exactly why we're hiring him. It couldn't be more perfect. The fact that it bothers you is exactly what we want.'" Therefore, when audiences see Seth become angered at Fogell in "Superbad" — especially when his fake ID says he's a 25-year-old organ donor named McLovin — it's possible that the annoyance is coming from a real place.
On selecting Mintz-Plasse, casting associate Dorian Frankel told Insider that she loved his non-stereotypical take on the dorky teen character. Instead of playing the role awkwardly, he was the center of attention. "Chris knew he had confidence but was also self-righteous," said Frankel. "He didn't have any uncertainty. I think that came naturally to him."
Though Hill didn't agree with the casting of Mintz-Plasse, it must be noted that Hill almost didn't get the role of Seth. Since he was in his early 20s, he was nearly passed over for a younger actor. Despite being rejected approximately 100 times, according to co-writer Evan Goldberg, it was eventually decided that Hill was the best man for the job.