Hannibal Lecter's Refusal To Blink In Silence Of The Lambs Has An Unsettling Origin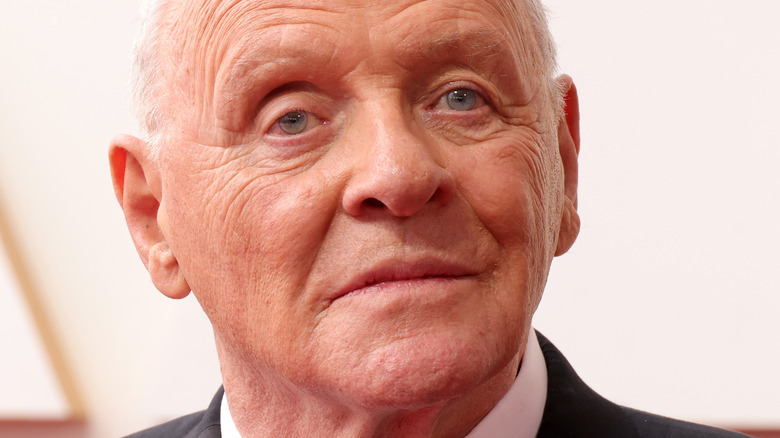 Momodu Mansaray/Getty Images
Esteemed actor Anthony Hopkins has been a mainstay in movies for the past three decades, largely in part to his spine-tingling performance as the psychotic asylum inmate Dr. Hannibal "The Cannibal" Lecter in the 1992 Best Picture Oscar winner "The Silence of the Lambs." Jodie Foster stars in the film as FBI Agent Clarice Starling, who's been given the daunting task of interviewing Lecter in hopes of identifying and catching a brutal serial killer. The film was so powerful that it earned the top actor Oscars for Foster and Hopkins, as well as best director for Jonathan Demme, and best adapted screenplay for Ted Tally.
Perhaps what made Hopkins' best actor win so astonishing is that the performer only has 24 minutes and 52 seconds of screen time (via Gold Derby) in the 1-hour, 58-minute film. While moviegoers likely picture Lecter wearing a mask in their minds as they think about the film, the majority of Hopkins' scenes take place in an asylum where he's free of restraints. It's there where Hopkins' turn as Lecter burns with intensity as he manipulates the vulnerable Starling to reveal disturbing details about her own past as a "quid pro quo" to exchange information that would help her investigation.
Apart from such memorable lines as, "A census taker once tried to test me. I ate his liver with some fava beans and a nice chianti," Hopkins' actions as Lecter speak just as loudly as his words. Among those actions are the piercing stares he gave Starling without blinking, which Hopkins discussed with TV talk show host Dick Cavett a few weeks after he won his Oscar in 1992.
Hopkins noticed in a conversation with a 'madman' that he did not blink
In an interview on "The Dick Cavett Show," Anthony Hopkins revealed what inspired the character's disturbing trait of not blinking. "I actually met a madman who was on the loose in London and that's pretty scary," Hopkins recalled for Cavett. "I had coffee with him one day and I realized how nuts he was. He never blinked, so basically [he] never kept asking me questions. And before you could ask him one, he would ask me another one and another one. In the end, it made me feel [like I was in] a different reality."
As such, Hopkins doesn't blink in the scenes where he is speaking in "The Silence of the Lambs." He explained in an interview with ABC News reporter Barbara Walters in 2001 that there's a certain power that comes with the ability not to blink. "It's a trick I learned because, if you don't blink, you know you can keep the audience mesmerized," he said. "It's not so much not blinking, it's just being still. Stillness has an economy and it has a power about it."
Just as chilling in the film was Hopkins' voice. In a joint Vanity Fair interview with Foster in 2021 to celebrate the 30th anniversary of the release of "The Silence of the Lambs," Hopkins revealed for the first time that Lecter's voice was inspired by Christopher Fettes, a "charismatic" teacher the actor studied under at the Royal Academy of Arts in London. "This teacher had stayed in my conscience all my life. I got a phone call afterwards: 'Tony, it's a wonderful performance. Did you base that on me, by any chance?'" Hopkins recalled.
Hopkins also based Lecter's voice on "In Cold Blood" author Truman Capote, legendary actress Katharine Hepburn, and HAL 9000, the AI character from "2001: A Space Odyssey."