Young Justice Fans Just Got Terrible News About Season 5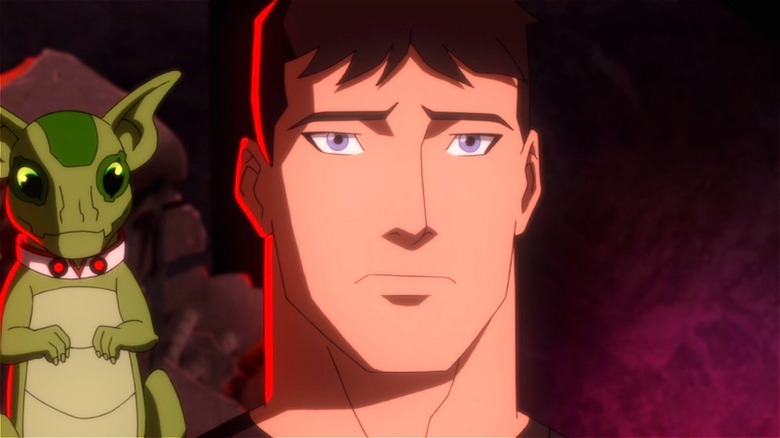 HBO Max
Fans of DC's animated universe definitely have a soft spot for "Young Justice," which has survived three network transfers over the span of four seasonal arcs and yet has still amassed a strong fanbase that will gladly follow it from platform to platform. 
The series follows a group of teenage superheroes who try to go from well-known sidekick figures to their famous crime-fighting partners and relatives to heroes in their own right. Though the team grows, shifts, and changes over time, its central figure is Nightwing — civilian identity: Dick Grayson (Jesse McCartney) — who steps out of the shadows of his Robin moniker to fearlessly lead his rag-tag group of heroes on change-making missions. The show has subsequently included heroes as varied as Bart Allen (Jason Marsden) and Barbara Gordon (Alyson Stoner) over its varied arcs. 
With the show's final Season 4 episode up and streaming on HBO Max, fans are waiting with bated breath for word that Season 5 has been greenlit. But some recent bad news means they might never get to see more of the superteam's adventures.
There are no plans for a fifth season of Young Justice
Per an item in TV Line's Matt Webb Mitovich's August 17 "Matt's Inside Line" column, it appears that fans shouldn't hold their breath if they're looking for more "Young Justice." Mitovich reports that HBO Max has no plans to order a fifth season of the program after committing to a single-season order in 2020. That effectively means the show is apparently canceled, though HBO and DC have not released a definitive statement on the subject.
That leaves DC fans with only three currently-running animated programs. Cartoon Network's ubiquitous "Teen Titans Go!" continues to run heavily on the network. Cartoon Network also has "DC's Super Hero Girls" and began airing its second season in 2021. There's "Harley Quinn" for grown-ups, which is in the middle of unspooling its third season on HBO Max. The cancellation of "Young Justice" leaves a big hole in DC's animation portfolio, with no program to market to teenagers who have aged out of "Teen Titans Go!" but are too young for "Harley Quinn." Will fans ever have their unanswered questions about Season 4 solved? That remains to be seen.