The Gilmore Girls Character You Likely Forgot Seth MacFarlane Played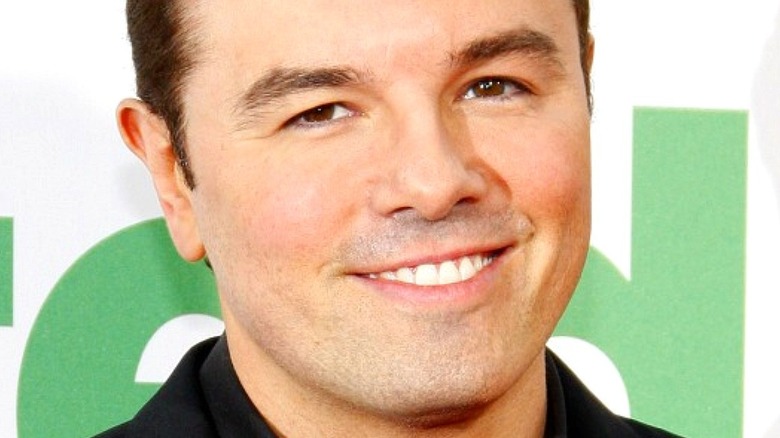 Tinseltown/Shutterstock
Few can say they've built their fortune providing the voices for a dim-witted man, an anthropomorphized dog, and a British (for whatever reason) baby. But Seth MacFarlane is no ordinary showrunner. For over two decades, the multi-hyphenate talent has been the primary engine behind "Family Guy," serving as creator, executive producer, and voice actor for most of the main characters. MacFarlane also helmed two more animated series for good measure — "American Dad" and "The Cleveland Show."
MacFarlane is primarily known for his animation bona fides, but the television juggernaut is also recognizable in front of the camera. A longtime fan of "Star Trek," he appeared in two episodes of "Star Trek: Enterprise" and later created and starred in his love letter to the sci-fi franchise with Fox's "The Orville." Elsewhere, MacFarlane has racked up acting credits in several projects, including single-episode appearances and a role in Steven Soderbergh's "Logan Lucky" (via IMDb). Here's how MacFarlane ended up in the world of "Gilmore Girls."
Seth MacFarlane was a Gilmore Girls nepotism hire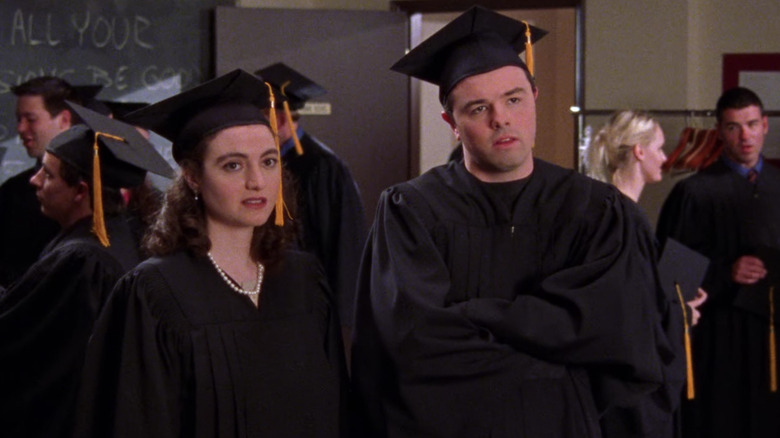 Warner Bros.
Though it takes place in the sleepy hamlet of Stars Hollow, "Gilmore Girls" attracted its fair share of stars while it was on the air between 2000 and 2007, including Jon Hamm, Jane Lynch, and Carole King, who also penned the show's theme song. In 2002, Seth MacFarlane appeared in the Season 2 episode "Lorelai's Graduation Day" as a mouthy fellow grad named Zach. Zach spends the episode not-so-quietly judging Lorelai's moneyed background when he's not exchanging barbs with his girlfriend. "I was literally just taking shots at Lorelai Gilmore," MacFarlane joked in his WIRED Autocomplete Interview.
MacFarlane would return to Stars Hollow in a couple less in-your-face performances. In "I Solemnly Swear," he provides the voice of Emily's lawyer and has an uncredited appearance as a folk singer in Season 4's "Die, Jerk" (via IMDb).
Like many casting decisions in Hollywood, MacFarlane's role on "Gilmore Girls" was a good old-fashioned nepotism hire. MacFarlane broke down his relationship with the "Gilmore Girls" creators and how he nabbed a spot on the mother-daughter series. "I was friends with Amy Palladino and Dan Palladino. So, it was a little bit of nepotism," said MacFarlane. "Dan Palladino used to run 'Family Guy' with me, and so, when he left to go do 'Gilmore Girls,' he took me with him, I guess." Indeed, Palladino served as executive producer on "Family Guy" from 2001 to 2002, returning as a consulting producer from 2012 to 2013 (via IMDb).