The MCU Movie You Likely Didn't Know Featured Jenna Ortega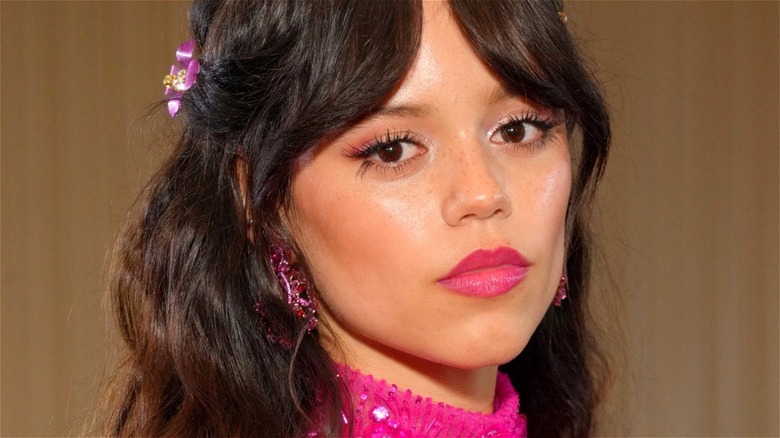 Kevin Mazur/mg22/Getty
If you've been keeping up with recent horror films, then chances are you've seen at least one of Jenna Ortega's movies. The actress has made a name for herself in the spooky scene, notably appearing in some of the best horror movies of 2022, such as "Scream" and "X," as well as taking on the storied role of "Addams Family" character Wednesday in her own titular show on Netflix. Even at the start of her career, the star was already appearing in creepy properties like "Insidious: Chapter 2." In essence, Ortega has long been shaping up to become one of the biggest horror stars of the modern day.
But while Ortega may be best recognized for appearing in popular fright-filled features, she's certainly acted in plenty of properties that eschew the horror and gore in favor of something entirely different. In fact, the actress' very first major film credit was actually ones of the blockbuster movies in the Marvel Cinematic Universe. But which valiant superhero did the gothic star cross paths with?
Ortega makes an appearance in Iron Man 3
Mere months before Jenna Ortega first dipped her toe into horror with 2013's "Insidious: Chapter 2," the actress made her film debut in the MCU flick "Iron Man 3." While her actual role in the movie is rather small and largely hinges upon one single scene, her character is still of crucial importance to the overall plot.
In the movie, Ortega portrays the daughter of the fictional U.S. Vice President Rodriguez (Miguel Ferrer), a young girl with a disability in the form of her missing right leg. In a major plot twist, Rodriguez is revealed to be helping the movie's antagonist Aldrich Killian (Guy Pearce) in exchange for access to the Extremis drug, which would supposedly remove his daughter's disability. Of course, Iron Man (Robert Downey Jr.) foils this sinister plot and the ending of "Iron Man 3" sees the official arrested for treason, leaving the ultimate fate of Ortega's character unknown.
Though Ortega's role in the MCU essentially amounts to a cameo, appearing in a Marvel film is quite the way to make a silver screen debut. The credit also speaks to the actress' diverse filmography beyond scary movies, as she has appeared in everything from TV thrillers, to family-friendly sitcoms, to, yes, superhero flicks. "Ultimately, I don't want to be pigeonholed and I want to do all that I can," Ortega said in an interview with Women's Wear Daily. "I am somebody who is constantly searching for some sort of balance."