Early Reactions To She-Hulk Are Eye-Catching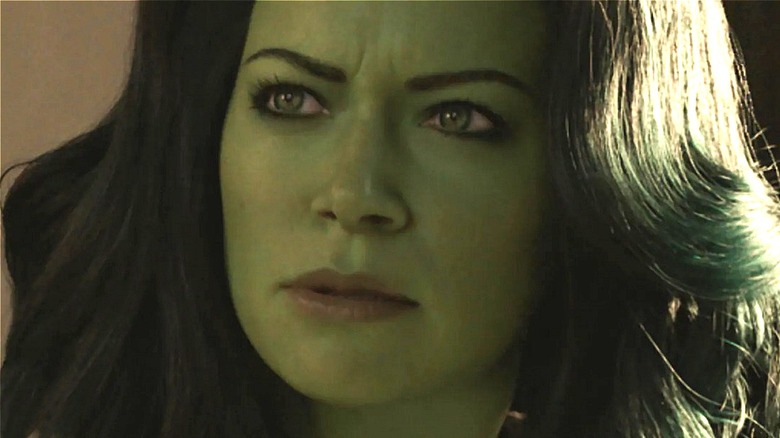 Marvel Studios/Disney+
Disney's latest batch of streaming television shows has proven to not only be popular but also exceptionally varied in tone. "Moon Knight" features a protagonist with multiple personalities in the thrall of an ancient Egyptian God of the Moon, and the series isn't afraid to shy away from violence and moments of horror. Inversely, "Ms. Marvel" is a bright and colorful television show that proudly displays humor, family, history, and relationships as they relate to a young Pakistani girl from New Jersey. Both shows do share a common thread and follow an unlikely hero as they come to terms with their newfound powers and status.
These television shows have also been a hit with critics and audiences alike, with "Moon Knight" earning an 86% critic score on Rotten Tomatoes, while "Ms. Marvel" has an impressive 98% critic score on the same website. "She-Hulk: Attorney at Law" is the next installment from Disney and Marvel, and it is about Jennifer Walters (Tatiana Maslany), who is the cousin of Bruce Banner, aka The Hulk (Mark Ruffalo). A trailer over on YouTube shows a lot of heart as Jennifer gets used to her recently acquired She-Hulk powers, so what are the early reactions to this upcoming show looking like? Does Disney have another success on its hands, or is it a big green dud?
The initial response to She-Hulk: Attorney at Law has been overwhelmingly positive
With "She-Hulk: Attorney at Law" premiering on Disney's streaming service on August 18, 2022, it seems as if the people who have gotten advanced copies of the series are all singing the same tune when it comes to this upcoming television show. Converging on Twitter to share their thoughts on "She-Hulk," @MeredithLoftus heaped praise on the show and said, "I have seen the first 4 episodes of #SheHulk and to me, it delivers on its premise: a lawyer show with genuine laughs. At its core, Tatiana Maslany commands the screen with her wit, persona, & relatable humor (especially for women in their late 20s-early 30s)."
@ErikDavis felt the same way and said that "She-Hulk," although a little lighter on action than previous Disney forays, is a funny procedural that isn't afraid to break the fourth wall frequently. They added that this series is the most self-referential MCU property to date that is chock full of cameos and noted that "She-Hulk" is one of the most accessible Marvel shows so far. They finished by saying the show has real sitcom vibes. @laughing_place echoed this sentiment and said that show is absolutely hilarious and wholly original, with Tatiana Maslany giving a stellar performance.
Even a She-Hulk comic writer says the show is exceptional
The kind words directed toward "She-Hulk" didn't stop there, with @heyitsjennalynn saying, "I've now seen the first four #SheHulk episodes three times, and they're everything I want them to be, and so much more. The show is breezy, unabashedly weird, and wildly entertaining. This sets a new gold standard for what MCU shows are capable of."
Even a writer of "She-Hulk" comics had to toss in their two cents, with @DanSlott saying that they have written more "She-Hulk" comics than anybody else and has seen the first four episodes of the series. They are here to tell us that "She-Hulk: Attorney at Law" is absolutely sensational. @OpticalCinema said that the first episode starts really fast and gets the ball rolling, but as the show went on, it grew on them. Noting that the setting is pretty grounded, they added that it has quickly become one of their favorite MCU shows.
However, not all were as head-over-heels as the above comments, with @byebyebucky saying that even though the show has its share of flaws, particularly in the first episode, each subsequent episode improves on the last and that the performance of Maslany buoys the show. Needless to say, even those with some issues with the show clarify their statements by saying that it is still great, so it sounds like fans of Marvel's She-Hulk are in for a real treat.