The Actress Who Plays Marinette From Miraculous Ladybug Is Gorgeous In Real Life
The family-friendly superhero show "Miraculous: Tales of Ladybug & Cat Noir" is a well-crafted experience that has something for everyone, including the parents of its many young fans. The Los Angeles Times described the kid's series as "clever, romantic, and fun" and praised the program's intelligent caped crusader, Ladybug. After five seasons and over 100 episodes, the computer-animated series has proven to be a massive hit with fans earning an impressive audience score on Rotten Tomatoes.
Arguably the most popular persona from the show is Ladybug, aka Marinette. The superheroine transforms into her alter ego via a pair of earrings and, alongside Cat Noir (Bryce Papenbrook), protects Paris from all threats, including Hawk Moth (Keith Silverstein). Her powers include creation, restoration, as well as having enhanced agility, speed, dexterity, and strength. While struggling to save the day, she still has to deal with more down-to-earth issues like school and young love, which can sometimes be villainous in their own ways. Marinette is a character viewers can relate to, and it's no surprise she is a fan favorite among those who enjoy the series.
The individual responsible for bringing Ladybug to life in English has been a prolific player in the world of voice acting, and one of her many excellent accomplishments is speaking for the titular hero from the popular series. But some may not know that the actress that plays Marinette in "Miraculous Ladybug" is as gorgeous as she is talented.
Meet Cristina Vee Valenzuela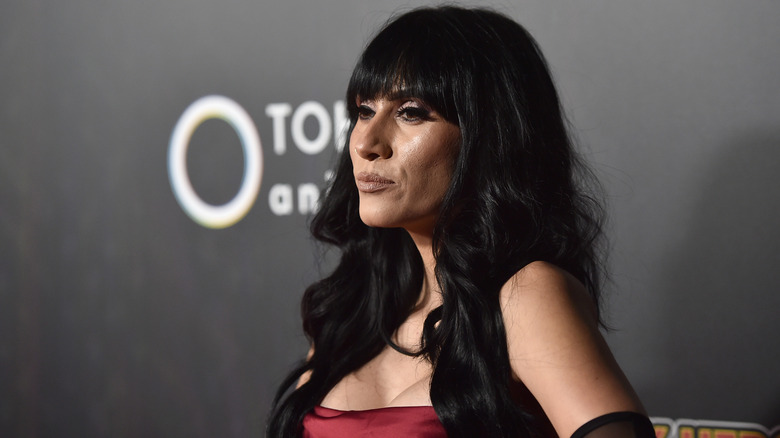 Alberto E. Rodriguez/Getty Images
Cristina Vee Valenzuela or @CristinaVee on Twitter, is a force to be reckoned with in the world of voice acting, and the popular celebrity has attained an impressive following throughout her career, as proven by her 1.2 million followers on TikTok.
According to IMDb, the absolutely stunning voice actress has played Marinette in every episode of "Miraculous: Tales of Ladybug and Cat Noir," along with a vast array of other notable endeavors. Some of her other claims to fame include playing Hawk on "Seven Deadly Sins," Killua Zoldyck in "Hunter x Hunter," and Sailor Mars, one of the most powerful characters from "Sailor Moon." But it isn't just animation titles on her list of credits, as her undisputed skills have been used in video games like "BlazBlue," "Shantae," and "League of Legends."
It's always great to see someone excel at something they are passionate about, and it seems like the beautiful Cristina Vee is not taking any of her experiences for granted. In a video for Crunchyroll Extras on YouTube, she talked about the impact of her work, saying, "It really hits me when I have like friends in high school whose kids love Ladybug or Seven Deadly Sins... It's an honor and it's something that I kind of Cherish and protect." Cristina Vee shows little signs of slowing down, and it will be interesting to see what the future holds for one of the most prominent voices the industry has to offer.