We Finally Understand Why Abomination Appeared In Shang-Chi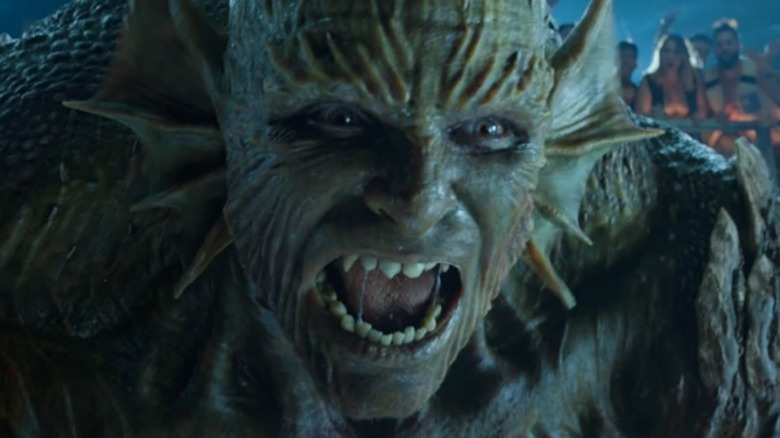 Marvel Studios/Disney
Fans of the Marvel Cinematic Universe may have noticed that a fairly obscure villain is enjoying a live-action renaissance. Much like Edward Norton's sole appearance as Bruce Banner in 2008's "The Incredible Hulk," the movie's main antagonist Emil "Abomination" Blonsky (Tim Roth) has spent years in the dustiest corners of the MCU. However, in 2021, the villain unexpectedly resurfaced in 2021's "Shang-Chi and the Legend of the Ten Rings." When Shang-Chi (Simu Liu) and Katy (Awkwafina) visit Xialing (Meng'er Zhang), the main attraction of her secret fight club is a brutal battle between Abomination and the Sorcerer Supreme, Wong (Benedict Wong). While the latter takes the fight, it turns out that Blonsky threw the match on purpose, and the unseemly pair are actually quite friendly with each other.
The next stage in Marvel villain Abomination's return to the frontlines of the MCU is, of course, the character's supporting role in "She-Hulk: Attorney at Law." Now, the writer of the Disney+ superhero comedy has shed some light on Blonsky's role in "Shang-Chi and the Legend of Ten Rings," and what the big Abomination-Wong cameo in the movie means in the grand scheme of things.
Abomination was in Shang-Chi as a set-up for She-Hulk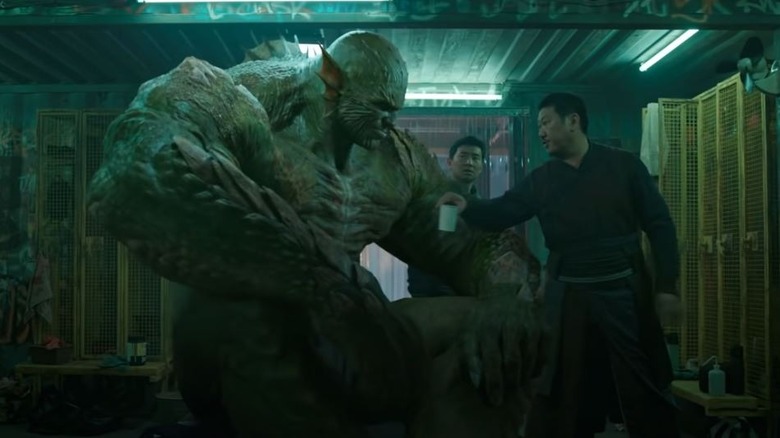 Marvel Studios/Disney
Fans who are delighted to see Tim Roth's fin-eared supervillain back in the thick of things have one particular person to thank. In an interview with Comicbook.com, "She-Hulk: Attorney at Law" writer Jessica Gao shared the truth about "The Incredible Hulk" villain's reemergence: Gao wrote Abomination in her first draft of the Disney+ show, despite having exactly zero idea whether the character was available to use. The gamble, it turns out, paid off. Not only did she secure the permission to use Abomination in "She-Hulk: Attorney at Law," but Marvel Studios President Kevin Feige decided to reintroduce the character well before the show dropped ... by using Abomination in "Shang-Chi and the Legend of the Ten Rings." 
""Because he was built in to be such a big part of the show in that original pitch and in the writer's room, we really like, we were creating this whole story for him," Gao spoke of Abomination's role in her script. "Because everything in Marvel is connected, that was actually why he then was put in 'Shang-Chi' because he was in our show. That way, it was kind of to seed him so that people can get excited but also remember him and it kind of forced people to go, 'Oh, I should go back and check in on him and remember who he is and what all of that was about.'"
Just like that, MCU fans received a bonus dose of Roth's gamma-infused character. Funny how it all works out.
"She-Hulk: Attorney at Law" premieres on Disney+ on August 18.