Celebrity Cameos That Stole The Steve Harvey Show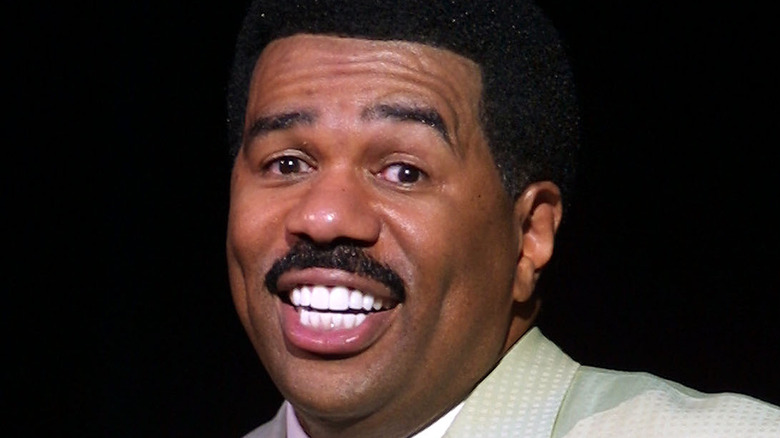 George De Sota/Getty Images
This content was paid for by Sony and created by Looper.
"The Steve Harvey Show" ran for six seasons, with a total of 122 episodes on The WB. The series followed Steve Hightower (Steve Harvey) and his work as a high school music teacher. His bestie Cedric (Cedric the Entertainer) is a coach for the school, while his former classmate Regina (Wendy Raquel Robinson) is the principal. Throughout the series, we watch Steve navigate life as a teacher and the influence he has on his students. He pursues Regina, eventually winning her over, but it is not an easy road.
Steve was a funk legend in his day, which led him to have many connections in the music industry. He often talks about some of the big-name performers he knows, and a few even pop in for a cameo here and there. "The Steve Harvey" show also featured famous names in the entertainment world outside of the music industry, and you never knew who was going to pop in next. These are the biggest surprise celebrity appearances ever on "The Steve Harvey Show."
Sean Puffy Combs and Snoop Dogg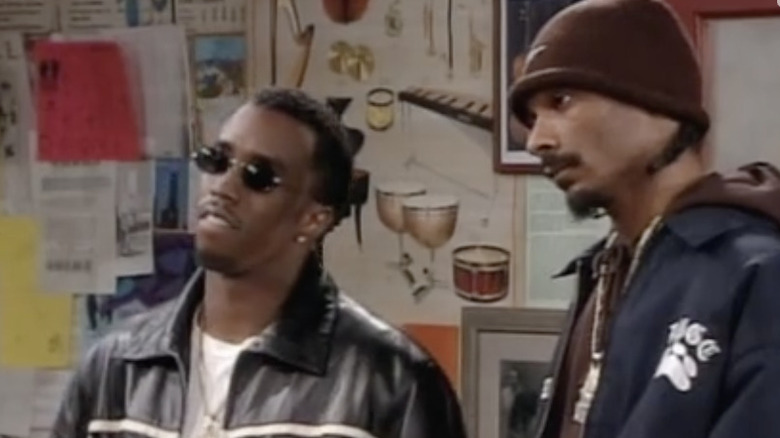 Sony Pictures Television
Steve finds himself in a pickle when Snoop Dogg and Puff Daddy (this was long before Diddy was a thing) both want to sample his song, "When the Funk Hits the Fan." Cedric has a major problem with this and tries to educate Steve on the whole east coast-west coast rivalry in the rap game. Steve is unbothered by his pal's concern and uses the situation as an opportunity to educate Snoop and Puffy.
When the rappers come together in Steve's class, he tells them how important it is to squash this coastal feud. "Whether you like it or not, you're role models," Steve tells them. He also tells Snoop and Puff that throwing that mindset out the window will prevent a whole lot of violence. To Steve's surprise, the rappers tell him that the rap war is a media thing, and they've always had love for one another and make their music for anyone and everyone. The audience applauds at their declaration, making for a special moment for the rap world that Steve helped to facilitate.
Brian McKnight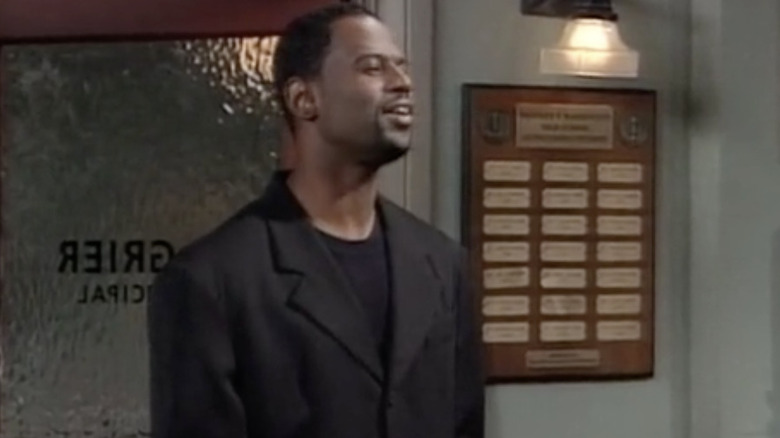 Sony Pictures Television
In Season 1, Episode 13 ("Coming to Chicago"), Steve gets tickets to a Brian McKnight concert, which he wants to use to surprise Regina. She breaks her rule of not dating a co-worker and agrees to go with him, but things go south when Alise (Dawnn Lewis) shows up to school trying to win Steve over. Regina gets upset and rips up the tickets, crushing Steve.
Later in the episode, Regina gets the surprise of a lifetime when McKnight himself walks into her office. At first, we hear some singing off-screen, which seems to annoy Regina. She tells Steve that it's the worst impression of McKnight she's ever heard and suggests it's Cedric on the other end. A few seconds later, the singing intensifies when McKnight walks into the office, and the audience roars with excitement.
Steve asks Regina if she wants to dance, and she overwhelmingly accepts, but she moves right past him. Regina and McKnight dance as he continues to serenade her while Steve is knocking things over, trying to gain attention. Steve ends up leaving the office and closing the door as the audience laughs, and McKnight finishes his song to loud applause.
Lil Bow Wow and Jermaine Dupri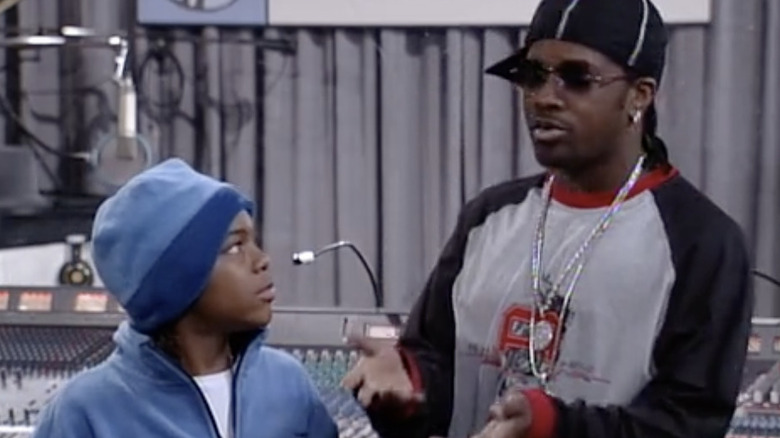 Sony Pictures Television
Fans of "The Steve Harvey Show" got a slight case of deja vu in Season 5, Episode 13 ("No Free Samples") when Lil Bow Wow stopped by Steve's class. The young rapper was around 14 at the time, just one year after he landed on the scene with "Bounce With Me." Bow Wow appears in the episode, as he's hoping to sample "Break Me Off a Piece of that Funk" on his new album. It's just like Snoop and Diddy's appearance four seasons prior, proving it's a totally normal thing for a rapper to walk into a high school, hoping to get approval to sample a music teacher's hit song.
Later in the episode, Steve takes his band to the recording studio where Bow Wow is in the booth. On the other side of the window is rap producer and rapper Jermaine Dupri, who most music fans know for "Welcome to Atlanta." At the end of the episode, Bow Wow raps with Steve and the Hightowers while they perform one of their original songs.
Teddy Riley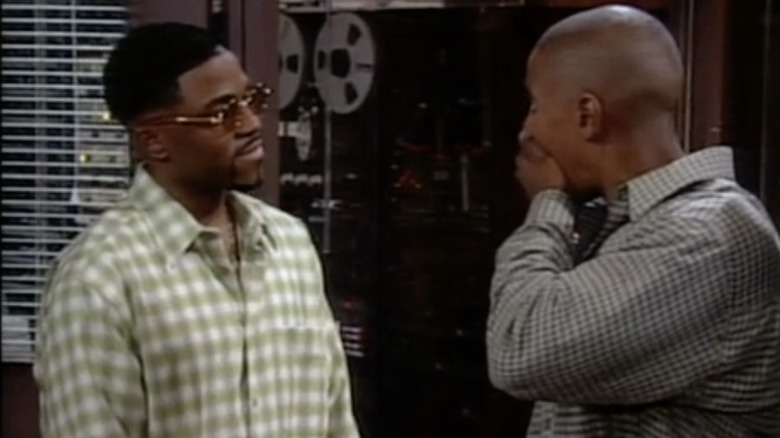 Sony Pictures Television
If you've heard "No Diggity" by Blackstreet, then you've heard Teddy Riley. The frontman for the group is known in the industry for creating new jack swing, a combination of hip hop and R&B. Teddy appeared in Season 2, Episode 6 ("Let's Talk About Sax") of "The Steve Harvey Show," where Romeo (Merlin Santana) locks him in a room. Romeo makes this drastic move so Steve can audition for Teddy, but Regina and Lovita (Terri J. Vaughn) get in the way while fangirling over the musician.
Eventually, Steve auditions for Teddy on his saxophone, and we learn that, offscreen, he turned down Teddy's offer to go on tour with him because he wants to be done with that part of his life. A part of Steve realizes he needs to stay with the kids, especially after Romeo screwed up. Teddy's appearance is brief and limited to one scene, but he certainly left his mark on the show.
Judge Mathis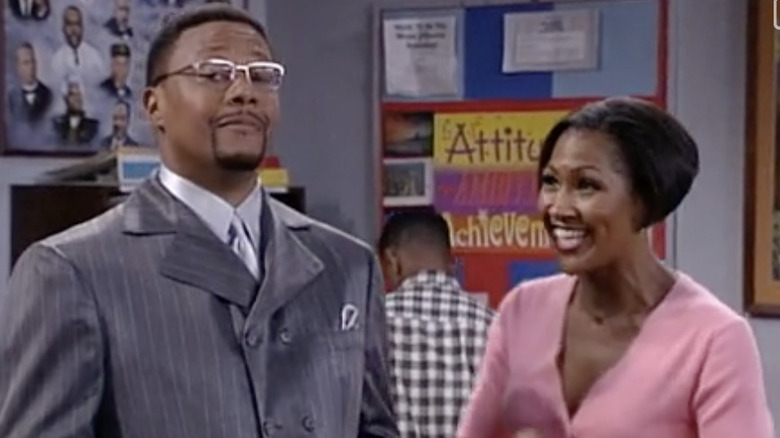 Sony Pictures Television
Judge Greg Mathis is heavily featured in Season 5, Episode 19 ("Here Comes the Judge"), where he comes to Booker T. Washington High School for career day. Steve starts out on the wrong foot with the judge when he gets upset at Mathis for parking in his spot. They get over it quickly, and Judge Mathis speaks to Steve's class about his career. The running joke throughout the episode is how Judge Mathis always calls Steve by the wrong last name, like Belltower and Watertower.
Later in the episode, the audience is treated to an episode within an episode, where Steve and Regina go up against Romeo, Lydia (Lori Beth Denberg), and Bullethead (William Lee Scott) in court. The students are upset that their new pager Steve confiscated earlier in the episode is broken. Steve and Regina claim it's not their fault, so Judge Mathis presides over the case. The judge rules in favor of the students and tells Steve his car has been towed and impounded, bringing the episode full circle.
Dr. Joyce Brothers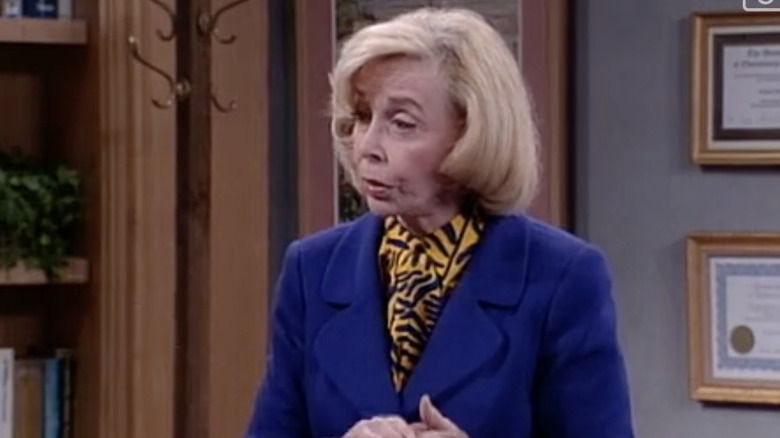 Sony Pictures Television
The late, great Dr. Joyce Brothers appeared in Season 5, Episode 9 ("Analyze Dis") to help Steve and Regina resolve their workplace issues. She has the duo use role-playing puppets to try and sort out their differences, but Steve has a flair for the dramatic and doesn't take it seriously. Eventually, Regina reveals that their work problems stem from their personal issues, with Dr. Brothers joking someone should have told her they had a previous intimate relationship.
Dr. Brothers suggests Regina and Steve sever their professional and personal relationships, citing there is no respect between them. Steve and Regina mend their relationship on the spot, disagreeing with the doctor. They admit they love their friendship and working partnership. In a gotcha moment, Dr. Brothers says that strategy always works and that she tricked them into working out their differences. The audience laughs as she leaves the room, leaving Steve with a shocked look on his face.
Kim Fields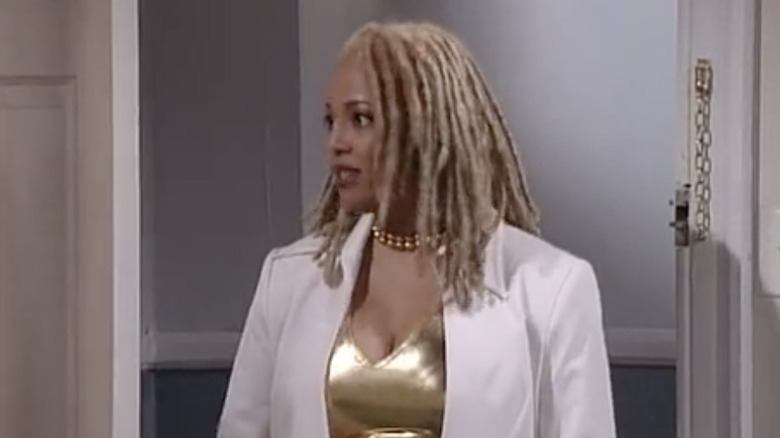 Sony Pictures Television
Unlike the other celebrity guest stars on our list, Kim Fields — a veteran sitcom actor who worked on legendary shows like "The Facts of Life," "Living Single," and even Norman Lear's "Good Times" — did not appear as herself in the show. "The Facts of Life" alum played Chloe, Regina's cousin, who is about as pompous as they come. The Season 6, Episode 7 ("Dissin' Cousins") story revolves around Chloe and how she shakes up Steve and Regina's life now that they're a happy couple. Chloe moves in with them temporarily after her husband asks for a divorce.
Later in the episode, Chloe goes to the high school with Regina, where she gets on the nerves of everyone she encounters, starting with Cedric. Her holier-than-thou attitude sets Regina off, and Chloe is finally put in check. Chloe packs her bags and goes to leave, but Regina begs her to stay. The two eventually reconcile and hash out their differences. And while Chloe can't totally shake her cockiness, the two come out better than ever now that their true feelings are on the table.