Nearly 26% Of Fans Said This Was Their Favorite Thor Appearance In The MCU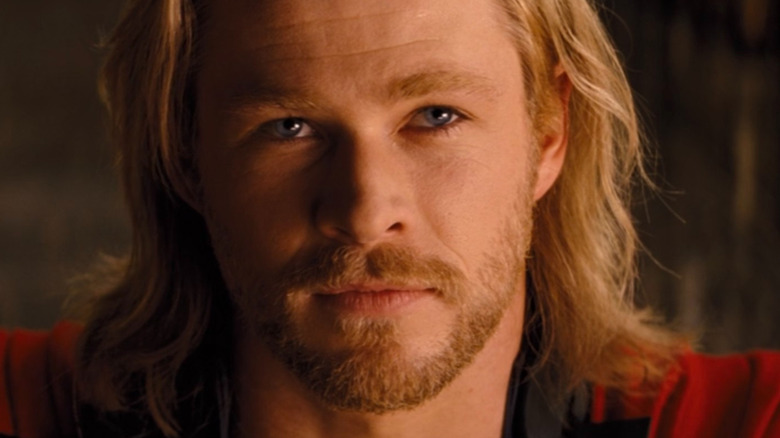 Lisa Maree Williams/Getty Images
Thor Odinson reigns as one of the last remaining original Avengers in the MCU. Chris Hemsworth has played the Asgardian hero since 2011 when the first "Thor" film debuted. Since then, Hemsworth has shown up in nine MCU projects, including the "Doctor Strange" post-credits scene, and he shows no sign of stopping. The Aussie has admitted he wants to stay with Marvel Studios for as long as they'll allow him to, so we expect several Phase 5 and 6 phases as The Multiverse Saga kicks on.
With almost 10 film appearances in the MCU and more solo flicks than any other character, we wanted to find out what fans thought Hemsworth's best Thor appearance is. We put it to a vote, offering our poll takers six films where Thor is featured as a main character. The survey provided some of the most beloved MCU films and those most essential to Thor himself. Over 600 United States residents took our poll, and the results were pretty surprising.
MCU fans love the Asgardian hero in Thor: Ragnarok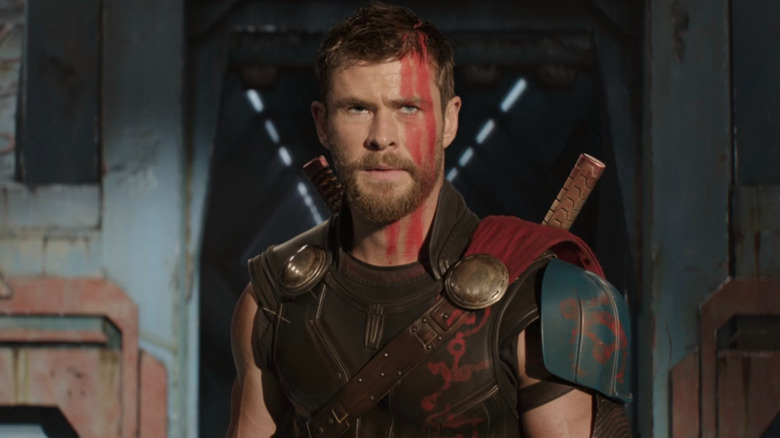 Landing first in our poll of Thor's best MCU appearances is "Thor: Ragnarok," with almost 26% of the vote. This comes as no surprise, as critics and fans regard the Taika Waititi-directed film as the best solo Thor film to date. The 2017 movie flipped the script of what we'd seen of Thor up until that point, turning a relatively dark character with drab stories into a colorful and comedic hero who is stronger than ever. "Ragnarok" showed a different side to the god and brought hope to fans who felt like all hope was lost for the character after "Thor: The Dark World."
Fans chose the original "Thor" film as their second favorite Thor appearance in the MCU, which might be the most surprising outcome of our poll. With almost 21% of the vote, the 2011 film still seems to hold a special place in many MCU fans' hearts. At the time of this publication, there are 29 films in the Marvel Cinematic Universe, and "Thor" ranks at number 22 according to its critics' score on Rotten Tomatoes. When it comes to audience scores, it lands at number 23. While the three of four "Thor" solo films rank toward the bottom of the rankings, it's surprising to see fans choose the original as having one of their favorite Thor appearances.
Coming in at third place is "The Avengers," with a little over 18% of the vote. The MCU's first team-up film certainly holds a place in many fans' hearts, and it was a great second appearance for Thor. Hemsworth shined in the incredible ensemble cast, mixing brooding god with comedic superhero, and we saw the seeds planted in the Thor-Bruce Banner (Mark Ruffalo) relationship.
MCU fans haven't forgotten about Thor in Avengers: Endgame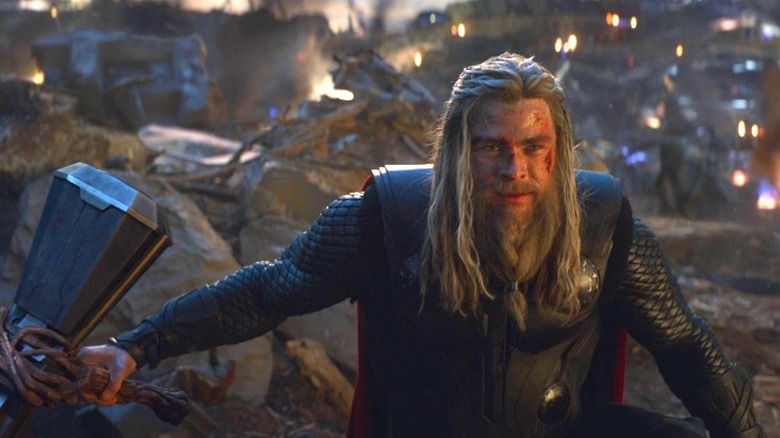 Marvel Studios/Disney
At number four in our poll for the best Thor appearance in the MCU is "Avengers: Endgame." It's not super surprising to see this film fall in the bottom half of our survey, as fans have been fairly divided over Thor's storyline in the movie. While some thought Bro Thor (or Fat Thor as he's often referred to) was funny, others felt the writing made a mockery of PTSD and depression. After Thanos (Josh Brolin) attacks the Avengers compound in the third act, Thor transforms out of his sad state into a revenge-seeking toughy guy. The Thor we had been so accustomed to was back, wielding Stormbreaker and Mjolnir simultaneously. Not to mention, he gave us probably the best yell in an MCU movie as the heroes charged toward Thanos.
Following "Avengers: Endgame" in our survey is its predecessor, "Avengers: Infinity War," with 14% of the vote thrown its way. It's surprising to see "Infinity War" fall so low in the poll, as it arguably has the best superhero entrance of all time when Thor lands in Wakanda. He also proves his worth as one of the strongest heroes and is an all-around badass in the film.
Last place in our poll is "Thor: Love and Thunder" for Thor's best appearance in the MCU. While there are still two other films not included in our survey ("Thor: The Dark World" and "Avengers: Age of Ultron), the dismal 5% the movie got from our respondents proves it's not a fan favorite. According to critics, the newest "Thor" installment is the second-worst film in the MCU, only beating out "Eternals." "Thor: Love and Thunder" is "Thor: Ragnarok" on steroids, with more comedy than any Asgardian film that some thought was just too much. Perhaps MCU fans started to move on from Chris Hemsworth's hero and have different ideas for Thor's future in the Marvel Cinematic Universe.