The Only Harry Potter Star To Change How J.K. Rowling Wrote Their Character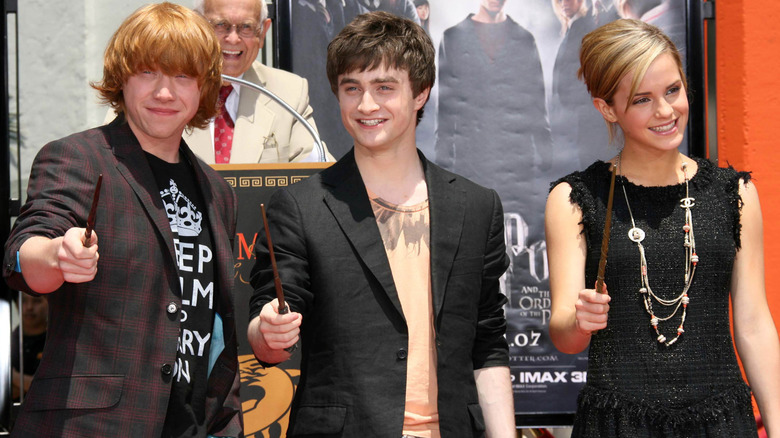 s_bukley/Shutterstock
The magic of "Harry Potter" isn't just in the fictional wizarding world but also in the franchise that's been meticulously and rapidly developed beyond the pages. The first book, "Harry Potter and the Sorcerer's Stone," was published in 1997, and its movie adaptation premiered in 2001, leading to an entire generation who found a sense of home and belonging at Hogwarts School of Witchcraft and Wizardy. Even now, the excitement surrounding the Wizarding World is as strong as ever as new stories set in the magical universe are told, including the "Fantastic Beasts" film series.
The "Harry Potter" movies were in production before the author, J.K. Rowling, had even finished writing the books, so many of the characters had already been brought to life on-screen while their fates were still in her hands. Although the overarching plot and general personalities of the characters had been mapped out long before the first book was published, the writing process invites the unexpected, and among the most unexpected things to happen in "Harry Potter" is that one of its stars changed how Rowling wrote their character.
Evanna Lynch is the real-life Luna Lovegood
Evanna Lynch joined the cast of the "Harry Potter" franchise as the quirky and endearing Luna Lovegood in the 2007 film adaptation of "Harry Potter and the Order of the Phoenix" after attending an open casting call with over 15,000 other girls. While there are things that happen in every "Harry Potter" movie, it's less common for a character's on-screen persona to have inspired J.K. Rowling's writing of that character in the book.
Yet this is precisely what happened as Rowling was writing Luna Lovegood, as she revealed to "Harry Potter" screenwriter Steve Kloves in "Creating the World of Harry Potter, Part 7," saying, "The only exception actor-wise to my sort of 'didn't intrude' rule was Evanna Lynch, who plays Luna. And I hear her voice when I write Luna."
In an interview with Buzzfeed, Lynch recalled her feelings about being an inspiration to J.K. Rowling while writing the character, explaining, "It's so crazy to me. I heard that, and I was like, [squeals]. That is such a dream, to have that kind of contribution and have that influence."
Lynch brought a personality that so many fans could relate to. She was odd and wise and fun in ways that added something special to the series that audiences hadn't yet received, and it's no wonder her uniqueness and brilliance inspired even Rowling herself.