The Umbrella Academy Fans Couldn't Help But Shed Tears At This Ben Scene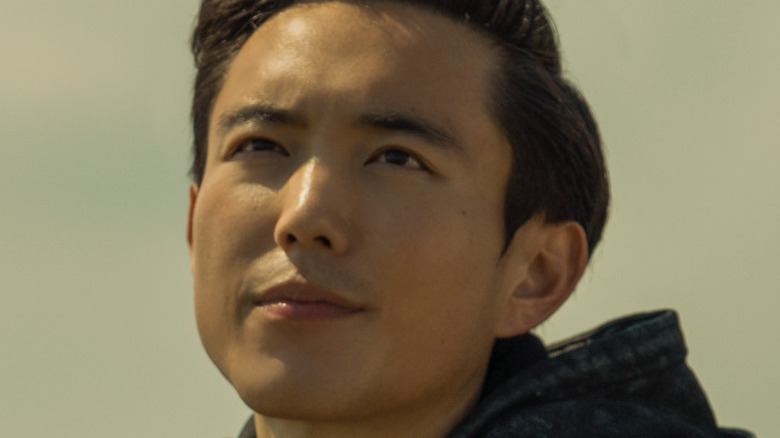 CHRISTOS KALOHORIDIS/NETFLIX
Fans of "The Umbrella Academy" have witnessed many dramatic twists in the show's first three seasons, but there is one scene involving Ben Hargreeves' (Justin H. Min) that is making many fans cry into their popcorn. That's according to the subreddit r/UmbrellaAcademy where fans are sharing their feelings.
Season 2 finds the super-powered Hargreeves siblings in 1960s Texas, and most of them are navigating their own solo journeys for part of the season. Allison (Emmy Raver-Lampman) is advocating for civil rights, Luther (Tom Hopper) is in the boxing ring, Diego (David Castañeda) winds up in a hospital, Viktor (Elliot Page) ends up on a farm, Five (Aidan Gallagher) is at war with the Commission, and Klaus (Robert Sheehan) has started a cult. Ben is still stuck with Klaus, whose power connects him to the spirit world, but Ben does find a way to have his own personal journey by possessing Klaus. The possession gives Ben the chance to live once again, and it also allows him to reunite with Diego. 
While the latter is just one of the many heartwarming scenes in Season 2, it's not the one that's making fans tear up. 
Redditors are grabbing tissues during Ben's farewell
Later in Season 2, Viktor is mistaken for a Russian spy and is interrogated by the FBI in Episode 9, "743". He starts to lose control of his powers, leading to a second doomsday. The siblings try to reach Viktor, but his powers knock most of them out. Ben is the only one that can help, and he uses the rest of his energy to save Viktor. They share one final hug before Ben heads to the afterlife. Redditor u/SlimerRocks555 said the scene still made them tear up a day after watching it. u/Thevegansuperman87, meanwhile, thought the scene showed how much Ben cares for Viktor. "It was beautiful and completed his arc perfectly," they wrote.
Justin H. Min also felt very emotional during that scene and told Entertainment Weekly that he thought he was leaving "The Umbrella Academy" for good. "That was a very emotional day for me because I thought it was my last day on set ... I remember going up to my hair and makeup people and being like, 'thank you so much for being with me on this journey.' I gave them thank-you cards," he said.
The Season 2 finale shows that Ben is actually sticking around but with a new family. After the brawl on the farm, the Hargreeves siblings are zapped to an alternate 2019 where they're introduced to The Sparrow Academy, the group of super-humans that Reginald Hargreeves (Colm Feore) adopted in the alternate universe. That includes a version of Ben that's very much alive.