Darwin Del Fabro Reveals The Most Challenging Part Of Filming They/Them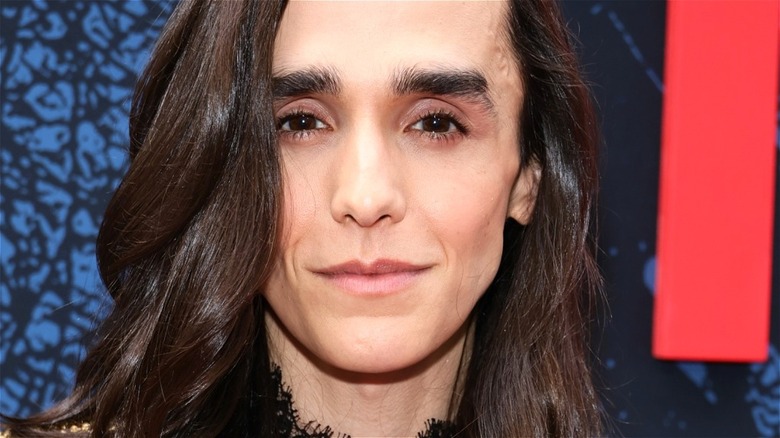 Theo Wargo/Getty
"They/Them" has made quite a splash on Peacock with its daring and quite bloody tale about a group of teens at a conversion camp who find themselves in the crosshairs of a serial killer — and adults seeking to ensure that they come back from the experience as changed people. As the bodies pile up, the teens must come together to dispatch their stalker — and the adults seeking to control them by changing who they are fundamentally. About self-love, community, and staying true to who you are, it also manages to rack up a pretty high body count as the kids discover whether the quality of mercy truly is strained.
Darwin Del Fabro portrays Gabriel Hernandez, one of the teens forced to participate in the rites and rituals created by Owen Whistler (Kevin Bacon, whom Del Fabro had a great time working with), one person in a long line of Whistlers who have tormented and even killed teenagers and children over the centuries in the name of behavioral modification. While Gabriel seems to find love at the camp, his future is anything but assured. According to Del Fabro, the most challenging part of filming the movie might be surprising to those who have tried the film on for size.
Early morning temperatures tormented Darwin Del Fabro
Speaking with Dread Central alongside co-star Monique Kim about the experience of filming "They/Them," Darwin Del Fabro admitted that there was one thing he didn't enjoy about the experience — dealing with outdoor early call times and some very chilly weather. "I'm in my underwear in the cold in two scenes in this movie, and that was very challenging," he admitted. The scenes were shot at 5 in the morning during sunrise, edited to resemble sunset for the film. Even though it was filmed in Georgia, the locale could be quite chilly that early in the day, which left Del Fabro struggling with the conditions. He also had a different scene to shoot at 2 in the morning in those frigid temperatures. 
So how did he get through it? He admitted to psyching himself up to pretend that the lake was actually warm and the conditions much balmier than they were. 
Kim admitted feeling bad for Del Fabro as he shuddered his way through shooting multiple scenes by himself in the lake. "He really had to act that day — we felt so bad — he was literally shivering!" Kim said. "Doing his own stunts there." At the end of the day, it sounds like it was worth it to tell what's ultimately an empowering story for so many.