How The King Of Queens' Arthur Spooner Was Completely Different In The Pilot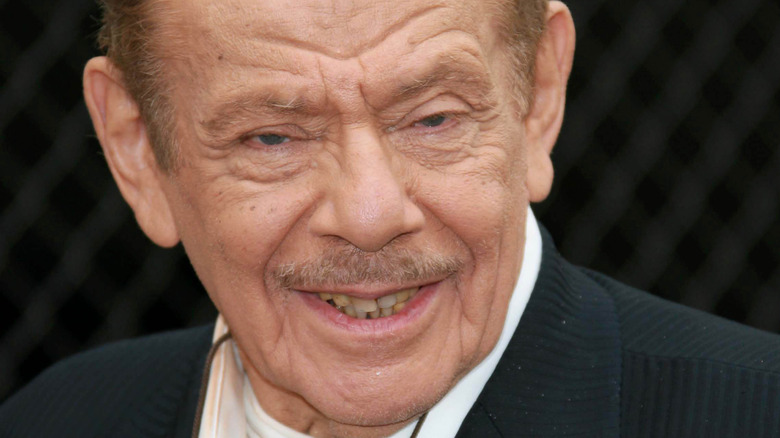 s_bukley/Shutterstock
CBS sitcom "The King of Queens" centered on the trials and tribulations of Doug (Kevin James) and Carrie Heffernan (Leah Remini), a working-class couple whose personalities sometimes click together nicely and other times clash. Doug's friends Deacon Palmer (Victor Williams), Spence Olchin (Patton Oswalt), and Richie Iannucci (Larry Romano); his cousin Danny Heffernan (Gary Valentine); and dog-walker Holly Shumpert (Nicole Sullivan) add depth and humor to the fictional neighborhood. But while every one of the characters named above is hilarious, there's another who often stole the show with his bombastic temperament and obstinate disposition. Fans know who we're talking about here: It's Carrie's father, Arthur Spooner (Jerry Stiller).
Arthur is nothing if not difficult, the wrench in every plan. It's hard to imagine anyone else but Stiller so perfectly embodying the character. Even so, the fact is he was totally different in the "King of Queens" pilot than he was throughout the rest of the show.
The role went to another actor
By the time "The King of Queens" was in the works in 1998, Jerry Stiller had built an impressive acting resume. He started in comedy, performing with his wife Anne Meara in the 1960s. In 1975, he debuted on Broadway. Throughout his early career, he performed off-Broadway theatre, appeared on TV talk shows and variety shows, and had roles in radio and TV ads (via The New York Times).
Later, Stiller worked on TV series, including "Phyllis" and "Rhoda" in 1976, "Hart to Hart" and "Private Benjamin" in 1981, "Alice" in 1982, and "Reading Rainbow" in 1983. Between 1979 and 1983, he appeared three times on the pop-culture classic "The Love Boat." And he and his wife even starred in a TV movie together called "The Stiller & Meara Show" in 1986. It was far from Stiller's only film. He also had roles over the years in "The Ritz" in 1976, "Those Lips, Those Eyes" in 1980, and "Hairspray" in 1988, among others (via IMDb).
Then, in 1993, Stiller shot to a whole new level of celebrity with a role on "Seinfeld." Cast as Frank Costanza, George's (Jason Alexander) father, he took the part and ran with it, creating a delightfully abrasive character who captured the audience's attention every time he appeared on the screen. And it seems he caught the eye of TV executives, too. According to "The King of Queens" executive producer David Bickel, Stiller rose to the top as the first choice for the role of Arthur when the show was being cast. "I think they wanted Jerry to begin with, but he wouldn't do it, couldn't do it, whatever it was," Bickel told The Futon Critic. The show must go on, as they say, so another actor was cast. Jack Carter — not Stiller — played Arthur in the pilot.
Jerry Stiller took over in the end
Jack Carter came to his "King of Queens" role with his own remarkable resume as an actor. An early TV star in the 1940s, he also performed on Broadway and in movies, including 1964's "Viva Las Vegas" with Elvis Presley. Best known for his quick comic wit, he was an excellent fit to play Arthur, if only for a brief moment in time (via The New York Times).
The pilot was an opportunity to set up the characters' relationships as they'll move forward through the show. This is when we see Doug make the difficult decision to allow Arthur to move in with him and Carrie. Of course, Arthur gets plenty of opportunities to show the negative (and comedic) effects this will have on the Heffernans' lives. He drives Doug crazy with his erratic behavior, including a scene where he screams at a man at his wife's funeral and a bit where he incorrectly names the number of words he is about to say. He's basically the same man we know and love as Arthur Spooner — except it isn't Jerry Stiller embodying the role.
As it turned out, Stiller was available after all, and as part of his audition, he reshot some scenes from the pilot. Then David Bickel had the strange experience of seeing the actors switch off throughout a hybrid version. He explained, "It was like, 'Oh, this is great,' and all of a sudden Jack Carter would appear, and it was like, 'Ahhhh! What's happening here?'" While Bickel had no complaints, Stiller was the first choice and ultimately won out. And now, it's hard to imagine any other outcome.