Liam Neeson's Unexpected Connection To Peaky Blinders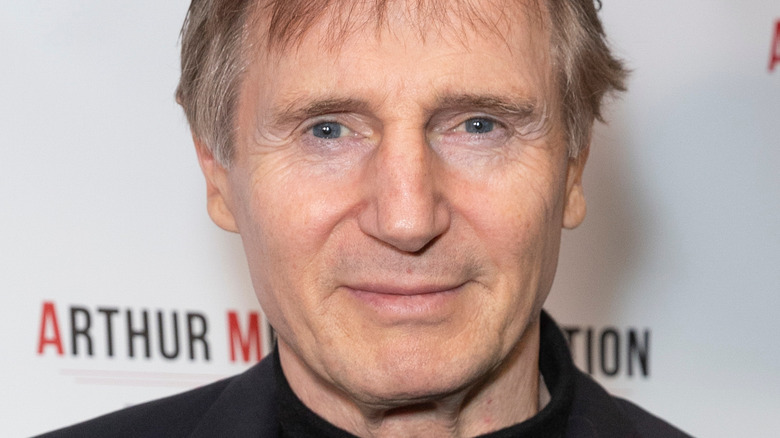 lev radin/Shutterstock
Steven Knight provided the world with a masterclass in period drama with "Peaky Blinders." The series, which ran from 2013 to 2022 and spans six seasons, brought viewers to Birmingham, England, in the wake of World War I. There, the Shelby family — the ringleaders of the Peaky Blinders crime faction — worked in the shadows and found new ways to survive right under the nose of the city's authorities. Naturally, their exploits put them in some dangerous and, in many cases, deadly situations, but they do whatever is necessary to keep their operation afloat.
To pull this crime story together, Knight assembled a remarkable group of actors. Among the most prominent are Cillian Murphy, who led the charge as Tommy Shelby, the late Helen McCrory as Tommy's aunt, Elizabeth "Polly" Gray, and Paul Anderson as Tommy's hot-headed brother, Arthur Shelby. Other notable names that appeared on the series are Annabelle Wallis, Adrien Brody, and Tom Hardy, to name a few. While he likely would've fit perfectly into the world of "Peaky Blinders," Liam Neeson never appeared on the show, but he does have a connection to it.
Despite never popping up in a single episode, here's how Liam Neeson heavily influenced a key element of "Peaky Blinders."
Neeson helped out Sam Neill with his Irish accent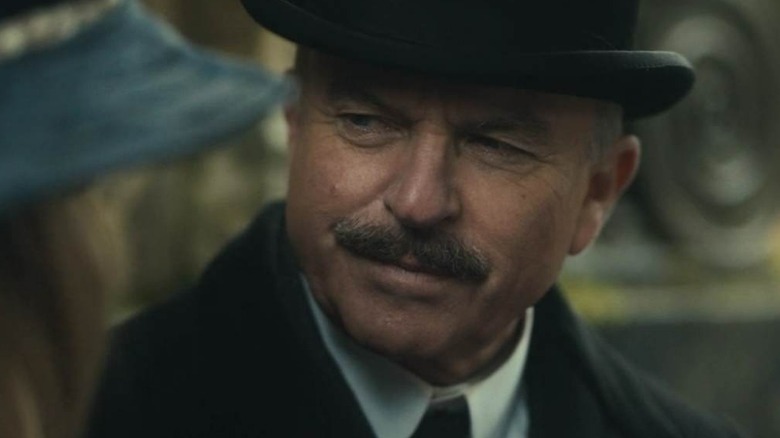 BBC One
The first two seasons of "Peaky Blinders" featured "Jurassic Park" fan theory-crusher Sam Neill as Chester Campbell: a detective chief inspector tasked by Winston Churchill himself with cleaning up the streets by any means necessary. Despite being born in Northern Ireland before moving to New Zealand as a youth, Neill struggled to master Campell's Irish accent. Thankfully, as he told Graham Norton, Liam Neeson and James Nesbitt were willing to help him in that department. "I got a couple of lessons from them, which was great, but they were brought up just 10 miles from each other and speak with completely different voices, so I thought I would just relax and do my own thing," Neill said (via Irish News).
While Sam Neill struggled to get the finishing touches on his Irish accent, another cast member faced a similar dilemma. The Irish-born Cillian Murphy had to contort his vocals into a Brummie accent to play Birmingham native Tommy Shelby. In an interview with Huffington Post UK, he admits that he never quite felt he got it right. "The writer is from Birmingham, and I used to pester him, leaving him messages on the phone in the accent, asking him to tell me how I was doing," Murphy recalls, yet despite all of his hard work and research, he still doesn't think his inflection was up to par.
For some, putting on a different accent can prove quite challenging, as evidenced by both Cillian Murphy and Sam Neill's "Peaky Blinders" experiences. Thankfully, the latter had James Nesbitt and Hollywood legend Liam Neeson of all people, to help him along.