The Batman Actor You Forgot Starred On South Park
Since 1997, the ingenious Comedy Central series "South Park" has been skewering all things news and pop culture with its razor-sharp observations, largely from the point of view of four boys — Stan Marsh, Kyle Broflovski, Eric Cartman, and Kenny McCormick — in South Park, Colorado. From the beginning, creators Trey Parker and Matt Stone have been doing the majority of the voices for the series — including the main characters — but occasionally, guest stars make a voice appearance.
The list of guest voices who have appeared on "South Park" is long and distinguished. Among them is "Friends" star Jennifer Aniston, who voiced the role of choir teacher Mrs. Stevens in 1999, while controversial Tesla head Elon Musk voiced himself in three episodes in 2016. Comedy icons Cheech Marin and Tommy Chong also appeared in their familiar outfits in a 2000 episode but went by the character names Carlos Ramirez and Chief Running Pinto, respectively.
Of course, Stan, Kyle, Cartman, and Kenny also appeared in their feature film, "South Park: Bigger, Longer & Uncut," in 1999. Not surprisingly, the movie featured several Hollywood stars' voices, including Minnie Driver, Monty Python's Eric Idle, and Brent Spiner from "Star Trek: The Next Generation." Even the voice of a star of one of the "Batman" movies popped up in the "South Park" movie, and before that, he even made a cameo appearance on Season 1 of the Comedy Central series.
George Clooney voiced Dr. Gouache in Bigger, Longer & Uncut
Acclaimed actor George Clooney had a very eventful 1997, which not only included his first and last appearance as the Caped Crusader in the critically lambasted DC superhero movie "Batman & Robin" but a brief yet memorable voice turn in the debut season of "South Park." In the episode "Big Gay Al's Big Gay Animal Sanctuary," Clooney provided the voice of Stan's dog, Sparky.
Three years later, though, Clooney — whose big break in Hollywood came in 1984 as Dr. Doug Ross on the hit NBC drama "E/R" — broke out his scrubs again for a cameo turn in "South Park: Bigger, Longer & Uncut." Clooney's Dr. Gouache naturally appears in an emergency room scene, where he and his medical team are feverishly working to save the death-prone Kenny with Stan, Kyle, and Cartman looking on. The blood-spattered operation appears to be a success until Gouache delivers Kenny a grim post-op chat, saying, "Son, I'm afraid I have some bad news. We accidentally replaced your heart with a baked potato. You have about three seconds to live."
After the baked potato transplant bursts in Kenny's chest, Stan exclaims, "Oh, my God, they killed Kenny!" followed by Kyle exclaiming, "You bastards!" After Kenny's predictable death, Gouache is seen kneeling by his bedside, hammering his fist on the bed, screaming, "Dammit! It never gets any easier!" before getting up and casually whistling as he walks out of the room.
George Clooney's voice was used in a South Park episode about Hollywood smugness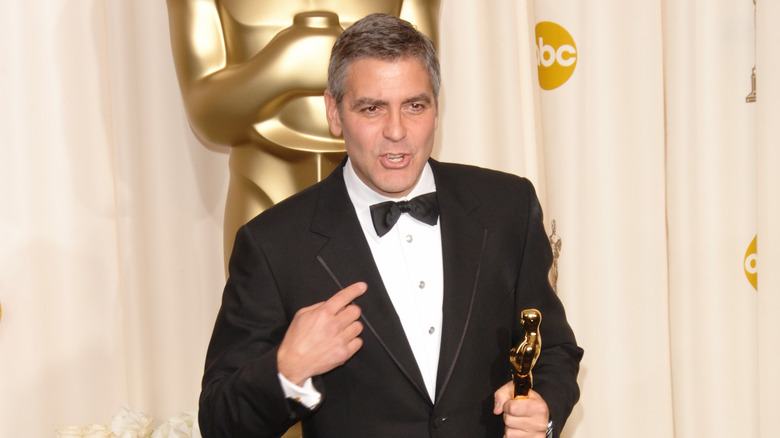 Featureflash Photo Agency/Shutterstock
Of course, Trey Parker and Matt Stone have no issues with calling out celebrities for their sanctimonious ways — and they put their commentary on full blast by ripping on the likes of Sean Penn, Alec Baldwin, Susan Sarandon, and Matt Damon in their 2004 marionette puppet movie "Team America: World Police." Next, in the 2006 "South Park" episode "Smug Alert!" parts of George Clooney's acceptance speech for winning the best supporting actor Oscar for the political drama "Syriana" was lifted for the episode.
Targeting Hollywood's finger-wagging approach to inform common folk about social issues, Clooney's bout of smugness — which appears in the guise of a storm cloud — is accompanied by clips of his Oscar's speech. In it, he goes on about Tinseltown's bravery of talking about touchy subjects out loud when they were only being "whispered" elsewhere.
Clooney's smug accusation seems to have some foundation, which the U.K.'s Guardian highlighted after the airing of the "Smug Alert!" episode. Clooney hasn't appeared on "South Park" — at least voluntarily — since. As such, a photo of Clooney appears during the 2021 "South ParQ Vaccination Special."