The Boys Star Karl Urban Reveals The Most Surreal Moment In The Show For Him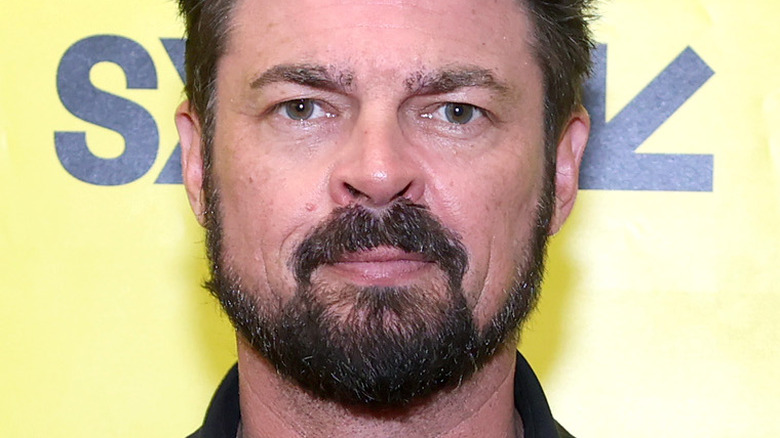 Travis P Ball/Getty Images
Somehow, in a genre that regularly features heroes flying faster than speeding bullets and Norse gods channeling the power of thunder, Amazon Prime still managed to bring something to the superhero table that audiences had never seen before. "The Boys," which follows a group trying to bring down a cadre of corporate-sponsored enhanced crime fighters, is a superhero story unsuitable for kids or those with a nervous disposition. Leading the charge is a gruff-looking Karl Urban as Billy Butcher, leader of The Boys who gives the middle finger and more to Supes who are anything but heroes. As the man at the center of this wild story, Urban has filmed some truly shocking moments. 
Admittedly, Urban is no stranger to outlandish sights, even before "The Boys." Before squaring off with The Homelander (Antony Starr), he battled orcs in the "Lord of the Rings" trilogy, went to warp speed in "Star Trek," and took on an apartment block almost single-handedly in "Dredd." However, one moment from Season 2 of "The Boys" may best them all. The sequence in question begins as a wet and wild chase scene and by the end, both Urban's mind and the inside of a massive ocean-dwelling mammal had been blown. 
Urban found the infamous Season 2 whale scene to be particularly surreal
During the Season 2 episode "Over the Hill with the Swords of a Thousand Men," the group comes up against The Deep (Chance Crawford) and his back-up in the form of Lucy the whale. Rather than avoid her, Butcher drives straight through the problem with a speedboat, impaling Lucy on impact. From here Butch, Hughie (Jack Quaid), and company are forced to crawl out of yet another diabolical situation, which Karl Urban was shocked to see receive such a positive reception.
When asked by Collider to give his pick for the wildest moment of the series, Urban chose to highlight his showdown with The Deep and Lucy, and noted that he felt conflicted about the scene. "For me, personally, I love the ocean and I love sea life, so to be part of a sequence that drives a speedboat through a whale was pretty surreal," Urban admitted. And yet, even with outlandish moments like this, the series was still nominated for an Emmy for outstanding drama series, pitting "The Boys" against shows many wouldn't have anticipated it competing against.
"They were calling out the nominations, with all of these prestigious shows, like 'The Crown,' with Prince Charles delivering some great dialogue, and then you cut to 'The Boys' and there's a speedboat ramming into a whale. It was great," Urban said. 
And as it turns out, what we see on screen wasn't the only wild part of the scene in question.
Filming the speedboat chase didn't go to plan for Jack Quaid
When it comes to filming "The Boys," it makes sense that safety precautions would be put in place. However, it seems that when it came to filming the epic speedboat chase, things worked better in theory than in practice. During an interview with Entertainment Weekly, Karl Urban recalled that co-star Jack Quaid had concerns about filming on a boat. "We had Jack Quaid at the front of the speedboat, and the kid has never been in a speedboat before," Urban recalled regarding the wet and wildly gory ride. "We're shooting it on a lake and there are waves and I'm gunning it and we're going along and we're getting wet. Jack Quaid is pale. And he has a safe word. And it's 'Karl.'" Incredibly, Urban having his own name called didn't really make much of a difference, as external sound interference stopped the star from pumping the brakes.
"So he's on the front of the speedboat, and we're gunning it and we're getting air, and it's bang, bang, bang, and he's screaming at the top of his lungs, yelling, 'Karl! Karl! Karl!'" said Urban. "I can't hear him, because ... there's a helicopter floating just up above us shooting this whole thing. So our plan failed." The silver lining of this sickly gray cloud was the scene ended up becoming one of the show's most iconic moments. And at the end of the day, no whales or Quaids were harmed in the process. Honest.