The Fear The Walking Dead Scene That Always Gives Fans The Creeps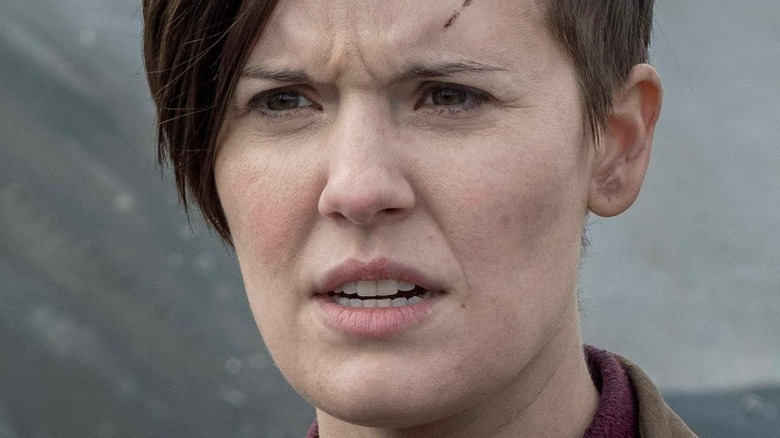 AMC
Since jumping from the comic book page to the small screen in 2010, the "Walking Dead" franchise has tried out a handful of different genres. It's often dramatic as survivors drum up all kinds of personal issues among each other, with some very rare comedic moments tossed in to make light of a bad situation. Of course, in a world occupied predominantly by zombies with a taste for human flesh, where shelter and supplies are dwindling, and distrust of others is rampant, it should come as no surprise that horror is a main ingredient of the "TWD" recipe.
From the moment Rick Grimes (Andrew Lincoln) awoke from his coma in an abandoned hospital and saw a door that read "Don't open, dead inside," "The Walking Dead" set its spooky tone. In the seasons to come, viewers would witness some terrifying moments as the heroes struggled to survive in an increasingly hostile world. Naturally, this tone isn't limited solely to the show that started it all. As the "Walking Dead" spin-off titles have shown, the horror aspect of the property isn't going to disappear any time soon.
In keeping alive the "Walking Dead" tradition of giving audiences an occasional fright, "Fear the Walking Dead" has featured more than a few sequences that gave fans the creeps. Most would agree that this one was and still is particularly effective.
One of Madison's earliest walker encounters is legitimately unsettling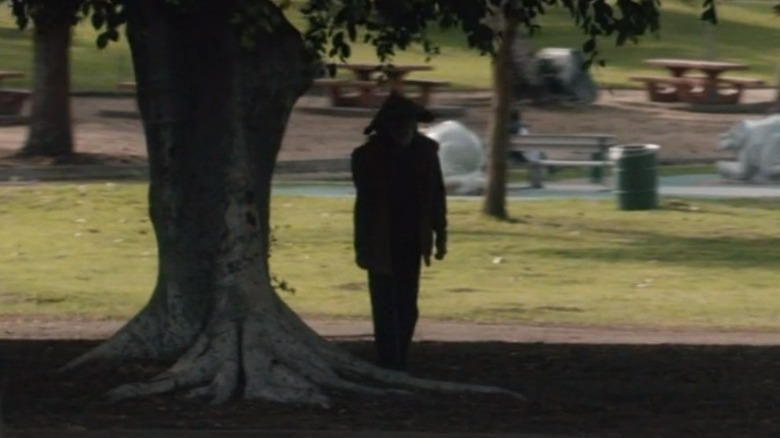 AMC
In the first season of "Fear the Walking Dead," the show focused on providing context for the zombie outbreak and giving fans a look at what things were like in its early days. The new cast of characters, such as Madison Clark (Kim Dickens), had no idea what was coming, but viewers knew better. This made it all the more unsettling when the first episode included some of the earliest walkers, such as the one wandering a park that Madison drove by — a moment that Redditor u/Maxispierre and many others in their thread about it still find incredibly unnerving all these years later.
Ironically enough, this sense of anxiety about what's coming and the obliviousness of the "Fear the Walking Dead" characters proved fun to explore for the show's writers. As co-creator Dave Erickson explained back in 2015 at San Diego Comic-Con (via Collider), it's something that "The Walking Dead" never got to thoroughly engage with since it takes place so far along in the apocalypse. "It becomes a process of discovery, and then when these characters actually have to inflict violence on someone, the context will be shattering. They're swimming in a lot of confusion, a lot of anxiety, which, for us (as writers), is really fun," he said.
Though some recommend skipping entire seasons of the show, there are still plenty of reasons to watch "Fear the Walking Dead." For one, if you're interested in a good scare, you'll definitely want to check it out.