Here's Where You Can Stream The Animated Film Luck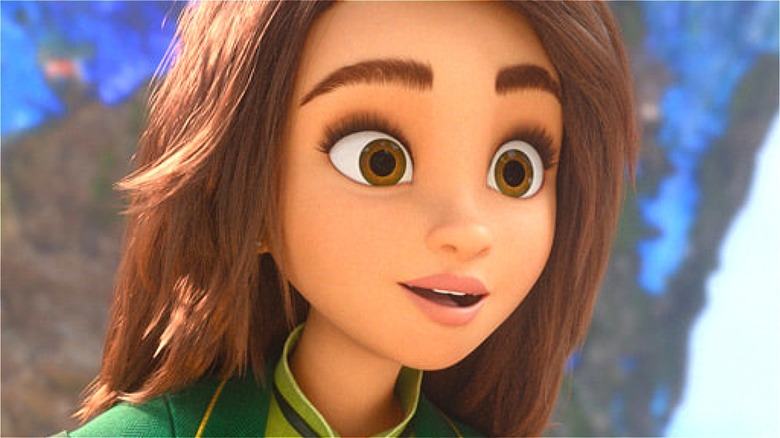 Apple TV+
Disney/Pixar has more than a few rivals vying for the crown of best animated feature film in 2022, and one of those contenders comes in the form of Skydance Animation's film "Luck." Focusing on an 18-year-old woman rather than the typical child protagonists seen in many kids' movies, the flick tells the story of Sam Greenfield, who is plagued by a life of bad luck before she embarks on an adventure in the mystical Land of Luck. Notably, the production features voice acting by several notable celebrity actors, including Simon Pegg, Whoopi Goldberg, and Jane Fonda.
While some reviews of "Luck" don't have many positive things to say about the movie, many avid cinephiles and animation fans may still want to give the film a fair shake. "Luck" had a limited theatrical release close to its debut, though some prospective viewers might not have been lucky (eh?) enough to catch it on the big screen and are looking for an alternative way to watch it. Fortunately, the animated project is available to watch on-demand as part of one particularly popular streaming service.
Apple TV+ subscribers are in luck
For those wanting a little "Luck" in their life, the flick is currently available as part of the Apple TV+ streaming service lineup. One can watch the animated feature with a subscription, which totals $4.99 per month. While non-subscribers to the service may find this news frustrating, it shouldn't come as too much of a shock, as the film is an Apple TV+ original. The massive media company secured the exclusive distribution rights to the property back in 2020 (via Variety).
If watching "Luck" on Apple TV+ isn't a viable option, there's still reason to hope that an alternative means to witness the movie will become available in the future. "On The Rocks," one of the best movies on Apple TV+, got a Blu-ray and DVD release in 2021, and chances are that other films that are exclusive to the service will receive physical distributions in the future as well. For now, however, anyone who wants to take a chance on "Luck" must subscribe to Apple's premiere streaming service.