Keanu Reeves Once Made A Startling Comment About Acting At The Start Of His Career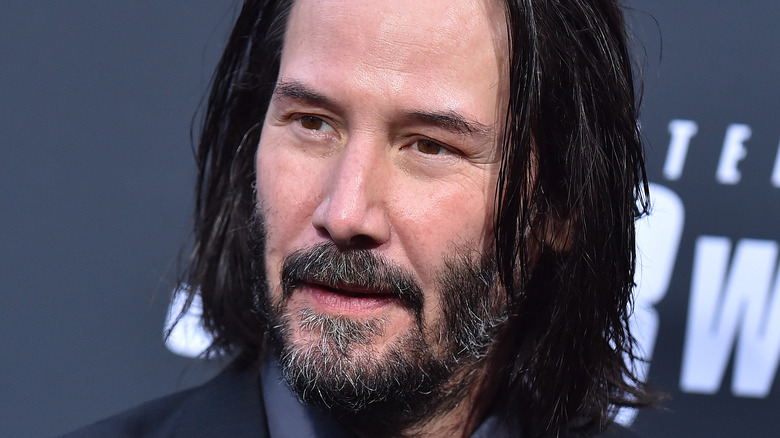 DFree/Shutterstock
At this point, it's no secret that Keanu Reeves is one of the most iconic and beloved actors in all of Hollywood — due in no small part to his incredible cult following across the Internet. Although Reeves long ago established himself as a full-fledged action hero through his breakout role in 1999's "The Matrix," more recently, he has become something of an Internet darling for his various acts of kindness and all-around wholesome personality (via Time).
On top of his ever-growing Internet fan base, Reeves has also kept himself remarkably busy as an actor, headlining the cult action thriller trilogy "John Wick," reprising his role as Ted Logan in "Bill & Ted Face the Music," and lending his talents to several animated films traditionally outside of his wheelhouse (including "Toy Story 4" and "DC League of Super-Pets").
Indeed, Keanu Reeves' prolific acting résumé includes a wide variety of characters across numerous different genres — and it's clear that the highly popular actor has no intention of slowing down any time soon. Considering just how successful and beloved Reeves has become throughout his decades-long acting career, it may surprise some fans to learn that Reeves himself once made some pretty negative comments about his choice of profession.
Reeves did not think he was a good actor and claimed to hate acting in general
In a previously unpublished interview originally recorded for Rolling Stone (which was only released publicly in 2020 by TheWrap), author Steve Pond sat down with a then-22-year-old Keanu Reeves on the set of "Bill & Ted's Excellent Adventure."
When Pond asked Reeves how long he had been acting, the latter responded, "Well... I don't know if I'm acting now. I'm pretty bad. I mean, I'm OK, but I hate acting most of the time that I do it." To hear the young actor criticize his own performance and confess his hatred for acting in general is certainly surprising, and it's even more surprising that he doubled down on those statements later on in the interview. "I have other interests," Reeves explained, "but none as all-consuming as this godawful job."
Although it's necessary to take these comments with a grain of salt (considering the fact that Reeves has spent the past three decades establishing himself as one of Hollywood's most prolific actors), it's certainly shocking to hear the now-legendary actor voice his contempt for the craft and criticize his own performance. Perhaps the most hilarious part of this overtly negative interview is the fact that "Bill & Ted's Excellent Adventure" ended up becoming a beloved cult classic, despite Reeves' apparent disdain for his performance. In any case, this unique interview provides us with a glimpse of what Keanu Reeves was like before his success, when he still doubted whether or not he was truly a talented actor.