Fan Photo Appears To Answer Chicago Fire Season 11's Big Severide Question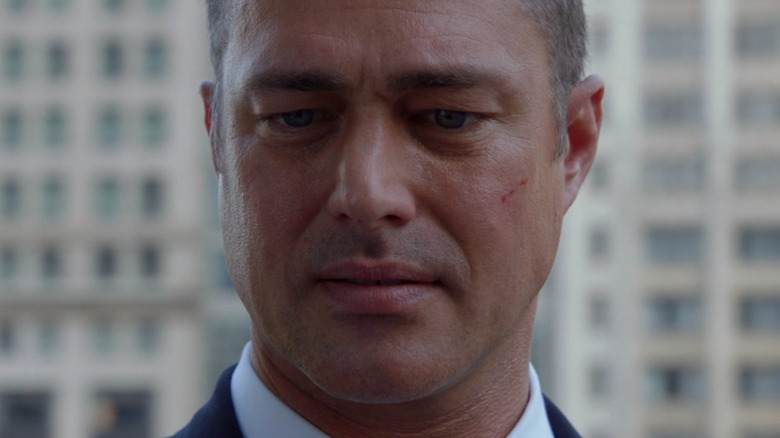 NBC
The Season 10 finale of "Chicago Fire" was a doozy. We said goodbye to Brettsey (we think); we bid a necessary farewell to Emma (Caitlin Carver) and witnessed the long-anticipated Stellaride wedding. There were a few hiccups on the way to the altar, but the ceremony and reception went off without a hitch. Of course, no one expected the episode to end in wonderland, as there has to be some sort of cliffhanger in a Dick Wolf production.
Just as Severide (Taylor Kinney) and Stella (Miranda Rae Mayo) arrive at the former's family cabin, a mysterious pickup truck pulls up outside. This is almost certainly Thomas Campbell (Eric Slater), out to get Severide for shaking up his opioids business and killing one of his men. Revenge is the name of the game, as Campbell certainly isn't at the cabin to talk to Severide; he's there to take him out — with Stella possibly collateral damage. Will Stellaride survive the night? We've finally got some answers.
Severide appears to be safe for Chicago Fire Season 11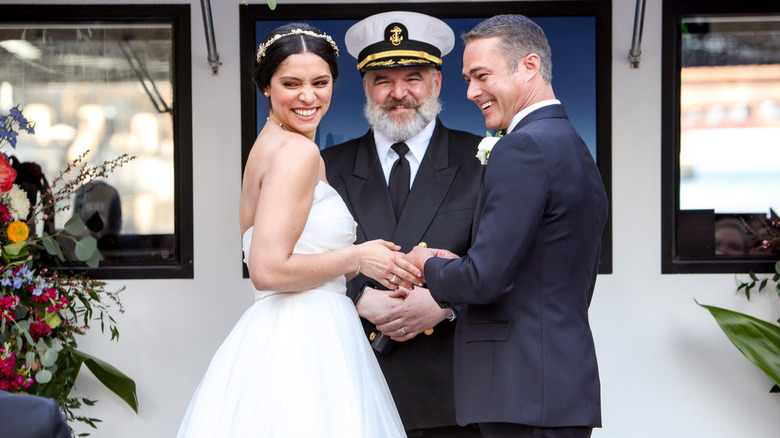 Adrian S. Burrows Sr./NBC
A lucky fan was able to snag a photo with Taylor Kinney recently on the set of "Chicago Fire." The actor is sporting his traditional Squad uniform, suggesting the lieutenant is back in action after the Stellaride wedding. It seems obvious that Stella and Kelly survived, as killing off the happy couple would be a significant blow to the fandom. We've already lost Matt Casey (Jesse Spencer), and dropping two main characters from the cast immediately after would be an unprecedented move.
There's also been a confirmation that Stella is alive after the Season 10 finale, as Daniel Kyri (who portrays Ritter) shared a video to his Instagram story earlier this month that showed Mayo on set. The actress was wearing jeans and a black top in the Firehouse 51 common room and was sporting her wedding band. Mayo is not married in real life, which suggests this is Stella's wedding ring, and she and Severide are officially safe.
It's time to breathe a sigh of relief, Stellaride fans! We'll see how it all goes down on September 21 when "Chicago Fire" Season 11 debuts on NBC.