The Iconic Marvel Superhero You Likely Didn't Know Jon Hamm Played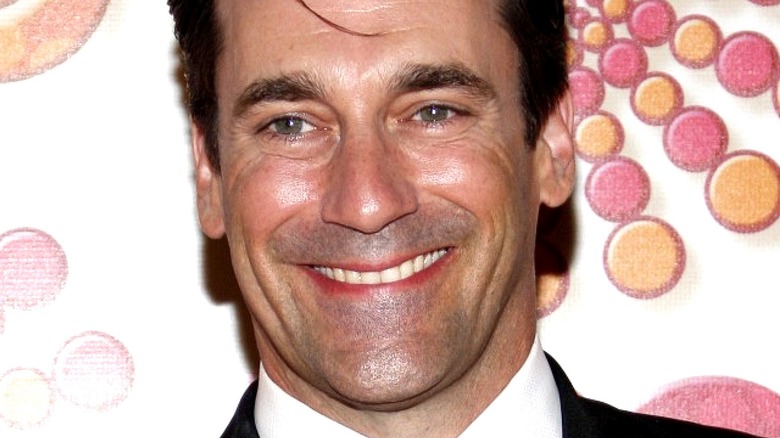 Tinseltown/Shutterstock
Jon Hamm is certainly dashing enough to portray a superhero, even though he's best known for his role as ennui-laden adman Don Draper on "Mad Men." That's not to say that he hasn't popped up in popular cult properties before. He was Gabriel on the Amazon Prime adaption of "Good Omens," The Falcon in "Wet Hot American Summer: First Day of Camp," and recurred on the Adult Swim program "Children's Hospital" as both Derrick Childrens and his ancestor Arthur Childrens. From serious dramas to pointedly goofy comedies, it's clear that Hamm has taken a varied set of roles throughout his career. Yet, it's hard not to notice that he doesn't often take noteworthy parts related to the superhero genre.
While Hamm's never physically appeared in a superhero project for either the Marvel Cinematic Universe or the DC Extended Universe, he has played one of the most famous Marvel superheroes before, although perhaps not in the type of project you might expect.
Hamm voiced Tony Stark for M.O.D.O.K.
That's Jon Hamm voicing Tony Stark, aka Iron Man, in the animated series "M.O.D.O.K." The show lasted for ten episodes on Hulu in 2021 before being officially canceled in May 2022, per The Wrap.
Told via stop-motion animation, the series deals with a M.O.D.O.K. (or Mechanized Organism Designed Only for Killing) stuck both in a personal and a professional crisis. The character, voiced by Patton Oswalt, has lost control of his corporation to a larger villainous entity, and the series follows his attempts to try and regain ownership while continuing to fight superheroes and wrangle his combative and uncooperative family. 
Stark only appears in four episodes of the show: "What Menace Doth the Mailman Deliver!," "If Bureaucracy Be... Thy Death!," "Beware What from Portal Comes!," and "If This Be... M.O.D.O.K.!" Naturally, the Stark in the show is both more lackadaisical and more buffoonish than most of his cartoon and comic book counterparts  — he watches "The Great British Bake-Off" in his helmet while fighting off other villains, for instance. Yet, he definitely retains some of the character's natural humor and smoothness. It's unfortunate that fans won't get to see more of this version of Stark, but hopefully, Hamm will be asked to return to the Marvel fold at some point in the future.