Quentin Tarantino Reportedly Wants Tom Cruise To Star In His Next Movie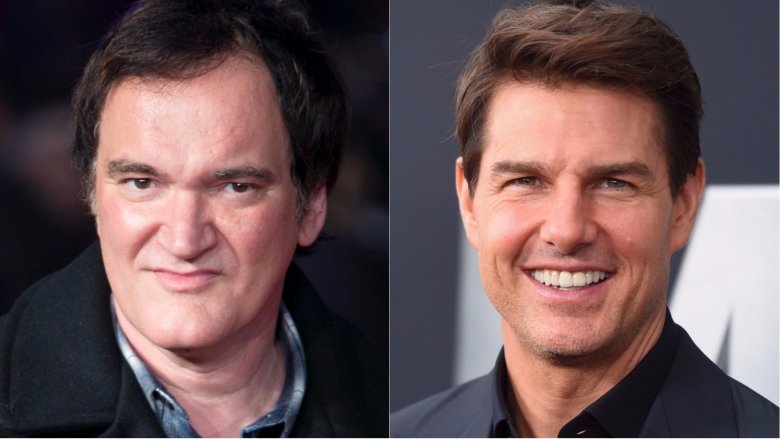 Getty Images
Quentin Tarantino is seeking some serious star wattage for his next movie, courting Tom Cruise to play an undisclosed role in a new film set in 1969 Los Angeles, according to a report by Deadline.
Tarantino's ninth movie doesn't even have a title, a studio, or much of a plot description yet, but every bit of news that's come out about the movie so far has made it sound more and more like a can't-miss, bona fide, auteur-driven event. 
It was first described as being a movie about Charles Manson, but that ended up being a simplification of what's now being reported as a much broader story about a city and a time, featuring an ensemble cast.
While nothing has been finalized, there are some details floating around about high-profile performers that have been approached for potential roles. The first name that was reported as being in the orbit of the project was Margot Robbie, supposedly for the role of Sharon Tate. Since then, Brad Pitt and Leonardo DiCaprio, both of whom have worked with the director on recent films, have also been mentioned as possibilities.
But the real eyebrow-raiser of a dream casting is Cruise, whom Tarantino has never worked with before. Some in the press have been speculating that due to the limited number of male roles available in the movie, Cruise would bump another reported frontrunner out of consideration should he come on board—but these are all just possibilities. Some, none, or all of the reported actors could end up in the movie, but according to reports, Tarantino particularly wants Cruise.
According to some who have read the script, Tarantino's next project has what Deadline is characterizing as a strong commercial appeal, which would appear to make Cruise a natural fit.
At the same time that Tarantino is seeking A-list actors for his movie, three major Hollywood studios are in turn trying to court him. Having severed his connections with the Weinstein Company in the midst of its co-founder's serial sexual assault scandal, the director has found himself without a studio partner for the first time in his filmmaking career. 
According to Variety, Warner Bros., Sony, and Paramount are all extremely keen to work with Tarantino; it's likely the film will land with one of them. His conditions are simple: a $100 million budget, final cut, and a share of the film's gross—pre-tax. 
The details we know about movie number 9 are making it sound more like the sensational, novelesque Pulp Fiction than anything the director has done in years, and the idea of the director working with a movie star of Cruise's caliber for the first time is undeniably intriguing. They're born entertainers; it's hard not to daydream about what the two could produce together.
Tarantino's ninth film isn't set to go into production until the middle of 2018, so it still might be some time before we really get a cast locked down on this thing. We'll keep you posted as the news develops.