Gene LeBell Had A Hilarious Response To That Famous Steven Seagal Story
According to the Hollywood Reporter, famed stunt performer Gene LeBell died on August 9 at the age of 89. The godfather of modern grappling and a legitimate tough guy in his own right, LeBell was an icon of the Hollywood stunt industry.
Throughout his career, LeBell coordinated and performed stunts for a variety of superstar icons, including Elvis Presley and Bruce Lee. A master of many martial arts, LeBell reportedly insisted that none were better than any others, once telling Black Belt Magazine, "You're not a complete martial artist unless you do everything." He also taught grappling classes and became a teacher whose classes spawned many a successful career in turn. This was the fella who passed along his expertise to people like "Rowdy" Roddy Piper, Chuck Norris, and Ronda Rousey.
LeBell's behind-the-scenes life was just as noteworthy as his contributions to the world at large. Notably, he developed a reputation in Hollywood for standing toe-to-toe with a variety of famous tough guys. One story, in particular, involving his interaction with actor Steven Seagal on the set of the 1991 film "Out for Justice," followed him around for years and passed into legend. Before his death, LeBell weighed in on the conflict and responded to those rumors, and he did so in quite the humorous fashion.
LeBell didn't deny the story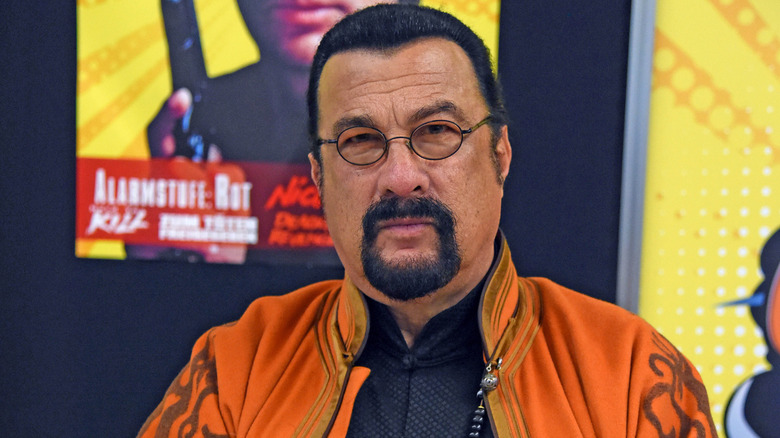 Tristar Media/Getty Images
According to Uproxx, the story goes that Seagal and LeBell got into a dustup because the former insisted that he could not be successfully choked unconscious due to his training in aikido, a form of martial arts. LeBell then offered to prove Seagal wrong, and Seagal agreed to be placed in a chokehold. LeBell applied the hold after Seagal said the word go, and Seagal not only lost consciousness, he lost control of his bowels. 
LeBell addressed the story with the podcast HourMMA in 2012, saying, "Well, if a guy soils himself, you can't criticize him. Because if they just had a nice big dinner an hour before, you might have a tendency to do that." LeBell proceeded to compliment Seagal's artistry, but he also seemed to imply that Seagal's pride may have tripped him up a bit. "Closed mouths don't catch any foot ... If 30 people are watching, let them talk about it," he said, later adding, "Sometimes, Steven has a tendency to cheese off the wrong people, and you can get hurt doing that, y'know?"
As for Seagal, he insists that the incident never happened. "There was never any confrontation with him ever. In any way, shape, or form," Seagal said in 2012 (via MMA Fighting). "And I swear to God on my children — and they are the most precious thing in my life — if he is saying that he is a pathological scumbag liar. I keep answering that. Either he made up this lie or someone made it up." True or not, it's certainly quite the memorable behind-the-scenes story.