Dwayne Johnson Fights Monsters In First Rampage Photo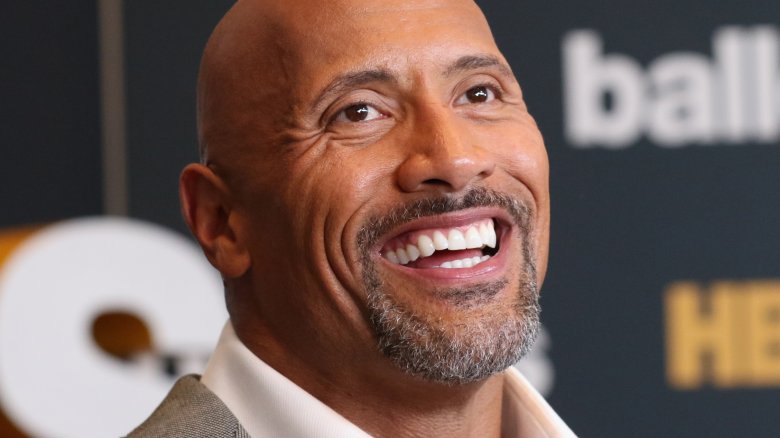 Getty Images
Dwayne Johnson has monsters to fight in the first photo from his upcoming action-adventure Rampage. The movie, based on the '80s video game of the same name, stars Johnson as Davis Okoye, the head of an anti-poaching unit in Rwanda whose best friend, a rare albino gorilla named George, is infected with a serum that causes him to grow in both size and aggression at an unprecedented rate. 
George, along with an alligator and a wolf also infected with the serum, goes on a deadly rampage to destroy the world, leaving Davis to stop them. "Like with anything that powerful, you have to be really careful that you're utilizing it wisely and not for the wrong reasons," Johnson told USA Today of the movie's real-life gene editing basis. 
Johnson says that his character Davis has been an animal lover for his whole life. "When animals like you, they lick you," he said. "When they don't like you, they eat you. That's his philosophy, which has gotten him far in life." This is something that resonates with Johnson, who said that learning more about how close some animals are coming to extinction has given him "a much greater level of empathy and care and consideration" for them. "I was an animal lover before, but after this my love has become boundless," he said. 
Johnson was fascinated growing up with huge monsters like King Kong and Godzilla when he was young growing up in Hawaii. "Even when I was a kid, when you watch these movies everyone is looking up at something and terrified," he said. "As a character, I loved that position where I'm looking up and there's nothing you can do but try to survive these three gigantic mutated monsters." Johnson was also already a fan of the video game Rampage, which he says he used to play when he was a teenager, "especially when school was actually in session."
Rampage reunited Johnson with his San Andreas director Brad Peyton, although he promises that the movie will step things up from their past work together. "You have to ratchet up the dial 10 times with Rampage," he said. "These monsters are relentless, and audiences are going to find that ride very exhilarating. As an actor in the movie, it's fun and daunting. It's 12- to 14-hour days of survival, and it's not quiet survival either."
The Rampage cast also includes Oscar nominee Naomie Harris as the female lead, a geneticist with "a moral streak," Malin Akerman (Watchmen) as the villain, Joe Manganiello (True Blood) as the leader of a private military group, Marley Shelton (Pleasantville) as a scientist and astronaut, and Jeffrey Dean Morgan (The Walking Dead) as a covert government operative. Jake Lacy, Breanne Hill, P.J. Byrne, Jack Quaid, and Matt Gerald round out the cast.
Rampage is set to be released April 20, 2018. You can view the new still from the film below.