The Big Myth About Seth MacFarlane And Family Guy You Need To Stop Believing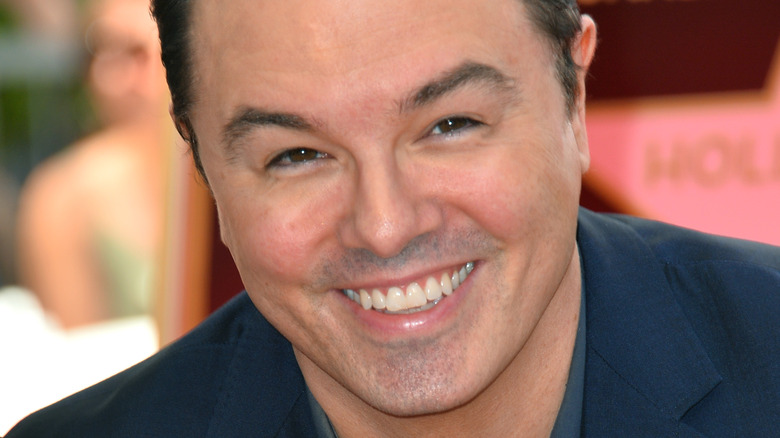 Featureflash Photo Agency/Shutterstock
"Family Guy" creator Seth MacFarlane (along with David Zuckerman) has been responsible for an awful lot of laughs since the sitcom debuted in 1999. MacFarlane voices many of the characters himself — Peter, Brian, Stewie, Quagmire, and a host of others. Table reads that feature his characters interacting must be fun to watch. He gets paid to have funny conversations with himself. Most people who do that just get strange looks on the subway.
There's no shortage of talent spewing out of MacFarlane, who concurrently has an active hand (and voice) in his other co-creations "American Dad!" and "The Orville," the latter of which is live-action and more sci-fi than comedy. His fondness for sci-fi often seeps into "Family Guy" as well (see: three different hour-long episodes devoted to parodying the original "Star Wars" trilogy). The Season 7 episode "Not All Dogs Go To Heaven" even features most of the original "Star Trek: The Next Generation" cast, including Patrick Stewart (Captain Picard), Brent Spiner (Data), Gates McFadden (Dr. Crusher), and Michael Dorn (Lt. Worf). Fanboy Stewie takes them all to McDonald's and immediately regrets it.
As the principal name and voice associated with the "Family Guy" brand, clearly, MacFarlane is bringing a lot of creative energy to the table. But his involvement in one key area is not what you might expect.
Seth MacFarlane doesn't write many Family Guy episodes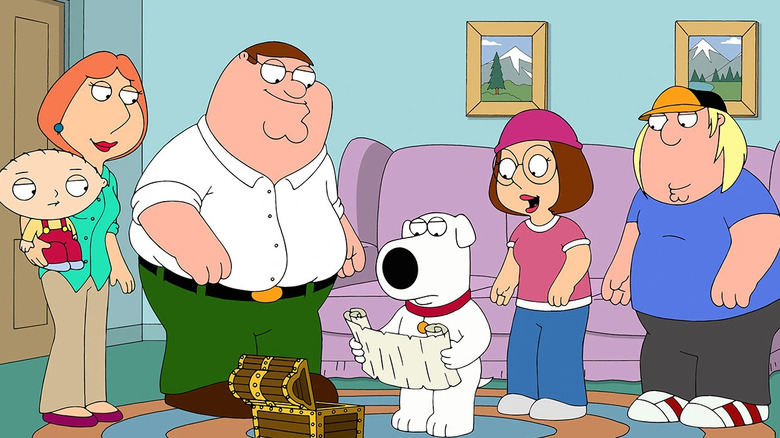 Fox
Believe it or not, Seth MacFarlane doesn't seem to find much time to actually write "Family Guy" himself. IMDb only credits him with having written three episodes in the history of the series — out of 390 to date. What gives? It's possible he's a little too busy to keep coming up with ways to make Meg the butt of all jokes, so he needs help. In addition to juggling his responsibilities on three different shows, he also carved time to write and star in the feature films "Ted," "Ted 2," and "A Million Ways To Die In The West." Oh, and from 2009-2013 he was also involved with the "Family Guy" spinoff "The Cleveland Show," which he also co-created. It's possible this man needs his own streaming platform. MacFarlane+ anyone?
While he may only be credited with a few "Family Guy" scripts (and even fewer on "American Dad!" and "The Cleveland Show"), MacFarlane is the author of 17 of the 36 produced episodes of "The Orville." So that's where he seems to be devoting much of his writing time. This might also explain the occasional gag on "Family Guy" about it, like when a character suggests something isn't right (Peter's voice, for instance) because he's too busy with "The Orville." Zing! Everything is fair game on "Family Guy," and MacFarlane is no exception.
Apparently, "Family Guy" has a staff of writers who know how to write funny shows, and MacFarlane can't do everything himself — even if it seems like he can. Maybe another one of Seth's many talents is the ability to surround himself with the right people for the job.