The Ending Of Thirteen Lives Explained
Ron Howard's 2022 film "Thirteen Lives" is a dramatization of the real-life Tham Luang cave rescue that occurred in 2018. Starring Viggo Mortensen and Colin Farrell, it is a tense and inspiring drama about the triumph of human will in the face of impossible odds. If you're already familiar with the actual events (thanks to news coverage and the documentary "The Rescue"), the movie won't have many surprises for you. On the other hand, if you've somehow never heard about the real-life rescue, you will likely be absorbed by the harrowing events.
Either way, there are some themes and ideas expressed in the film that are worth taking a look at. Instead of breaking down the entire movie beat for beat, here we'll instead examine how certain elements lead to the cathartic and inspiring ending. From character arcs and motivations to themes suggested by the filmmaking itself, we intend to look at "Thirteen Lives" primarily as a piece of cinema with a few dashes of reality thrown in for greater context.
"Thirteen Lives" is an expertly crafted film that utilizes all the tools Ron Howard has perfected over his multi-decade career, with superb performances from both known and (relatively) unknown actors at the top of their game making it enjoyable to watch no matter what. However, if you're looking to dive (no pun intended) a little deeper into what it all means, we have you covered.
Working as a team
Everything you need to know about this movie is boiled down during the first few minutes. It's more than just set up for the inciting incident, it is a clear demonstration of what the movie is about and perfectly establishes the mindset of virtually everyone involved with the rescue attempt. We're taken to Bang Chong in Thailand, where the Wild Boars, a team of young soccer (football for the rest of the world), practices. The Doi Nang Non mountain range looms in the distance.
They don't fight. They're not arguing. No one is trying to show off. They are a team working together to get better at a sport they love. When practice is over, they head over to a food vendor. Everyone gets a treat while Prem (one of the players) gets picked on a little because it's his birthday. No one's mean or insulting, this is just friendly banter between teammates. Before Prem's birthday party begins, though, the entire team (and their coach) decides to have a look around the Tham Luang caves.
This is important because that comradery is crucial to everyone's survival. These kids are about to be trapped in flooded caves for 17 days. If they were constantly fighting, or competing with each other, one of them could have gotten hurt which might have led to much worse. However, because they're a team, they listen to their coach and support one another through the most trying time of their lives.
An impossible mission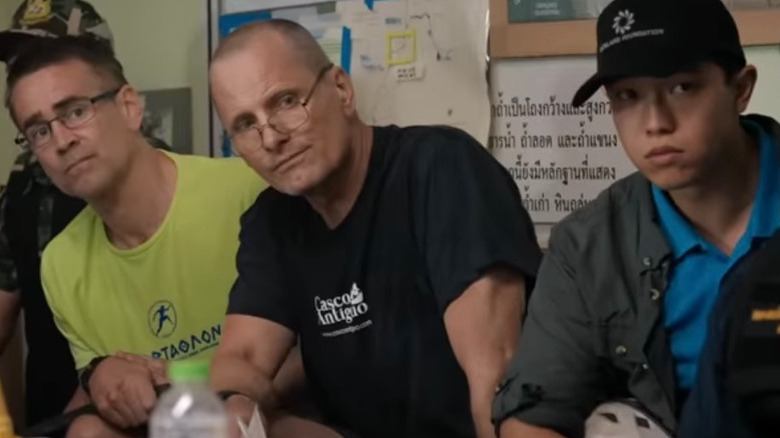 Amazon Studios
Vernon Unsworth (Lewis Fitz-Gerald) is familiar with the caves and is brought in to advise on the situation. According to the BBC, he was shocked to see the rescue effort, saying, "They didn't really know what to do, simply because they'd never had this situation arise before –- especially involving 13 people trapped by rising floodwaters. But I knew because of the weather conditions that it was only going to get worse. I knew that this was going to end with someone losing their life."
Unsworth suggests they call in some expert rescue divers. This is where John Volanthen (Colin Farrell) and Rick Stanton (Viggo Mortensen) enter. While assisting a diver named Udom (Gerwin Widjaja) find his way back from inside the cave, Udom panics and hits his head. This signals to Stanton that not only is this difficult simply because of the terrain, but if a trained professional can lose their composure, there's no chance a group of starving kids could manage it.
This is revisited in the end when diver Chris Jewell (Tom Bateman) loses the line guiding him back to the entrance and has a panic attack. Without that line, it is nearly impossible to navigate, especially with more rain coming in. Thankfully, the other divers keep their cool, assure him everything would be okay, and help him make it out with one of the survivors. All of this illustrates just how unexpected and difficult the task at hand really is.
The oncoming storm
It is established early on that this area of Thailand is on the verge of monsoon season. As noted by National Geographic, summer monsoons typically have heavy rainfall. The film points out that monsoon season doesn't usually begin for the villagers until July, and the movie starts on June 23. Therefore, they are on the cusp of torrential rain hammering them for a while, but nothing is expected yet.
Unfortunately, an early storm arrives, and it traps the soccer team in the mountains. Not only is everyone taken by surprise that anyone would get stuck in the cave, but the fact that this kind of rain was hitting this early is something of a shock as well. There is a ticking clock always working against those who want to help. Not only are the kids running out of air, but if they don't get out of there before the monsoons hit, the water levels will rise even further and there will be no chance of getting them to safety.
In July, as the divers finally begin moving the kids out of the cave, another storm arrives. The viaducts erected by volunteers are useless in diverting the water flooding the caves. The pumps removing the excess water explode. Sections of cavern walls begin crumbling, and the situation rapidly deteriorates.
Planning for failure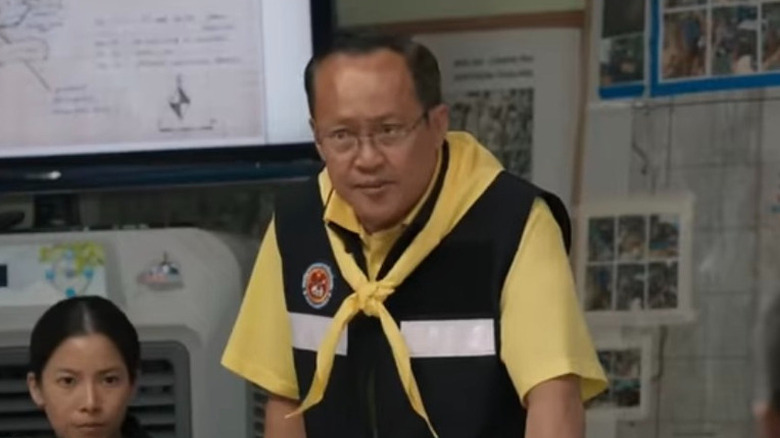 Amazon Studios
The film's depiction of the dire circumstances suggests that very few actually believed this rescue could be pulled off. Luckily, that didn't stop anyone from trying. The leader of the province, Governor Narongsak (Sahajak Boonthanakit) is sent in by the government to oversee the rescue, and several people comment that this is likely done so he could take the fall for failing to save the soccer team's lives.
When Volanthan and Stanton actually find the team alive, Stanton is adamant that only a select few are made aware of this. Why? Because he doesn't want to get everyone's hopes up. At this time, he still isn't convinced that this will work. Of course, word gets around almost instantly and even more pressure is laid on top of them. His concerns are not eased when they start pulling survivors out of the cave.
He observes that prior to rescuing four of them, they would have been considered heroes for rescuing only one. Now, if even one doesn't make it out alive, the whole mission will be seen as a horrible failure. Even when they manage to pull the majority of the boys out, they're still careful to hide them from cameras and avoid responding to questions because they are still aware that this whole thing could go south any minute. It isn't until the last survivor is saved that anyone can breathe a sigh of relief.
Unprecedented risk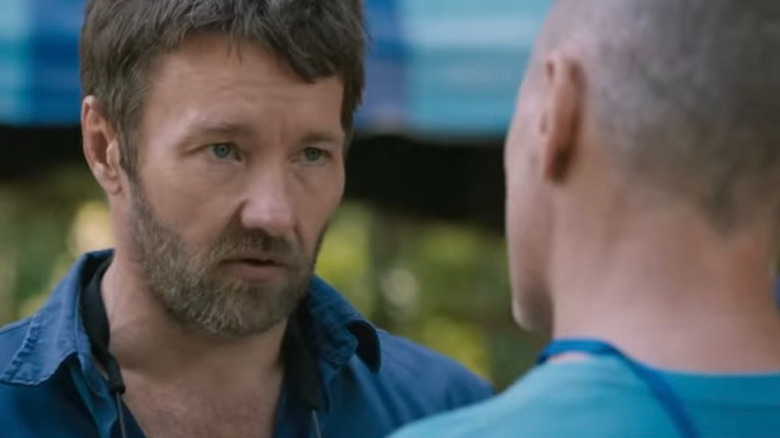 Amazon Studios
By the time everyone has the path to and from the trapped team established, and all the water entering through sinkholes is being rerouted, there is still a major problem — the potential for panic. Although the team has done their best to meditate in order to stay calm, they have still gone a very long time without fresh air and sunlight. They have very little food and drinking water as well. Their bodies and minds are shot. This means that once they were in the water they could have lost control and wound up dead.
The only way to stop this from happening was to transport them like packages. They needed to be inert but still able to breathe. To accomplish this, Dr. Richard Harris (referred to in the film as Harry and played by Joel Edgerton) is consulted. He is a trained diver and an anesthesiologist. He has the skills to sedate the survivors and help transport them. Still, this sort of thing has never been done before, and it remains incredibly risky.
The film doesn't detail all these risks, but the real Dr. Harris told Deadline that he was worried about the masks filling up with water, airways being blocked by heads falling forward, and the risks of hypothermia. In spite of his understandable misgivings, Harry decides to honor his Hippocratic oath by doing whatever it takes to see to it that the team makes it out alive.
The importance of volunteers
It seems like everyone comes out to help with the rescue. The military is there. Local villagers are there. People come from all over the place to make sure that every member of that team gets to see their family again. Vox reported at the time that billionaire Elon Musk even built a small submarine to bring the boys out. That is a testament to how widespread the news story became and how badly everyone wanted the rescue to succeed.
When Stanton and Volanthen first show up, the folks in charge of the rescue operation aren't sure about them. On the one hand, diving isn't their job — it's just a passion that they're skilled at. Also, it's mentioned that the government doesn't want any foreigners dying in the cave. This is completely understandable as the media backlash to that sort of event wouldn't make them look very good at all.
However, it was only by trusting the individuals who are ready, willing, and able to help that the mission becomes a success. It isn't only the volunteer divers who help out, either. Water engineer Thanet Natisri (Nophand Boonyai) comes down from Bangkok to organize a rerouting effort for the water. While the military is doing their best to pump as much water out as they can, it was Natisiri who figured out that the sinkholes are the real problem. By putting together another team of volunteers, Natisiri is able to lead the effort to keep the water levels down, making the impossible task all the more feasible.
It takes a village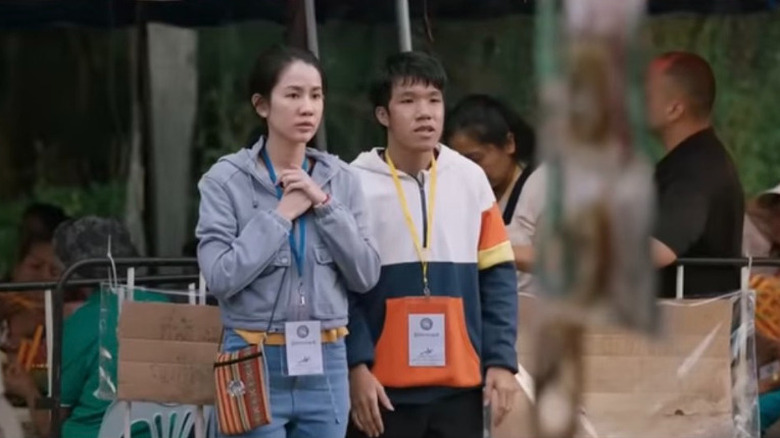 Amazon Studios
The divers, the military, and the engineers aren't the only heroes in this rescue. The film makes this abundantly clear by showing everything else that is going on during the rescue attempts. An early example is the local farmers. When the plan to redirect the water flooding the cave reveals that it will have to empty out over rice crops, the farmers are asked to sacrifice their crops for the rescue effort. While they're obviously hesitant and in no way thrilled by the request, they agree because it is the right thing to do.
Then there are all the scenes of parents, family members, and neighbors huddling together to monitor the efforts and offer support where they can. In high-stress situations like this, it is completely normal for people to lash out and cause trouble. This isn't out of a desire to cause anyone harm or hinder progress, it is nothing more than a psychological reaction to an unexpected situation where lives are at stake.
Thankfully, this doesn't happen. There are a few moments (like when the parents demand answers from the governor) where it looks like things might go this way. Instead, though, most parties involved step aside and let the professionals do their job. While it may not seem like they're doing too much, by keeping to the sidelines, they help ensure that the operation can proceed smoothly. In this case, "not helping" actually helped.
There was a cost
Although the entire soccer team is rescued, that doesn't mean that everyone walks away unscathed. After the families are able to see their children again, the film cuts to the words, "In memory of Saman Gunan." They're referring to the former Thai navy diver who died while delivering oxygen to the trapped soccer team. As the BBC reported, deputy governor Passakorn Boonyaluck said that Gunan lost consciousness in a cave passage. He said, "His job was to deliver oxygen. He did not have enough on his way back."
It is also dedicated to Navy SEAL Petty Officer Beirut Pakbara. CNN reported that he contracted an infection during the rescue attempt. The infection entered his bloodstream, and he died over a year after the events. Dedicating the film to them highlights the enormous risk involved and serves as a reminder that to do something brave, you have to be willing to pay the cost. These fallen heroes did just that. Putting your life on the line to save a group of people you've never met has to be terrifying, but they took a chance. Thanks to the risks they took, 13 families are still intact.
There was also the sacrifice made by Dr. Harris. While he was in Thailand keeping strangers safe, his father was in a different part of the world fighting for his life as well. Tragically, Harris wasn't there when his father passed away, as reported by The Sydney Morning Herald. His success with the soccer team must have been devastatingly bittersweet.
A home for the stateless
One of the concerns held by some of the parties involved with the rescue that is perhaps underplayed by the film is the citizenship status of some of the boys trapped in the cave. The character of Buahom is the mother of Chai, one of the kids on the team. From the first time we meet her with the other parents at Prem's birthday party, she's nervous about something. Once it's revealed that the team is trapped in the cave, the source of her anxiety is made clear.
As Buahom becomes increasingly unsettled, she eventually breaks down and demands to know if her son will be saved like everyone else or if he will be left to die. It's revealed in a quick bit of dialogue that she is "stateless." According to UNICEF, stateless children are not citizens and are not officially recognized as existing. Therefore, she is worried that the Thai government will choose to ignore her son.
When Prem's birthday party is finally able to happen just before the credits roll, we're given great news for Buahom and Chai. The coach and three of the boys (we assume Chai is one of them) are granted citizenship status by the Thai government. Not only was Buahom's child rescued, but Chai can also now confidently say that he belongs in Thailand.
A little hope and faith
The divers involved in the rescue come across as practical, logical men who don't put a whole lot of stock in things like hope or prayer. The way they approach the situation is to look at it pragmatically. Stanton has multiple scenes where he lays out why he thinks saving the kids is impossible. In the scene where he and Volanthen find the boys, he looks excited, but not as thrilled as Volanthen.
Volanthen promises the boys they will get them out, causing his diving partner to grimace. Before going in again, Buahom, mother of Chai, gives Volanthen several bracelets that have been blessed by a holy man. Through a translator, she tells him the bracelets are for the divers and the boys. Not much is made of this, but it does come back at the end for a quietly poignant moment.
Upon returning to England, Stanton starts to make himself some coffee. After setting the percolator on the stove to do its thing, he empties out his pockets. Among the folded cash is the bracelet. It grabs his attention. He has just helped to pull off an incredible feat, one he thought couldn't be done. Yet, the impossible was accomplished. By staying optimistic, hoping beyond hope that everything will be all right, they kept the team alive. The bracelet is a symbol that sometimes extraordinary and illogical things can happen.