How Sons Of Anarchy Fans Really Feel About Juice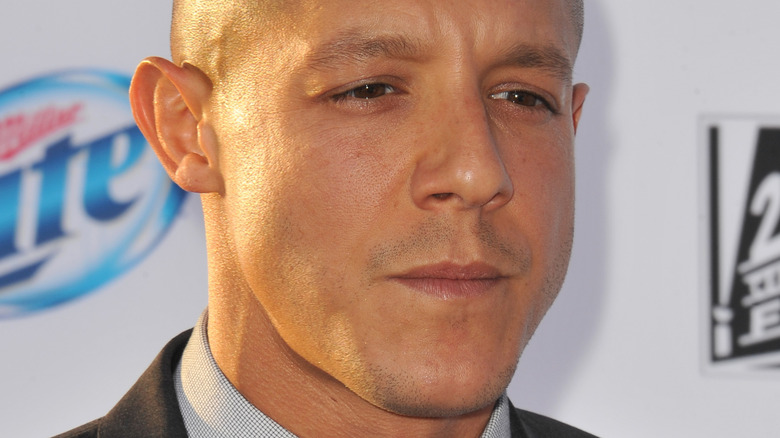 Jaguar PS/Shutterstock
We may receive a commission on purchases made from links.
Out of all the characters on FX's "Sons of Anarchy," no one experiences a devastating arc quite like Juice Ortiz (Theo Rossi). When viewers first meet the SAMCRO member, he's the comic relief of the outlaw motorcycle gang. Who could forget when he drugged a Doberman with crystal meth, forcing himself and Tig Trager (Kim Coates) to run for their lives?
For the first three seasons, Juice is a loyal, somewhat secondary face in the SAMCRO crew. But in Season 4, upon learning from Lieutenant Eli Roosevelt (Rockmond Dunbar) that he's not 100% Puerto Rican (his father was African American), he begins to spiral into darkness, making some of the biggest mistakes in "Sons of Anarchy." Since SAMCRO has a strict no-black-members rule, Juice agrees to feed information to Roosevelt in exchange for silence on his true ethnicity. As the show progresses, Juice's world only gets darker. In Season 6, he covers for Gemma Teller Morrow (Katey Sagal) after she kills Tara Knowles (Maggie Siff), something he later reveals to Jax Teller (Charlie Hunnam) while in prison.
In an interview for "Sons of Anarchy: The Official Collector's Edition," Rossi said, "[I]t became very apparent that [the club] was not what he thought it was, and this was a world that was not going to end well for him." He knows he's going to die and, while in prison, he allows Ron Tully (Marilyn Manson) to do it on one condition: "Just let me finish my pie."
Is Juice truly a bad guy who deserves to meet his demise, or is he a good guy that makes some mistakes along the way? Let's take a look at how "Sons of Anarchy" fans really feel about him.
Sons of Anarchy fans have differing opinions of Juice
On Reddit, a number of "Sons of Anarchy" fans agreed that they felt bad for Juice. For example, u/bennett21 wrote, "Juice was his own worst enemy time and time again." Similarly, u/CoBludIt added, "I really liked the character and was hoping the inevitable wouldn't happen."
In another comment, u/Maturin-the-turtle wrote that they believed that, despite his betrayals, Juice still feels loyal to SAMCRO until the bitter end. He never exactly wants to turn on his brothers, but believes he has no other option. In another reply, u/sockswithcats wrote, "[T]o me, he just seemed like someone that was once a broken boy ... Kinda lost. I feel like Gemma swooped in to push him further afield."
On the other hand, some viewers found Juice to be weak. In the opinion of u/Petey_2Times, Juice allows Lieutenant Roosevelt to get in his head. This user argued that, if Juice simply went to Jax and the rest of SAMCRO with his new-found knowledge, there's a high chance they wouldn't have kicked him out for being half black.
In another comment, u/drum_playing_twig found Juice's betrayal of SAMCRO to be inexcusable. This user described Juice as "traitorous" and said, "[T]he only good thing was that story-wise Juice had a great arc, and the actor played him really well." This user added their belief that Jax, Clay Morrow (Ron Perlman) and the other men of SAMCRO wouldn't have been so easily influenced by law enforcement.
Theo Rossi described Juice as a sweet soul
For actor Theo Rossi, it was a joy to portray someone with such a drastic arc. During an interview in "Sons of Anarchy: Collector's Edition," Rossi shared his love for the character. "I have gotten to play every single emotion in one character," Rossi said. "I got to do tons of comedy that was so funny. I got to do loyalty, like soldier-type stuff. I got to do being scared for my life. And then I've gotten to be a stone-cold killer. I love every other character on the show and I think they're great, but there is no one else I'd rather play than Juice."
In response to viewers who see his character as weak, Rossi stressed that Juice wants nothing more than to set things right. But each time he does, he ends up digging himself into a deeper hole. Despite his questionable actions, Rossi is standing firm that, deep down, Juice is a nice guy.
"He was an innocent in an extremely chaotic world," Rossi told Deadline. "He was such a sweet soul and he never belonged in the situations he was in." Juice's main goal in life, Rossi added, is to feel loved and accepted. But because of this, he's often manipulated and taken advantage of. After all of the hardship his character endures, Rossi thought the ending of Juice's story is tragic, but ultimately perfect. Rossi told TVLine, "He never, ever did anything maliciously, and that's why I believe it's so sad." The actor added, "It's a super powerful ending and it was time."