Chris Pratt Had A Savage Response To The Terminal List's Critics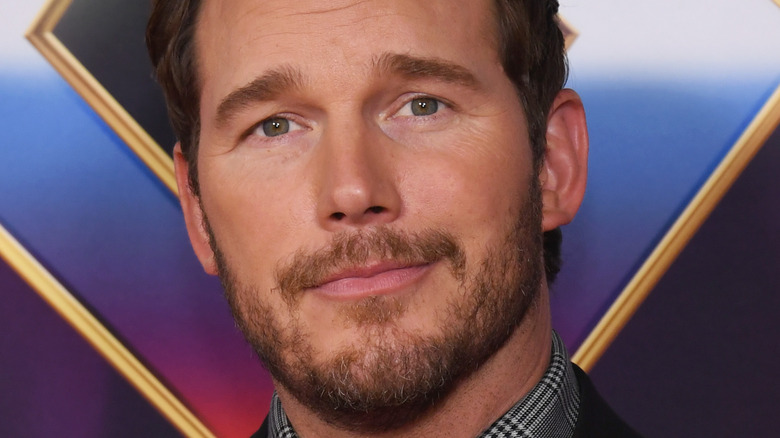 Jon Kopaloff/Getty Images
Casting Chris Pratt has become something of a lightning rod for controversy for Hollywood producers everywhere these days. For example, fans of the "Super Mario Bros." franchise came down hard on Illumination's choice to cast the actor as the voice of Mario for a big-screen animated adaption of the film, forcing the production company's CEO, Chris Meledandri, to make a statement about their choice to use the actor (per Entertainment Weekly). Another uproar was sparked off by Pratt's casting as another iconic animated character, Garfield the Cat, as reported by Cosmopolitan. Much of this performative dislike of Pratt tends to stem from previous social media controversies; as explained by Vox, fan disappointment in Pratt's social media comments and alleged on-set behavior eventually erupted in 2020, making him a trending topic on Twitter as his Marvel Cinematic Universe co-workers stepped forth to defend the actor from the slings and arrows of the fanbase.
Controversies notwithstanding, Pratt continues to pull in big numbers on both streaming and at the box office. His recently-released Prime Video limited series, "The Terminal List," is doing great numbers — which has given Pratt the opportunity to brag about how big the turnout has been, apparently allowing him the opportunity to return fire on his critics. 
Pratt expresses his feelings with the help of Dr. Evil
Taking to his Instagram stories, Chris Pratt crowed about all of the streams "The Terminal List" has managed to pull down — the story has since been pulled from his timeline, but not before Esquire Magazine reported on it. The series was watched for over 1.6 billion minutes during the June 27-July 3 viewing window, per TV Line. That makes it the third most-watched offering on streaming services the week of its release. 
The actor replied to this news with two images — the first was a screencap from the review page of The Daily Mail, which reads "The new Yellowstone: Chris Pratt's new Navy thriller The Terminal List defies woke critics' scathing reviews to shoot up ratings chart with 1.6 BILLION minutes of streams." The second was an image of the "Austin Powers" franchise character Dr. Evil (Mike Myers) placing a finger to his lips. The character's catchphrase was altered in the meme to "one point six BILLLLLLLLLLION minutes."
It's quite likely Pratt's responding to the uninspiring ratings the show has on Rotten Tomatoes, where Season 1 holds a 40% critical approval score. Audiences, however, have pulled the show to a 94% approval score. Whether Pratt is simply making a simple reference to Dr. Evil in light of the movie's stellar streaming numbers or he's happy to get a potshot in at those who derided his success, his point has definitely been made. It eventually resulted in his name making it to No. 17 on Twitter's trending topics for August 8. That is certainly one noteworthy clap-back.