The Actress Who Voices Rick And Morty's Unity Is Gorgeous In Real Life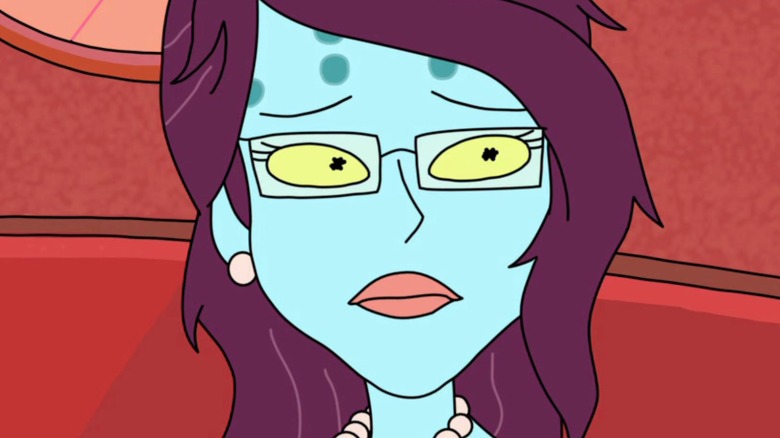 Adult Swim
"Rick and Morty" has explored its fair share of loopy concepts throughout the course of its run. From cascading alternate timelines to implanted memories begetting fake flashbacks to universes within universes within universes, one of the primary goals of series creators Justin Roiland and Dan Harmon has always been to come up with the most out-there sci-fi concepts possible and then push them to delirious, mind-bending, even writer's-room-breaking extremes. But the secret weapon of "Rick and Morty" has always been the way its writers proceed from that sturdy speculative foundation by imbuing it with genuine emotional, philosophical, and existential weight.
For an example of that sensibility, look no further than "Auto Erotic Assimilation," the beloved Season 2 episode in which the show digs into the frequently evoked but seldom utilized idea of the "hive mind." Starting with one of Rick (Justin Roiland), Morty (Roiland), and Summer's (Spencer Grammer) typical treks through space, "Auto Erotic Assimilation" makes a stop at a planet that has been wholly taken over by Unity, a hive mind with designs on assimilating the entire universe — not to mention a former fling of Rick's. 
Although the writers have lots of fun with the bizarre concept of every single being on the planet being effectively the same person, the episode eventually reveals itself to be a sincere, gut-wrenching exploration of Rick's inability to form healthy relationships. And it only works as well as it does because of the exceedingly talented — and exceedingly beautiful — actress who voices Unity's primary form.
Christina Hendricks voices Unity's primary form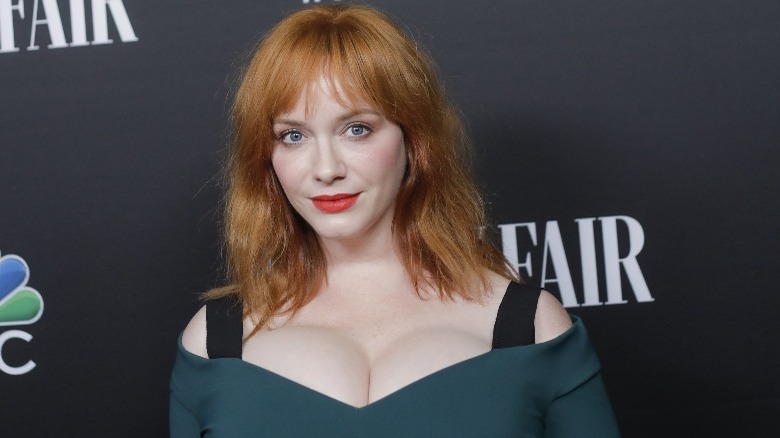 Tibrina Hobson/Getty
The primary form taken by Unity throughout "Auto Erotic Assimilation" — a purple-haired alien woman who is nominally president of the planet, although that title scarcely matters much when Unity already has control over every citizen — is voiced by American actress Christina Hendricks.
She was once voted the "best-looking woman in America" in a poll of American women conducted by Esquire in 2010. But Hendricks' achievements go far beyond just her looks. Between 2007 and 2015, she starred in AMC's landmark drama series "Mad Men" as Joan Harris, the hypercompetent office and secretarial pool manager at Sterling Cooper. 
And, in that period, Hendricks was just about the best supporting actor on American television, consistently turning out top-tier work that evinced as deep and intuitive an understanding of Joan's nuances and complexities as a character as Joan herself had of her role in the office dynamic. The performance led to a whopping total of six Primetime Emmy nominations for outstanding supporting actress in a drama series, but — appallingly — not a single win (via IMDb).
After "Mad Men," it didn't take long for Hendricks to join an iconic TV drama ensemble once again. From 2018 to 2021, she headlined NBC's cult crime dramedy "Good Girls" as Elizabeth "Beth" Boland, a suburban Michigan housewife who finds herself roped into a world of crime.
Hendricks has ample experience as a voice actor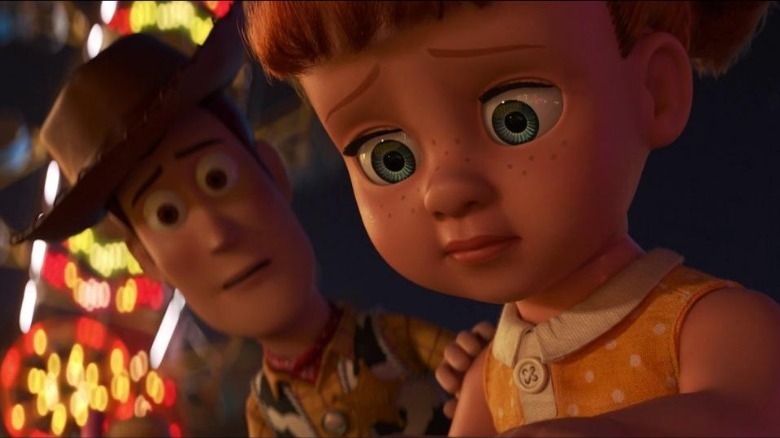 Walt Disney Studios
In addition to Joan on "Mad Men" and Beth on "Good Girls," Christina Hendricks has also appeared in a multitude of memorable live-action roles, including Saffron on "Firefly," Brenda Leonides in "Agatha Christie's Crooked House," Elizabeth Bradshaw on "Tin Star," and Blanche in "Drive." And while "Rick and Morty" is one of her most visible and memorable projects as a voice actress, it's also far from her only one.
Years before the show even premiered on Adult Swim, Hendricks got her start in the recording booth in the 2011 direct-to-video DC Universe animated film "All-Star Superman," playing Lois Lane — who, in this film, pulls double duty as Superwoman. This was followed by appearances on an episode of "American Dad!" and in a major role in Disney's 2014 Tinker Bell film "The Pirate Fairy," which saw her "share the screen" with her later "Good Girls" co-star Mae Whitman.
After "Rick and Morty," Hendricks continued to hone her craft as a voice actor, landing what would arguably become her most memorable voice role: Gabby Gabby, the antique store doll with abandonment issues, in 2019's "Toy Story 4." In a cast peppered with such head-turning newcomers as Keanu Reeves and Tony Hale, Hendricks stood out with an incredibly eerie, soulful, and heartbreaking performance. It's no surprise that she was subsequently cast in the recurring role of Cherie on Hulu's "Solar Opposites," created by Mike McMahan and Justin Roiland.