Vintage TV Scenes That Scream Summer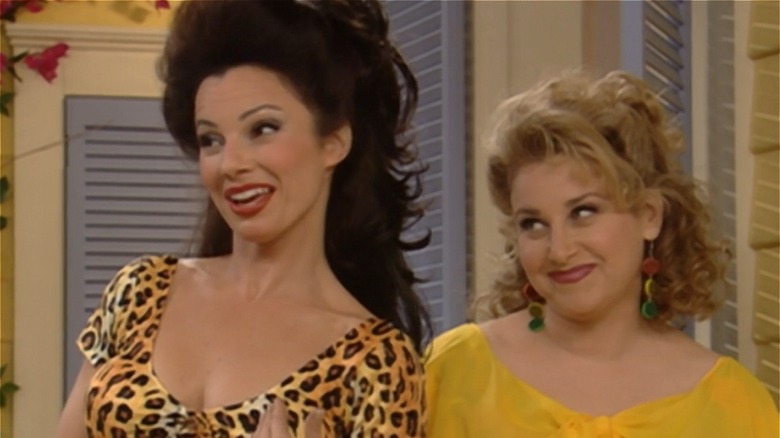 Sony Pictures Television
This content was paid for by Sony and created by Looper.
TV characters are not like real people in most ways. They can wrap up their problems in under 30 minutes, always have a perfect quip at the ready, and seem to hang out only at their workplace or home with the same four or five people. But there's at least one way that the lives of these fictional television people mirror those of the real-life flesh-and-blood people who watch their adventures: They need to get away from it all. 
Yes, characters from classic TV shows require a break from their lives, a chance to relax and regroup with a vacation. A summer getaway, destination wedding, road trip, or a day at the beach figure into the plots of many classic TV shows, usually airing right at the end of a season, before the series takes a vacation of its own. Here are some vintage TV shows that prominently featured classic summer-set scenes and episodes.
Doug buys an ice cream truck on The King of Queens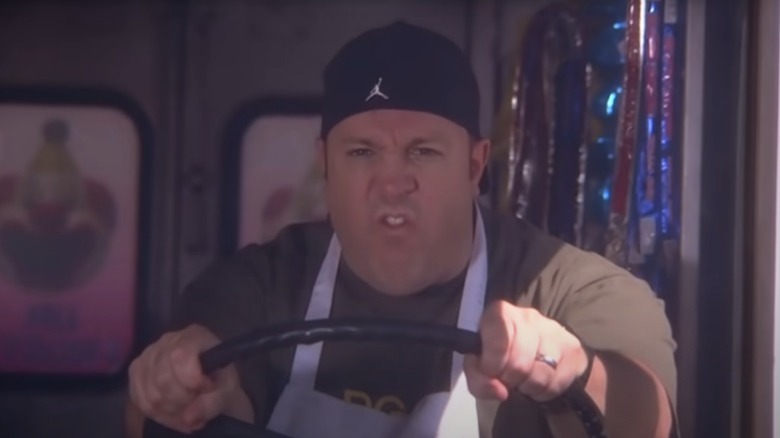 Sony Pictures Television
By and large, summer is a wildly different season for kids than it is for adults. Kids get to run around outside and subsist on ice cream; adults have to go to work and drive around in hot cars. On "Mama Cast," an episode of "The King of Queens," burned-out working grown-up Doug Heffernan tries to be a kid again through the magic of ice cream. 
When he and wife Carrie get their tax refund, Doug decides to buy a Dr. Frosty ice cream truck he notices is for sale while grabbing an ice cream bar and a push-pop. Carrie is furious that he'd do something so impetuous, but he has a good time bringing joy to kids by selling them ice cream, only to immediately realize the grass is always greener on the other side, when he's intimidated by — and run off the road — by a rival ice cream truck. But hey, at least he got a bunch of free ice cream out of it.
Charlie gets married on the beach on Party of Five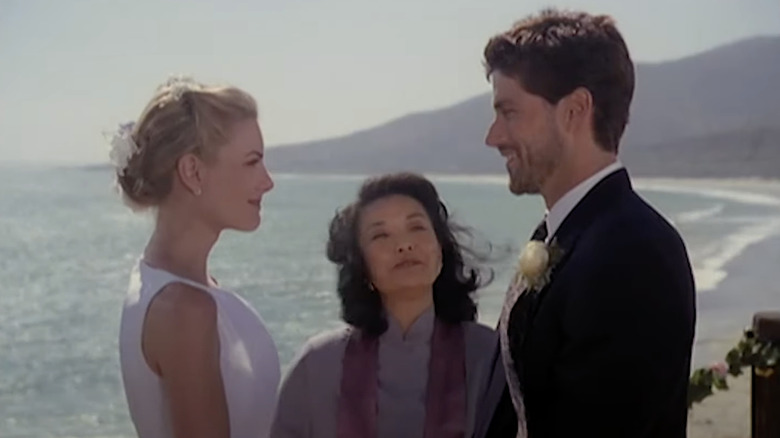 Sony Pictures Television
There's a reason why most people pick the summer to get married. The almost-guaranteed warm and temperate weather is a reflection of the lovey-dovey and joyous feelings the couple is feeling in their hearts as they share their milestone romantic moment with their friends and family. That's all happening in the Season Six premiere of "Party of Five," a usually dramatic and always emotional primetime soap, although this time the emotions are unabashedly happy and sappy as the Salinger gang attends a lovely outdoor wedding for one of their own.
Eldest brother and de facto father Charlie is marrying his partner Kristen at the beach. The death of the Salingers' parents hangs over the proceedings, as they usually do, as Charlie was able to secure the ceremony spot because his father used to work with the area's lifeguards. At any rate, there are few things more perfectly summery and nice to look at than a wedding with the Pacific Ocean roaring in the background.
The Bundys have a backyard cookout on Married... with Children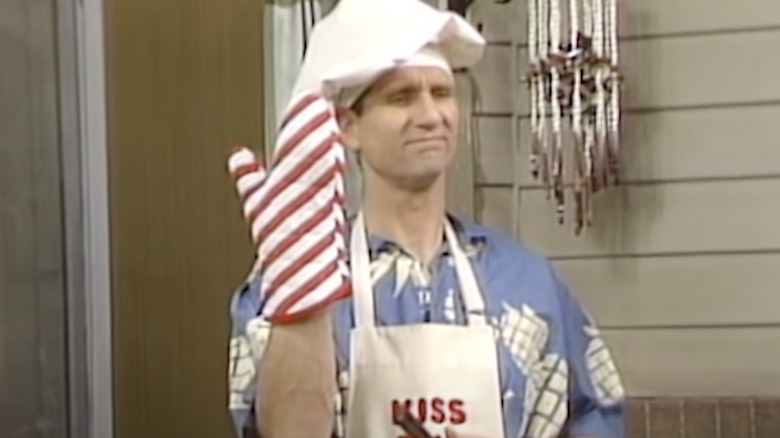 Sony Pictures Television
Summer is a time for celebration and enjoying the company of one's family, two things which "Married... with Children" actively and decisively avoided throughout its 11-year run as the most cynical and misanthropic of all network TV sitcoms. And yet even the sniping and unhappy Bundy family can feel the hypnotic lure of summer, and on Labor Day no less, the last gasp of the season.
Before it's too late, and with Chicago fall weather just around the corner, perpetually defeated patriarch Al Bundy forces his reluctant wife Peg and kids Kelly and Bud into a holiday weekend backyard cookout in the Season Four premiere of "Married... with Children." Al is uncharacteristically joyful, turned on by Peg's acts of cleaning, and donning a novelty apron for his grill-master duties, boring his family and next-door neighbors to sleep with a long speech about the true meaning of Labor Day.
Regina had a summer for the ages on The Steve Harvey Show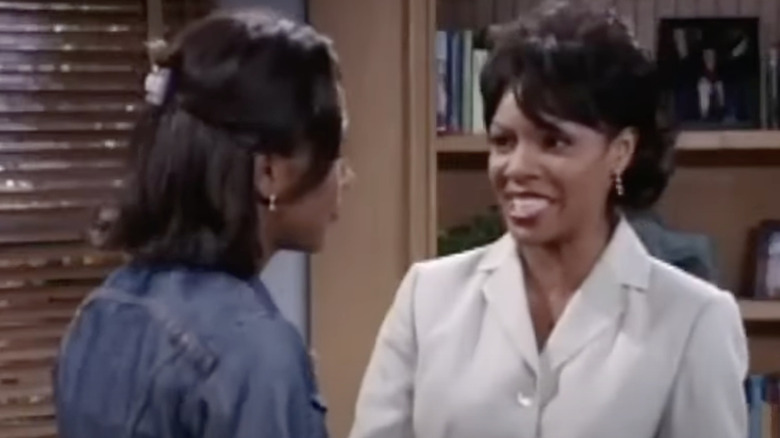 Sony Pictures Television
The tonal shift from careless summer to the rigors of school can be an overwhelming tonal shift, with the memories and excitement of several months of vacation looming large over the back-to-the-grind feel of the first day of school. Such is the case with "When the Funk Hits the Big 4-0," the Season Five premiere of "The Steve Harvey Show," which finds all of the teachers on this sitcom set in a high school returning to work after some very eventful summer breaks. 
While music teacher Mr. Hightower both celebrates and laments the impending arrival of his 40th birthday, his childhood friend, co-worker, and potential ultimate love interest Regina is positively bursting with joy and unable to stop talking about her summer. She spent two weeks chilling out on the very romantic Caribbean island of St. Croix, where she did some very romantic things and fell in love with a guy she's calling the man of her dreams, new to Chicago basketball superstar Jordan Maddux.
It's summertime on Dawson's Creek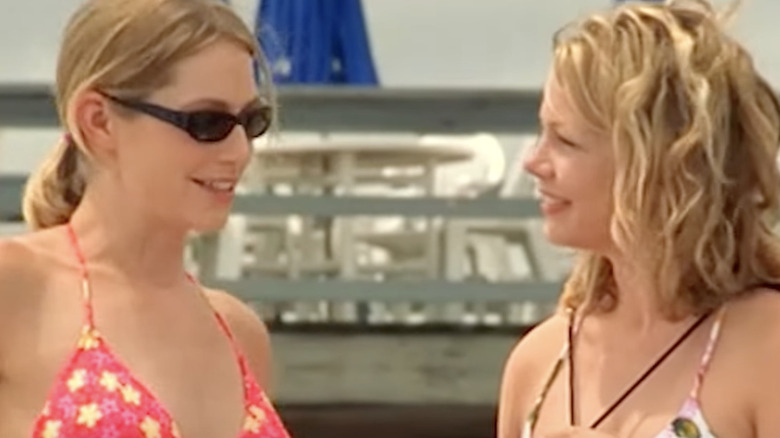 Sony Pictures Television
The soapy teen/young adult saga "Dawson's Creek" was set almost entirely in the fictional picturesque harbor town of Capeside, Massachusetts, the kind of place that really comes alive in the summer. The Season Three finale "True Love" revolves around the sunny season and killing time in a memorable way. The episode gets its title from True Love, the name of Pacey Witter's boat, which he plans to use to sail to the Florida Keys as a summery means to occupy his summer. But before that can even happen, there are plenty of seasonal, memory-making activities, like a dockside farewell dinner of shellfish and boat preparation.
After the summer production hiatus, "Dawson's Creek" returned in Season Four with "Coming Home," a continuation of the previous episode, and appropriately full of beaches, outdoor parties, and romantic dalliances. Andie and Jen seemed to have had a fun time wiling away the summer with a couple of visiting French surfer-dude types.
A tropical storm interrupts Fran's tropical vacation on The Nanny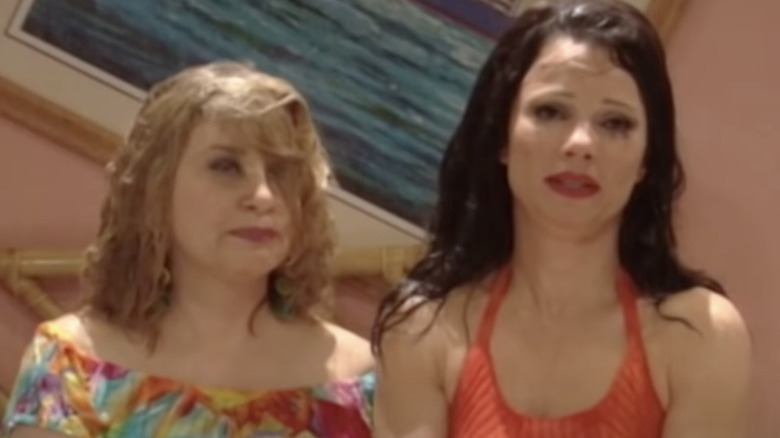 Sony Pictures Television
Fran Fine, the nanny of "The Nanny," needs a breather. Why? Well, she's romantically hung up on going-nowhere relationships with two dashing, English brothers named Sheffield — one's her employer, Maxwell, and the other is his visiting sibling, Nigel. To get away, Fran sets out with her old friend Val for a tropical vacation at a Caribbean resort in the episode called "Hurricane Fran." 
At first, things go quite well— she can flirt with a handsome resort employee named Rico, she enjoys the warm sun and the island breezes in the small amounts of clothing which she historically prefers, and the colorful cocktails are seemingly endless. But about five minutes after setting their bags down, Fran and Val are stuck in the middle of a torrential tropical storm with high winds and pouring rain. They certainly can't tan in that weather, and their bungalow offers little respite when it's destroyed. But at least there are some happy endings: Fran doesn't die, as she's sure she will, and when she returns to New York, Mr. Sheffield makes it up to her by taking her (and the whole family) on a cruise.
Road tripping with The King of Queens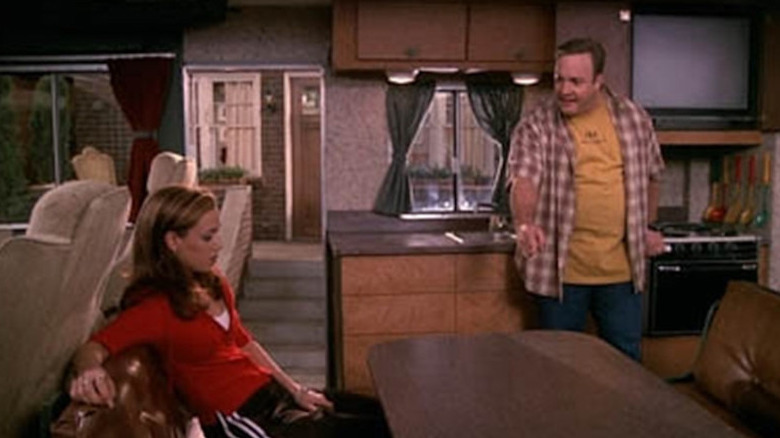 Sony Pictures Television
Everyone can agree on the benefits of a vacation. But often, a married couple might not be able to reach a consensus on where to go or what to do for that vacation. That's the central conflict of the Season Two "The King of Queens" episode "Whine Country." 
Doug Heffernan, as spontaneous and impetuous as he always is, sees a stranger driving a huge R.V. down the road, presumably in the midst of a grand road trip adventure, and he immediately wants to do nothing else with his life. Doug presents the idea to his wife, Carrie, of getting an R.V. and taking a cross-country road trip for their upcoming vacation, which she rejects on account of how they've already agreed to go to Paris, and she's already planned out a lot of the itinerary. They flip a coin, Doug wins, and Carrie must resort to sabotage, trying to force her husband into the Paris idea by making the R.V. excursion sound absolutely dreadful. First she invites her grating father along, which Doug surprisingly doesn't mind, and asks friend Spence to come along, too, because the more the merrier.
A dream Jamaican vacation on Who's the Boss?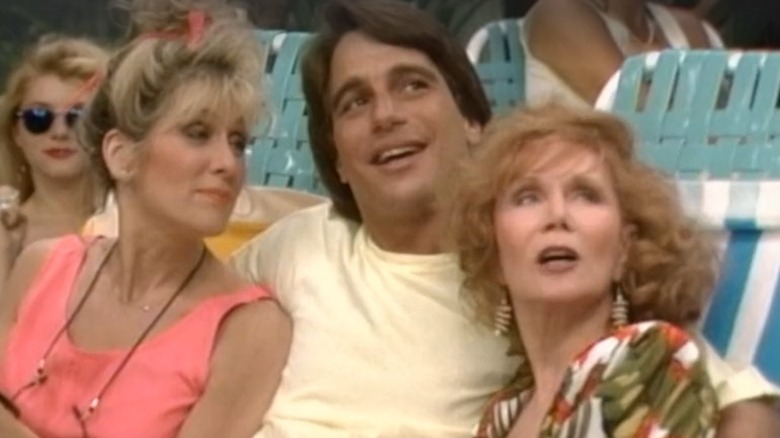 Sony Pictures Television
A family vacation quickly turns into a series of eventful solo adventures in "In Search of Tony," the Season Six opener of "Who's the Boss?" Everybody heads to Jamaica for an idyllic fantasy beach vacation — uptight Angela, loose housekeeper Tony, and their respective teenage children, Jonathan and Samantha. Angela's mother, Mona, came along too, but she's up to her usual voluminous romantic ways, conquering the older male population with her fun and flirty demeanor. Jonathan also gets up to a vacation fling, connecting with a young lady his age despite a complete and total language barrier. Elder teen Samantha bristles at parental control and demands full independence as she has fun on the beach.
Meanwhile, for the forever on the verge of love Tony and Angela, Jamaica marks a turning point. He isn't having much fun, and she nearly drowns while skinny-dipping, but they come together to enter a dance contest. Swept away in vacation and summer magic, the feelings come rushing out, there's a lot of kissing, and Tony admits he'd like to marry Angela some day.
California, here they come on Who's the Boss?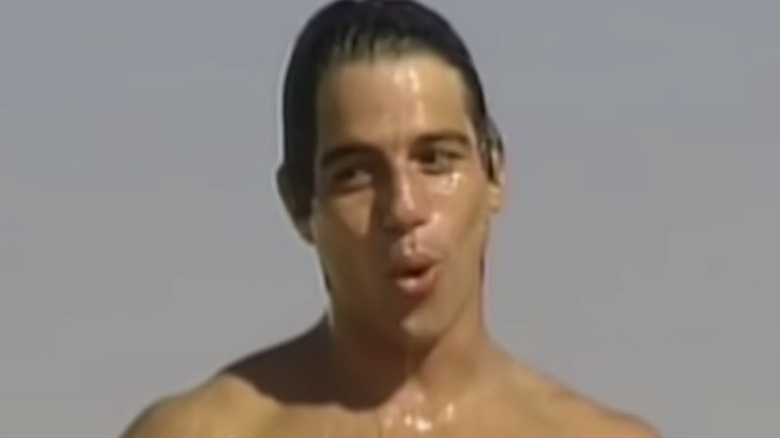 Sony Pictures Television
California, built up as an almost mythical wonderland of sun, surf, and laidback vibes, figured large in the collective consciousness well into the 20th century. The idea of spending any time in this paradise at all, reachable by a mere cross-country flight, was hard to resist even for somewhat jaded east-coasters like the accidental blended family of characters on "Who's the Boss?" 
In the Season Two episode "Custody: Part 1," the whole group willingly heads to California, unable to say no even due to the somewhat awkward and emotional business to be undertaken upon their arrival. Angela's former husband, Michael, insists that Angela, Tony, Samantha, and especially Jonathan, his son, head out west for to witness his marriage to his second wife. There's plenty of novel beach-side fun and zaniness, so much so that Jonathan could go along with his father's plan to win back custody and move him out there permanently.
Everybody's camping on Who's the Boss?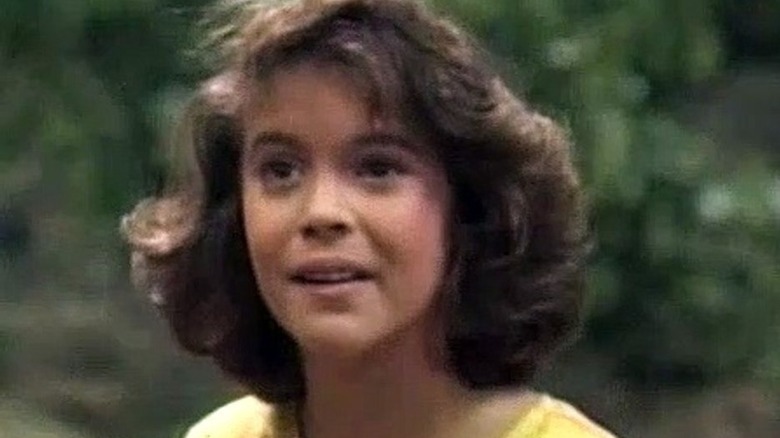 Sony Pictures Television
Summer camp was a crucial summer pastime for hundreds of thousands of American kids for many generations, particularly for those who grew up in the northeastern U.S. On the Season Two opener of the Connecticut-set "Who's the Boss?" young Jonathan is away from home for an extended period of time for one of the first times, off at a classic summer camp with bunks, swimming, and the like. Even though Samantha, his housekeeper's daughter and sister figure, is attending at the same time, Jonathan isn't having a blast in the rustic Americana setting, and he convinces Angela and Tony to come pick him up and take him home. 
However, heading up to the camp triggers a nostalgia wave for both adults, who, as it happens, both attended some summers ago. Not only that, but they realize they attended at the same time, decades before their paths would improbably cross again.