12 Best Shows That Full House Fans Should Watch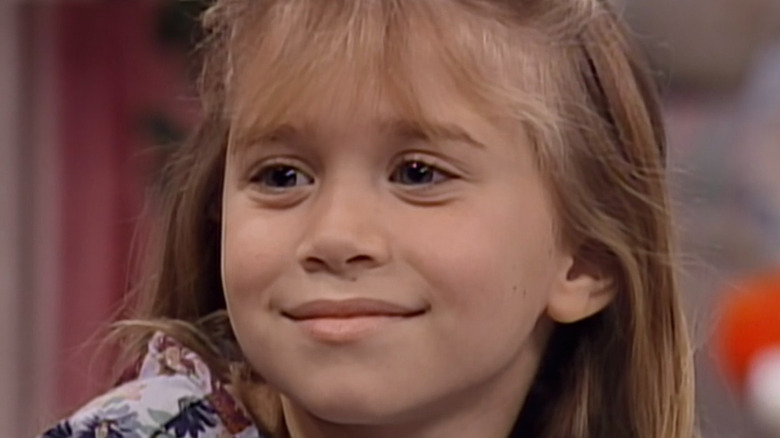 ABC
Even though it premiered way back in 1987, "Full House" remains one of the most popular sitcoms of all time. After his wife tragically dies, San Francisco-based sports anchor Danny Tanner (Bob Saget) is left alone to raise his three children: D.J. (Candace Cameron), Stephanie (Jodie Sweetin), and Michelle (Mary-Kate and Ashley Olsen). So, Danny's brother-in-law Jesse (John Stamos) and best friend Joey (Dave Coulier) move in to help him take care of the kids.
Created by Jeff Franklin, "Full House" ran for a total of eight seasons, with 192 episodes airing from 1987 until 1995. The show was not a critical hit, but it was beloved by fans of all ages, who tuned in faithfully to make it one of the top primetime shows on TV (via The Los Angeles Times). The show was known for its refreshing levels of sincerity and earnestness, while also continually reminding audiences of the importance of family. 
The ending of this wildly popular show naturally planted a wholesome family sitcom-sized hole in the hearts of many. Luckily, there is a legion of "Full House"-esque TV series out there, some of which came before the iconic show, and some of which were actually inspired by it. Here are 12 of the very best.
Boy Meets World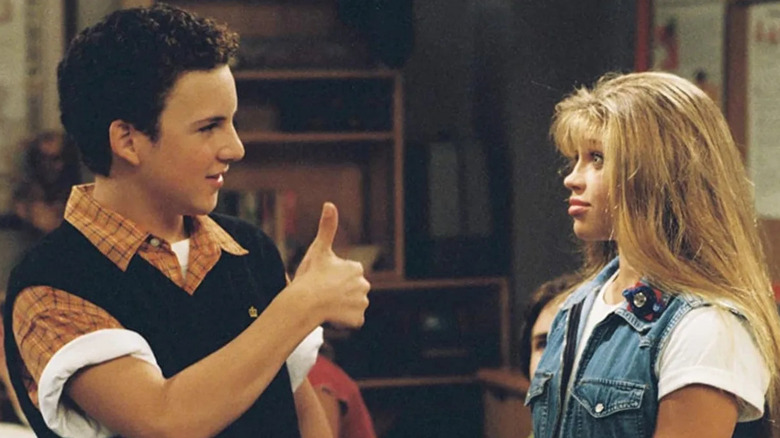 ABC
If you're looking for a new show to binge that centers on family values, (which, let's face it, you probably are if you clicked on this list), look no further than "Boy Meets World." The show premiered on ABC in 1993, when "Full House" was still releasing regular episodes and was very much the talk of the town. Created by Michael Jacobs and April Kelly, "Boy Meets World" focuses on the daily life and trials and tribulations of Cory Matthews (Ben Savage), as he comes face-to-face with the inevitable struggles of growing up.
Like "Full House," "Boy Meets World" was especially popular among young people thanks to its optimistic look at adolescence. It emphasizes the importance of not caring what other people think of you, and instead only surrounding yourself with great friends, who truly understand you and accept you for who you are. "Boy Meets World" ran for a total of seven seasons, eventually coming to an end in 2000, but like "Full House," its sincerity remains familiar and welcome even today.
Step by Step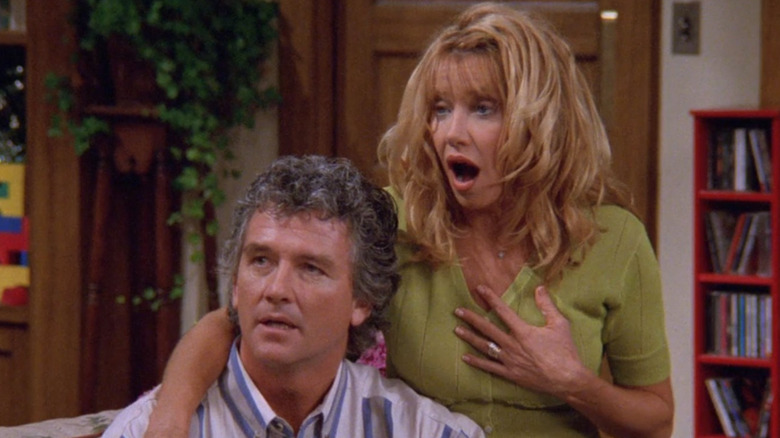 ABC
If you're in the business of watching dysfunctional families, "Step by Step" is without a doubt the show for you. The sitcom, which first aired on ABC in 1991, follows divorced Wisconsin-based contractor Frank (Patrick Duffy) and hairstylist Carol (Suzanne Somers), who abruptly get married after a short relationship. Everything is hunky dory between the newlyweds, save for one problem: They each have three kids. And for the little ones, getting used to the new arrangement is ... an adjustment. Much of the show is reminiscent of Sherwood Schwartz's 1969-1974 sitcom "The Brady Bunch," which remains a major trailblazer when it comes to comedies about blended families.
Underneath all of the hijinks and bickering in "Step by Step" is the importance of family. The show emphasizes the fact that family doesn't have to be defined by blood relations or traditional family structures. It's an idea that remained at the core of "Full House," which not only showed a new type of family, but a different type of male caretaker (via Time). In this sense, "Full House" undoubtedly paved the way for "Step by Step," a show that takes the notion of a "blended family" to a whole new level. The latter ran for a total of seven seasons, eventually coming to an end in 1998.
Home Improvement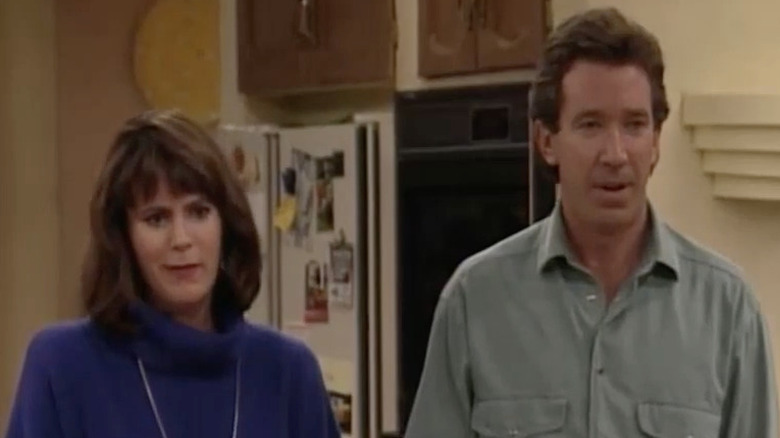 ABC
Running for eight seasons from 1991 to 1999, ABC's "Home Improvement" is one of television's most iconic depictions of modern suburban American life. Created by Matt Williams, Carmen Finestra, and David McFadzean, the show stars Tim Allen as a family man named Tim Taylor — a role which catapulted the actor into stardom. Tim lives with his wife Jill (Patricia Richardson), and their three sons: Brad (Zachery Ty Bryan), Randy (Jonathan Taylor Thomas), and Mark (Taran Noah Smith). Much of the show centers around the Taylors' relationship with a local handyman, Wilson (Earl Hindman), who often helps get the family out of a jam.
"Home Improvement" fits nicely into the category of all-American sitcoms, and many fans of "Full House" are drawn to the similar type of kooky family shown in "Home Improvement." In the relationship between Wilson and the Taylors, the show emphasizes the importance of community, which is a lesson that "Full House" pushes front and center. In essence, if we all stick together, nothing can go that wrong. Who can really argue with that?
Family Matters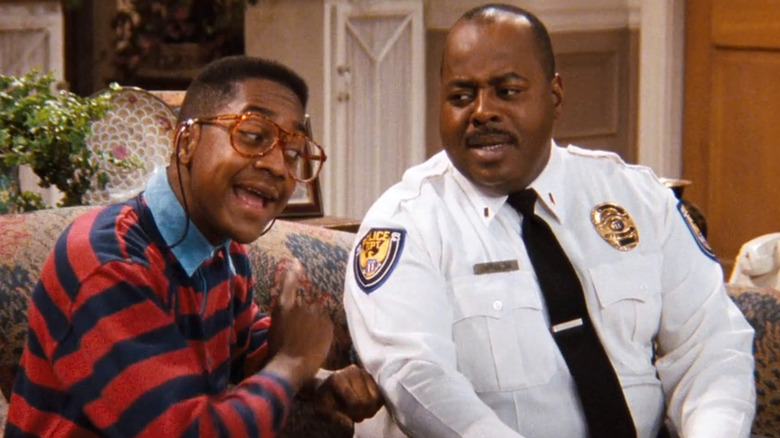 ABC
Based on the title alone, it's not hard to guess that "Family Matters" is a "Full House"-adjacent show and in fact, both were on ABC's TGIF lineup (via People). "Family Matters" premiered in 1989 and was a spin-off of ABC's hit series "Perfect Strangers," which featured Harriette Winslow (Jo Marie Payton) as a recurring character. 
In "Family Matters," Harriet is the matriarch of a Black middle class family in Chicago. She and her police officer husband Carl (Reginald VelJohnson) try to balance work with raising their kids — Eddie (Darius McCrary), Laura (Kellie Shanygne Williams), and Judy (Valerie Jones and Jamiee Foxworth) — while also dealing with the antics of their nerdy neighbor Steve Urkel (Jaleel White).
"Family Matters" offers laugh-out-loud humor and heartwarming undertones, as well as that balance of comedy and earnestness that also characterizes "Full House." Perhaps more importantly, it's worth watching because of its influence and historical achievement as one of the longest running sitcoms with a mostly Black cast (via Complex).
Fuller House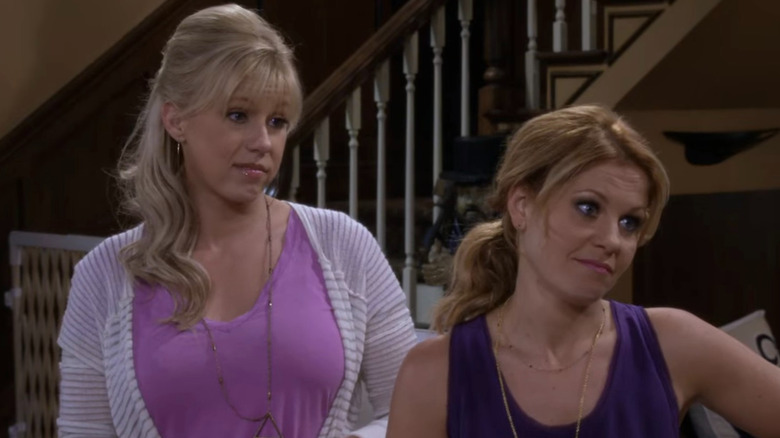 Netflix
Did you really think "Fuller House" wasn't going to make it onto this list? Not a chance! "Full House" creator Jeff Franklin returns with this reboot, which focuses on D.J. Tanner (Candace Cameron Bure), who's all grown up and widowed with three sons. In keeping with the "it takes a village" message of "Full House," D.J.'s little sister Stephanie (Jodie Sweetin), best friend Kimmy (Andrea Barber), and Kimmy's teen daughter Ramona (Soni Nicole Bringas) move in to help her raise the kids.
"Fuller House" isn't quite as great as the original, and didn't receive as high of an audience score on Rotten Tomatoes as "Full House" did. Even so, it accrued a loyal fanbase, and ran for five seasons from 2016 to 2020. If anything, this is just a testament to the 1987 show's lasting legacy. It also doesn't hurt that most of the original cast shows up at one point or another in the new Netflix show, which is a treat for fans of the series looking for the next thing to watch after "Full House."
Fresh Off the Boat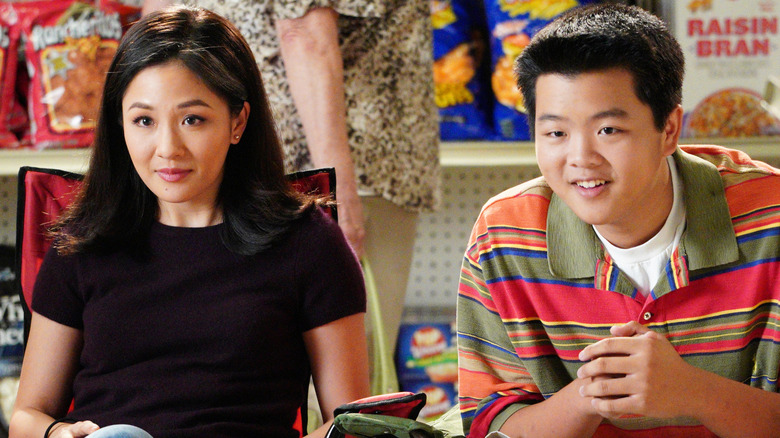 ABC
Based on an autobiography by chef Eddie Huang, "Fresh Off the Boat" chronicles the life of the Huangs, a Taiwanese-American family living in Florida in the 1990s. The offbeat and quirky family is headed by patriarch Louis (Randall Park), who owns a popular cowboy-themed steakhouse. His wife, Jessica (Constance Wu), is intent on keeping their kids — aspiring rapper Eddie (Hudson Yang), hopeless romantic Emery (Forrest Wheeler), and teacher's pet Ian (Evan Huang) — in touch with their Taiwanese roots.
Created by Nahnatchka Khan for ABC, the show has been lauded for centering Asian-Americans in the sitcom space, which has predominately focused on white families (via Shondaland). It was also groundbreaking in its run, as it aired for six seasons from 2015 to 2020, which made it the first show with an Asian-American cast to broadcast 100 episodes (via LAist).
"Fresh Off the Boat" thoughtfully emphasizes the importance of honoring your own heritage, while also depicting the struggles of learning to adapt to changing times. Ultimately, the show is about accepting your loved ones for who they are, no matter how far they stray from your idea of "normal." This alone makes it a great watch for "Full House" fans because after all, if the Tanners taught us anything, it's that "normal" can mean a whole lot of things.
Parenthood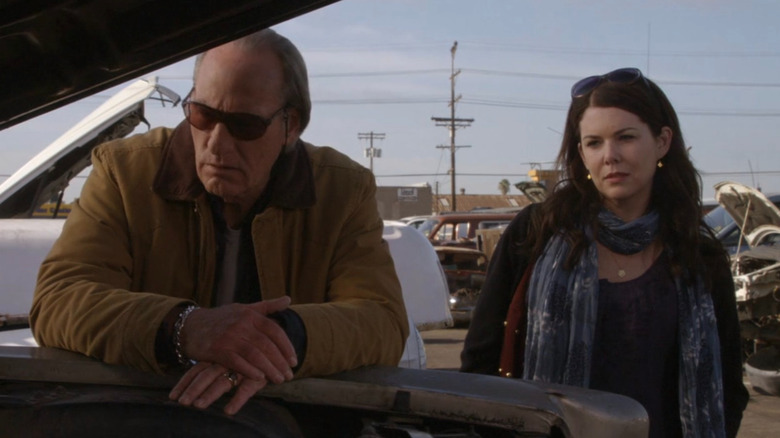 NBC
"Friday Night Lights" creator Jason Katims brings his eye to a different family in the drama "Parenthood," which emphasizes the fact that being in a family can be a tough business sometimes. The show focuses on several generations of the Bravermans, led by grandparents Zeek (Craig T. Nelson) and Camille (Bonnie Bedelia). Their grown kids Adam (Peter Krause), Sarah (Lauren Graham), Crosby (Dax Shepard), and Julia (Erika Christensen) all struggle to navigate their lifelong familial dynamics, as well as the ones with their kids: Adam's Max (Max Burkholder) and Nora (Mia and Ella Allan), Sarah's Amber (Mae Whitman) and Drew (Miles Heizer), Crosby's Jabbar (Tyree Brown) and Aida (Violet Zimmerman), and Julia's Sydney (Savannah Paige Rae) and Victor (Xolo Meridueña).
If all of that sounds exhausting and hard to keep track of, well ... it is. And that's kind of the point. "Parenthood" is like "Full House" dialed up to 100, and it's hard to think of another show that better highlights just how messy family can be. It certainly makes for a highly entertaining (and of course, heartwarming) viewing experience. For this reason, the show — which premiered in 2010 and ran for six seasons before coming to an end in 2015 — has been a hit with critics and audiences especially on Rotten Tomatoes.
The Fosters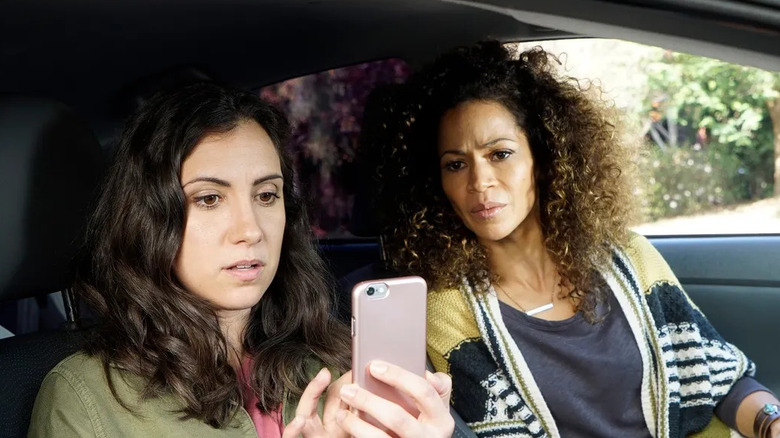 ABC Family/Freeform
"The Fosters" puts a fresh twist on the all-American family. Created by Peter Paige and Bradley Bredeweg, the show follows a lesbian couple — police-woman Stef Foster (Teri Polo) and school vice principal Lena Adams (Sheri Saum) — who live in San Diego. The two have five kids: Stef's biological son Brandon (David Lambert), and their adopted children Jesus (Jake T. Austin and Noah Centineo), his twin sister Mariana (Cierra Ramirez), Jude (Hayden Byerly), and Callie (Maia Mitchell).
The show premiered on ABC Family in 2013 and until its ending in 2018, was a seminal representation of a same-sex relationship between two protagonists on American TV, as it's one of the only series to focus an interracial lesbian couple (via Slate). This is one of the reasons it was and remains so popular (via Deadline). That, and the fact that it shows the struggles of kids, teens, and adults alike. While it does more of a deep dive into the darker realities of living in American society than "Full House," fans of the '90s sitcom will still be able to appreciate the show's compassionate look at a new type of family.
Modern Family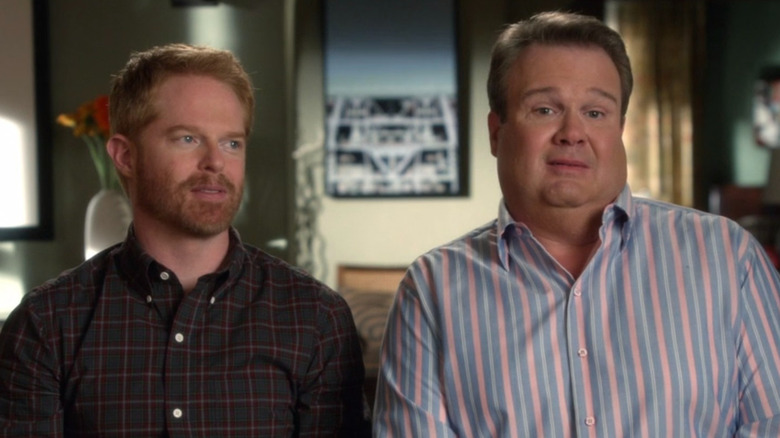 ABC
"Modern Family" is a delightful family sitcom with a twist. The show takes the form of a mockumentary, with characters being interviewed in a similar vein of a reality show like "Keeping Up With the Kardashians." Created by Christopher Lloyd and Steven Levitan, "Modern Family" follows four different but connected (modern) families living in Los Angeles. The show boasts quite the ensemble cast: Sofia Vergara, Ed O'Neill, Julie Bowen, Ty Burrell star, just to name a few.
"Modern Family" premiered in 2009 and ran for an impressive 11 seasons before coming to an end in 2020. Throughout its long run, the show maintained a large following and consistent critical success (via The LA Times), and many find it to be one of the funniest sitcoms in history. This had a lot to do with the fact that "Modern Family" brings something fresh to the genre and is an honest reflection of millennial life, proving that the sitcom format is truly timeless. The show stays fiercely loyal to the premise of "a family can look like many things," which makes it perfect for anyone who loves "Full House."
Black-ish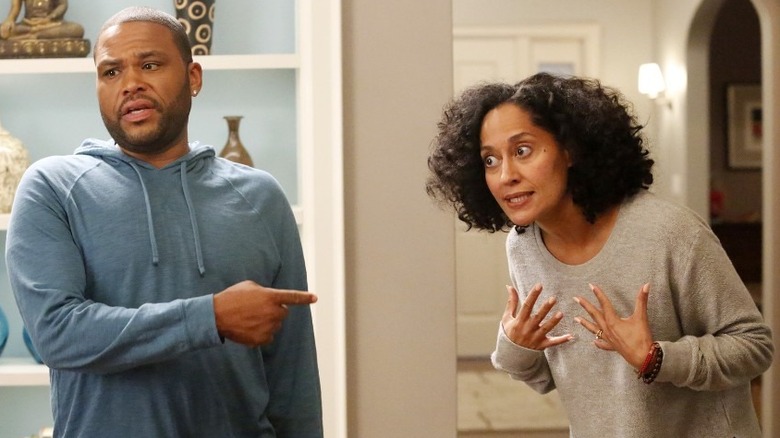 ABC
Kenya Barris' "Black-ish" follows the day-to-day life of an upper middle class Black family that's headed by ad exec Dre (Anthony Anderson) and anesthesiologist Rainbow (Tracee Ellis Ross). They're raising five kids — Zoey (Yara Shahidi), Junior (Marcus Scribner), Jack (Miles Brown), Diane (Marsai Martin), and DeVante (August and Berlin Gross) — and are trying to teach them the ways of the world, particularly in what it means to be Black in 21st-century America.
The sitcom first aired on ABC in 2014 and ran for a total of eight seasons until 2022 and throughout its run, constantly broke new ground with its representation of a modern Black family (via NPR). The series includes recurring appearances from stars like Laurence Fishburne, Wanda Sykes, and Beau Bridges. 
Like "Full House," "Black-ish" explores the complex dynamics of a big family, and looks at themes like the struggles of being a teenager, the difficulties of dating with kids, and the loss of identity that often comes with parenthood. It was so popular that it inspired two spin-off shows: "Grown-ish," which follows one of the kids in "Black-ish" as she heads off to college, and "Mixed-ish," which looks at the life of a mixed-race family in the 1980s.
Gilmore Girls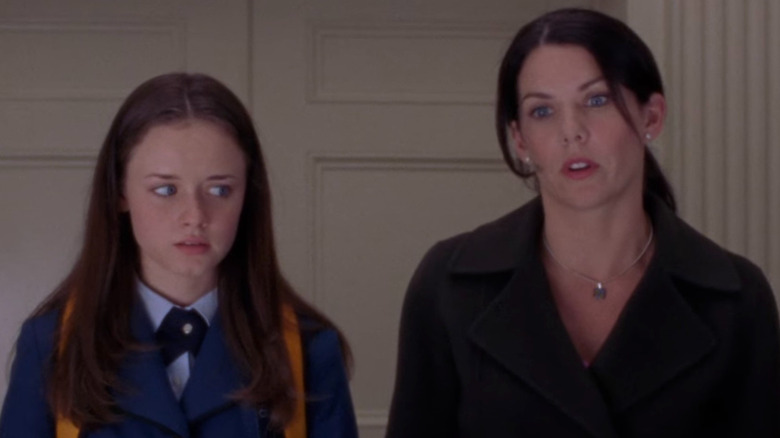 The WB
Amy Sherman-Palladino's "Gilmore Girls" features a mother-daughter relationship unlike any other. The show follows young single mother Lorelai (Lauren Graham) and her teen daughter Rory (Alexis Bledel), as they each navigate their relationships with one another, friends, and various romantic interests. While it's been the two of them for a long time, their family dynamic suddenly shifts when they reconnect with Lorelai's estranged parents, the wealthy and well-meaning but overly judgmental Emily (Kelly Bishop) and Richard (Edward Hermann). 
What's great about "Gilmore Girls" is that it has something for everyone. Lovers of sitcoms like "Full House" will enjoy its breezy, comedic tone and focus on family, while prestige-TV aficionados will appreciate the powerful performances and whip-smart dialogue. If you really love "Gilmore Girls" and are crushed that it only has seven seasons, never fear. The show returned in 2016 — almost a decade after its original run ended in 2007 — for the Netflix miniseries spin-off, "Gilmore Girls: A Year in the Life." The miniseries explores Lorelai and Rory's changing relationship, now that Rory has grown up and graduated college.
The Wonder Years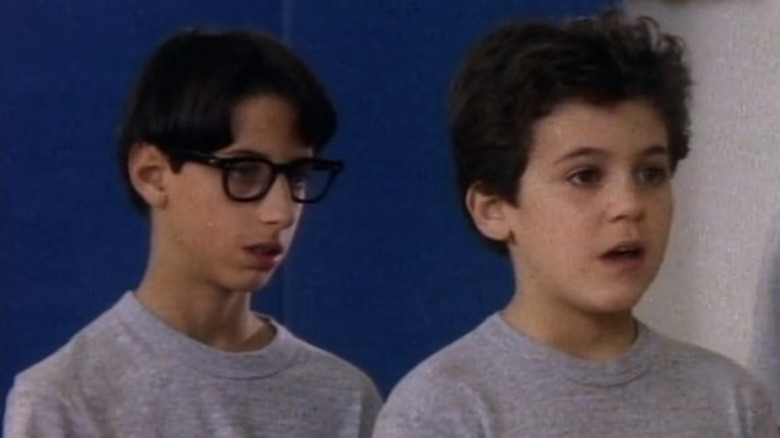 ABC
One of the most critically acclaimed sitcoms out there, "The Wonder Years" premiered in 1988 and spanned for six seasons until its end in 1993. The show, which was created by Neal Marlens and Carol Black, is told from the perspective of a suburban teenager named Kevin (Fred Savage). It focuses on his life growing up in the late '60s and early '70s, as his older adult self looks back on his childhood, narrating the events in voiceover.
Over the years, it its top-notch dialogue and thoughtful character development earned it a number of accolades, including a Golden Globe for Best Television Series – Musical or Comedy for its first season, and a number of Primetime Emmy awards (via IMDb). The show questions who should tell a family story, and what might change if that story gets written from the point of view of a kid. More than anything, though, "The Wonder Years" is known for being a truly relatable and insightful depiction of childhood and adolescence. It's something that — to this day — not many television creators are able to nail, and for fans of "Full House," there's no better place to revisit childhood than "The Wonder Years."