The Sons Of Anarchy Scene That Had Fans In Awe Of Charlie Hunnam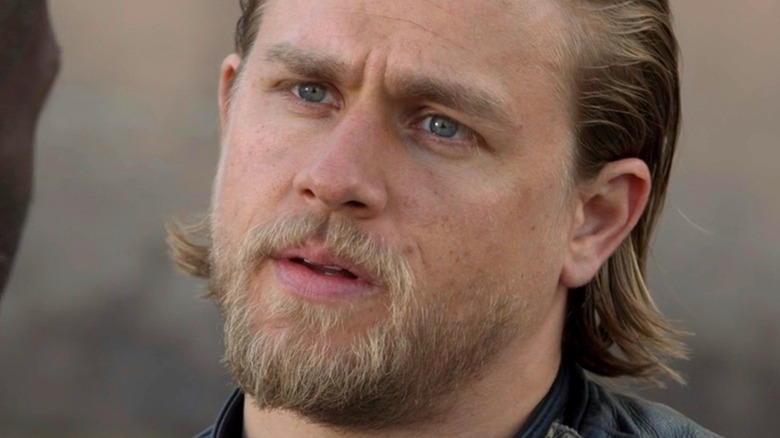 FX
It might be hard for "Sons of Anarchy" fans to believe that Charlie Hunnam was never nominated for an Emmy Award for his portrayal of Jax Teller, the eventual president of SAMCRO. However, the English actor doesn't need a winged woman statue on display in his living room for the masses to appreciate his acting chops.
Throughout the seven seasons of the FX drama, viewers watch as Jax endures much emotional turmoil. A particularly unforgettable scene that showcases Hunnam's talents is a simple but impactful one; there are no guns or bikes. Rather, it's just Jax and Juice Ortiz (Theo Rossi), the latter of whom reveals who killed Tara Knowles (Maggie Siff), a character who divided fans of "Sons of Anarchy." When the bomb is dropped that Jax's own mother, Gemma Teller Morrow (Katey Sagal), did it, the tears start to fall and his hands are visibly shaking.
This news leads to Gemma's demise at the hands of her son, another standout scene for Hunnam. As he points a gun at the back of his mother's head, the pain that he's feeling is evident. In fact, as the tears start to come, he briefly lowers the gun. The trigger is only pulled when Gemma urges him, "I'm ready."
In both of these moments, Hunnam manages to tug at the heartstrings of viewers, temporarily pulling them into his world of darkness and danger. However, many "Sons of Anarchy" fans agree that there's another Hunnam scene that's even more powerful.
Jax finding Tara's body is Charlie Hunnam's best acting, according to fans
In Season 6, Episode 13 ("A Mother's Work"), when Gemma believes Jax is heading to prison in exchange for Tara's freedom, the protective mother doesn't take well to the idea. To prevent this, she brutally kills Tara in the kitchen. Later, Jax arrives home in fairly good spirits, but his world comes crashing down upon seeing his love's body. He sinks to the floor, holds her, and gives her one last kiss, all the while crying and shaking. At one point, Jax lets out a moan of despair.
On Reddit, many fans agreed that this scene is Charlie Hunnam's best acting in the entire series. Redditor u/Different_Prior_517 proclaimed, "This scene should be taught in acting school as someone who really portrayed grief and utter devastation in such a realistic and well rounded way." Meanwhile, u/Alwayswoke1 said, "One of the best scenes ever on TV. Charlie should have won an award for his acting in this scene especially when you see other actors winning for unrealistic performances."
Most found themselves sobbing right along with Jax while watching the tragic moment. For many users, it is the small details that make the scene so powerful. For example, u/MolassesCheap pointed out how Jax's SONS rings can be heard clinking together because he's shaking so uncontrollably.
Filming Tara's death was emotional for the actors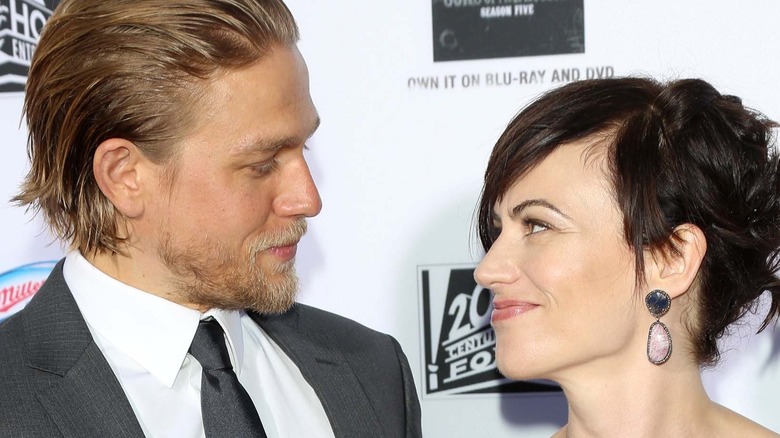 s_bukley/Shutterstock
The demise of Tara and the aftermath was surely hard for "Sons of Anarchy" fans to watch, but it was also hard for the actors themselves to film.
Maggie Siff, who portrays Tara, told TV Guide that although she was playing dead in the scene, she felt every emotion exuded by Charlie Hunnam while in his arms. "I kept getting up off the floor crying for him and for the character. He's the one who's left behind. So, I wasn't crying for myself, I was crying for him and the character and the loss of their love and looking at what his life is going to be," she said. "That was really painful." 
Siff had been part of the "Sons of Anarchy" family since Season 1. Though the entire cast knew that Tara's demise would eventually come, it didn't make the reality of it happening any less painful. Therefore, just as Jax mourns the loss of Tara, the cast would miss the presence of Siff on set for the seventh and final season.
In an extra feature on the "Sons of Anarchy" Season 6 Blu-ray (via Mashable), Hunnam says of Siff in an interview, "I really enjoyed working with her and I think out of all the things we've achieved on 'Sons of Anarchy,' the relationship with Jax and Tara is the thing that I find plays the most real and deep and rich and has been the thing I've been most proud of."