Rick And Morty Season 6 Trailer Brings More Galactic Chaos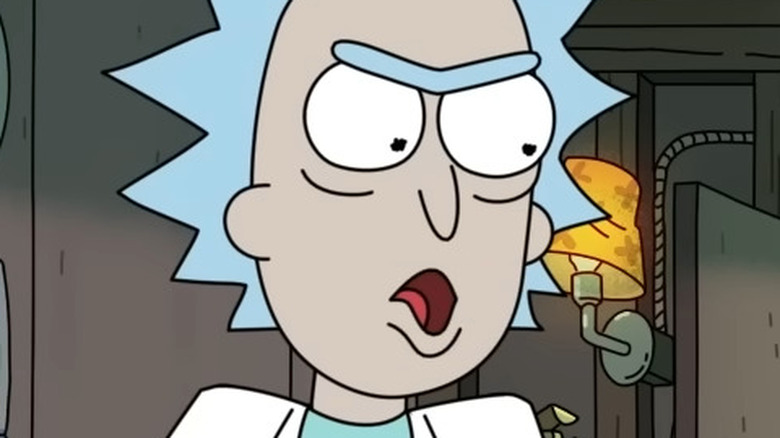 Warner Bros.
Season 6 of "Rick and Morty" is heading back to Adult Swim on September 4, and we've finally gotten a trailer for the new batch of episodes. We got our first tease of what to expect when Warner Bros. and Adult Swim dropped the official synopsis for the season in a press release obtained by Looper.
"It's season six and Rick and Morty are back! Pick up where we left them, worse for wear and down on their luck. Will they manage to bounce back for more adventures? Or will they get swept up in an ocean of p*ss! Who knows?! P*ss! Family! Intrigue! A bunch of dinosaurs! More p*ss! Another can't miss season of your favorite show," the synopsis reads. It's a pretty spot-on description when you watch the first trailer for Season 6, which looks like it might be the most "Rick and Morty" season ever produced. The multiversal duo has a lot in store for these next episodes, with surprises sure to shock longtime fans.
The Rick and Morty Season 6 trailer is everything you'd expect from the Smiths
The Season 6 "Rick and Morty" trailer covers 11 episodes worth of story, which is one more than the last four seasons. According to Animated Plus, the episodes are titled "Bethic Twinstinct," "Ricktional Mortpoon's Rickmas Mortcation", "Full Meta Jackrick," "Final Destination," "Rick: A Mort Well Lived," "Night Family," "A Rick in King Mortur's Mort," "Solaricks," "Analyze P*ss," and "Juricksic Mort."
If the trailer tells us anything, it's that Season 6 is going to be a wild ride. Co-creator Justin Roiland is backing that up, telling IGN, "I will say that it's a bit more canonical. It really rewards fans of the show that have been watching up to this point...So it's like, I think we're kind of finally back into the rhythm of Rick and Morty, and I think Season 6 is... I didn't particularly think Season 5 was bad, but Season 6 is f***ing amazing. It really is a f****ing quality season."
Well, that's that.