Keanu Reeves Starred On More TV Shows Than You Probably Think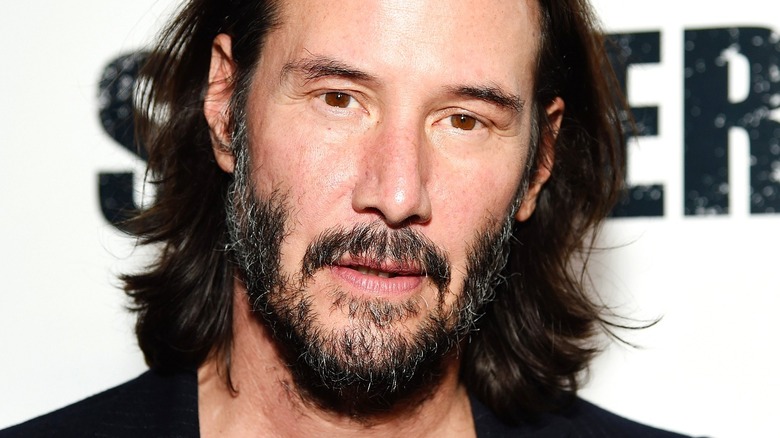 Michael Kovac/Getty
Most people would definitely think of Keanu Reeves as a movie star. After all, Reeves, who has been working as an actor since the 1980s, has starred in some of the most popular films ever made. He's the lead in both "The Matrix" franchise and the "John Wick" flicks, and has also appeared in movies like  "Speed," "River's Edge," "Bill & Ted's Excellent Adventure," and "Bram Stoker's Dracula." Reeves has also given memorable performances in romantic comedies, such as with his supporting role in 2003's "Something's Gotta Give" opposite Diane Keaton and in his cameo appearance in 2019's "Always Be My Maybe" opposite Ali Wong. And these just scratch the surface of his long-running movie career.
Reeves may be best known for his film roles, but the actor has also participated in his fair share of TV projects over the years. He will be starring in Hulu's upcoming miniseries adaptation of "The Devil in the White City" — which is being executive produced by Martin Scorsese and Leonardo DiCaprio — so now is as good a time as ever to look back on Reeves' past TV roles. Here are the small-screen projects that Reeves has taken on throughout his career.
Reeves had a voice role on the Bill & Ted animated series
To begin with, some of Keanu Reeves' earliest acting roles ever were guest appearances on TV shows. For example, in 1984, Reeves had a one-episode stint on the comedy series "Hangin' In," before showing up in two episodes of the detective series "Night Heat" the following year. He appeared on "Trying Times" in 1987, as well as "American Playhouse" and "The Tracey Ullman Show" in 1989.
His first main role in a series, however, came in 1990 with "Bill & Ted's Excellent Adventures," the animated spin-off show to the 1989 film "Bill & Ted's Excellent Adventure," also starring Reeves. The series follows Bill (voiced by Alex Winter) and Ted (voiced by Reeves), two teenage slackers who have various misadventures while time-traveling. The series lasted two seasons, but Reeves and the rest of the original cast only stayed on for Season 1. 
Although the series didn't go on to become as much of a cultural touchstone as the movie, some publications have written about "Bill & Ted's Excellent Adventures" in more recent years, offering mixed reviews of the show. Sage Ashford of CBR noted that the series has not aged well over time, writing, "Regardless of what people say about millennials, slacker culture is definitely a relic of the past, and no amount of cool voices from Keanu Reeves and George Carlin can change that." On the other side of things, Graeme McMillan of The Hollywood Reporter argued that, while the series may be less funny than the film that inspired it, the voice acting of the original cast elevates the proceedings. 
Reeves co-starred on a Pop TV original series
Keanu Reeves' next significant small-screen role came in 2016 with the American-Swedish web television series "Swedish D*cks," which follows two unlicensed private investigators, former stuntman Ingmar Andersson (Peter Stormare) and struggling DJ Axel Kruse (Johan Glans), as they solve various cases in Los Angeles. Reeves plays Ingmar's former stunt partner and friend, Tex Johnson. The series lasted two seasons with a total of 20 episodes, of which Reeves appeared in 13.
In 2017, the cast of the series, including Reeves, sat down with KTLA 5 to discuss the Season 2 of their show. During the discussion, the interviewer noted that taking on a supporting role in a television series seemed like an odd move for Reeves (implying that his movie star status puts him above such a career move) and asked Reeves why he decided to sign on to the Pop TV show.
Reeves simply said it came down to him liking the role, regardless of its size. The actor responded, "I love the material and, in terms of 'the food chain,' I don't know, I mean I'm really grateful to be here, and to have the opportunity ... That's really all I have to say. I really love working with everyone and the series is fantastic and it's funny and it's awesome."
Although he continues to mostly stick to films, it's clear that if the right part comes along, Keanu Reeves is more than happy to take his talents to TV.