Commissioner Gordon Is A Tough Ex-Marine In Justice League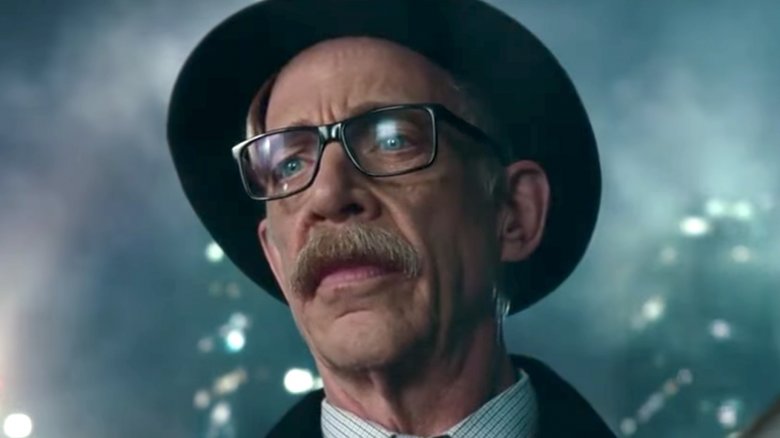 Although Batman often leaves in the middle of conversations with Commissioner Gordon, the top-ranking cop probably deserves a little more respect.
In the Justice League: Official Collectors Edition magazine (via ScreenRant), actor J.K. Simmons explained that his version of Gordon is not to be messed with.
"My take on Commissioner Gordon is that he's a badass but that's an under-appreciated part of who he is because he's eclipsed by the ultimate badass, Batman," Simmons said. "But Gordon is a tough ex-Marine, who worked his way up and can handle himself in the turf of bad guys. Compared to Batman, he's just a regular guy, but compared to mot people, he's a champion."
This lines up with the comic book origins of Gordon, who served with the Marines before he became a Gotham police officer. Gary Oldman portrayed Gordon in Christopher Nolan's Dark Knight trilogy and Ben McKenzie plays a younger version of the character on Gotham.
The 62 year-old Simmons has been bulking up lately, but he told Business Insider that it's purely a personal decision and not specifically for his role in Justice League. "This is all coincidental," he said. "After the second and final time that I got hugely fat in my life and when I lost that weight six or seven years ago, I pretty much decided that I was going to stay in decent shape for the rest of my life."
Meanwhile, Batman actor Ben Affleck said that Simmons, who also played J. Jonah Jameson in Sam Raimi's Spider-Man series, is perfect as Commissioner Gordon. "J.K. lands a real gravitas to the role," Affleck said. "He's got that kind of realism down, where he's just so world weary and gritty. Here's a guy that's been working the beat of Gotham for decades."
We'll get to see for ourselves when Justice League hits theaters on Nov. 17.