What Critics Are Saying About The Punisher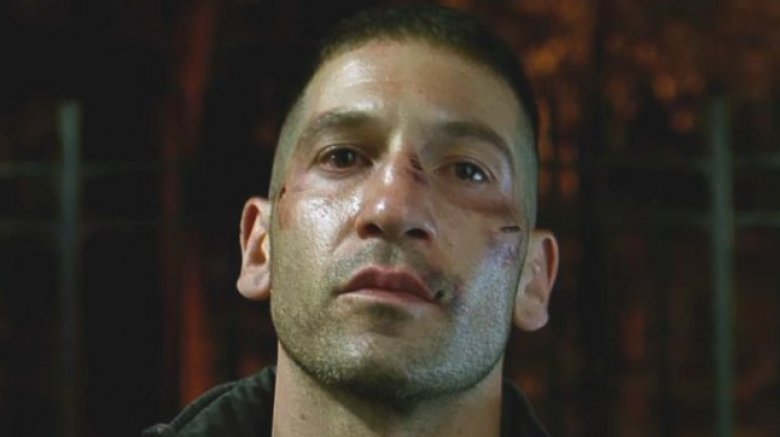 The first reviews for Marvel's next Netflix series The Punisher are here, and they're all over the place. The violent show stars Jon Bernthal as the titular vigilante antihero, who gets pulled into a government conspiracy as he tries to deal with the death of his family.
Collider's Chris Cabin praised Bernthal's performance, as well as creator Steve Lightfoot's decision not to shy away from the intense focus on trauma inherent in the series' premise. "The series is nothing if not timely, and when the focus is on these matters, The Punisher is more challenging and captivating than anything the MCU or Marvel TV programs have produced thus far," he wrote. 
However, he notes that when the show is focusing on other things, it "ranges from fascinating to bland to ridiculous." "This is a result of having a little too much on your plate, to say nothing of the laborious, intermittent setting-up of a looming narrative arc rather than focusing on what's immediately important to these characters and what they're going through," he writes. Cabin ultimately gave the show three stars, saying viewers should "proceed with cautious optimism."
Variety's Sonia Saraiya described the show as "surprisingly great," also giving kudos to Bernthal's "seamless" performance. Although she notes that the show falls into "antihero tropes" in the first episode, she says it later starts to approach "the high points of Marvel's Jessica Jones" by "introducing a damaged, deadly character and telling his story as one piece of an unjust whole."
The Wrap's Phil Owen wrote that the show was "actually just good," calling Bernthal's Castle "a real human character who has far more depth than just 'Murder Guy.'" He wrote that the different, more grounded take on Castle presented in The Punisher, as opposed to his introduction in Daredevil, makes the show work as "a noir mystery" and noted that Bernthal is at his "absolute best" in the series.
IndieWire's Liz Shannon Miller was less complimentary of the show in her review, saying that, while the focus on the more grounded parts of Frank's identity gave the series a more "soulful" feel than anticipated, it also caused the show to "[lack] any real dynamism as a result." Miller wrote that the show having 13 episodes makes it feel stretched out and slow, and concluded by saying, "The worst aspect of The Punisher is that there's not too much to say about it. It's competently made, decently written, but never pushes any boundaries or challenges any big ideas." Miller gave the show a B. 
Uproxx's Alan Sepinwall was also not a fan of the series, calling it "the wrong show at the wrong time." Sepinwall criticized the show for being overly slow, saying that it has "most of the common sins" of Marvel's past Netflix series, "and fewer virtues than the good ones have." He also pointed out the show's inherent moral dilemma. "The Punisher is most effective when its title character is indiscriminately slaughtering his foes, but that's also when it most consistently evokes the kinds of real-life horrors that pushed the premiere back once, and could have kept pushing it back indefinitely," he wrote.
The Daily Dot's Gavia Baker-Whitelaw also gave the show a mostly critical review, saying that it is a work of "artistic cowardice" that avoids taking a stand on gun violence and veteran life in the United States. Baker-Whitelaw said that the material didn't live up to Bernthal's "perfectly cast" performance, and called the show "tedious and politically muddled."
"Bogged down in boring dialogue and reruns of Castle's backstory, it's a frustrating disappointment for fans of the character," she wrote. "Like several other Marvel/Netflix shows, it feels like they decided on a 13-episode runtime and padded a shorter story to fit... The Punisher is meant to be a demonic force of relentless violence, but this version is indistinguishable from your average gritty action hero." 
Ben Barnes, Ebon Moss-Bachrach, Amber Rose Revah, Deborah Ann Woll, Daniel Webber, Jason R. Moore, Paul Schulze, Jamie Ray Newman, and Michael Nathanson also star in The Punisher, which hits Netflix on Nov. 17.