Who Plays Lia Kaleo On Magnum P.I.?
Not many do it better than "Magnum P.I." when it comes to exciting crime dramas. The series offers visually stunning filming locations, thrilling action, and an ensemble of characters fans are excited to see every entry. From Zachary Knighton as Rick Wright to Katrina Law as Sergeant Quinn Liu, there is no shortage of perfectly cast personas entering the frame on the reboot of the popular 1980s series in both starring and recurring roles.
One personality that stands out is Detective Lia Kaleo. She is the quick-witted, street-savvy partner of Detective Gordon Katsumoto (Tim Kang) and the love interest of Thomas Magnum (Jay Hernandez) in Season 4. According to IMDb, the character has appeared in 11 entries beginning with Season 4, Episode 1 ("Island Vibes"). During her tenure on the show, she and Magnum kept their little love affair a secret while they worked on several cases together. But Detective Kaleo, unfortunately, has trust issues stemming from her past and decides to break things off with Magnum to do some much-needed soul-searching. But the two continue to be professional colleagues and aren't against having a sleepover once in a while even though they are not together.
Her fling with the titular security consultant may have been brief, but Detective Kaleo has proven to be a valuable member of the "Magnum P.I." ohana. But who is the talented actress bringing the character to life?
Chantal Thuy plays Detective Lia Kaleo on Magnum P.I.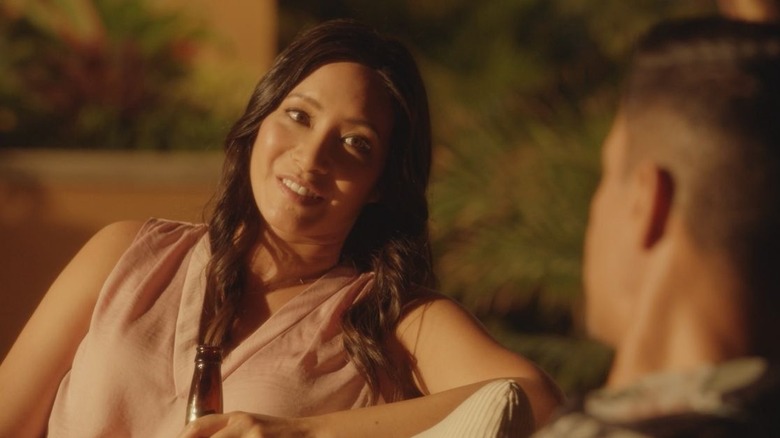 CBS
Chantal Thuy plays Detective Lia Kaleo on "Magnum P.I." Thuy is a gifted actress from Canada that graduated from the Stella Adler School for Acting in New York City. In addition to her time on the CBS drama as a recurring player, Thuy's other big claim to fame came when she played Grace Choi, a character on the DC Arrowverse series "Black Lightning," which aired on The CW. She started with a recurring part before being upgraded to a main role in the superhero show's fourth season. Her other TV credits include appearances on "Madame Secretary," "Matador," and "Pretty Little Liars."
Thuy's career continues to impress, and the actress seems poised to continue her rise to stardom. She seems very excited about the opportunities she has had so far and enjoys being able to promote Asian representation in her work. When speaking with Popcorn Talk, the actress spoke about what it means to be someone kids look up to, saying, "I get messages from young girls, Asian-American or otherwise, saying how amazing it is to see someone represent them, and that just melts my heart, brings me to tears. It's very fulfilling." Thuy has made an impact in the roles she has taken as well as with fans watching at home. Thuy has repeatedly proven her talents on the small screen, and hopefully, viewers will see more of Detective Lia Kaleo on "Magnum P.I." in the future.